Hi all,

We've got a couple of lovely tomatillo plants, our first time trying to grow these. The plants look really nice so far--healthy, strong, lots of flowers--but we've just noticed holes in some of the leaves and think these beetles are the culprit. (Oops, can't manage to upload the photo.) The beetles are no more than half an inch long, but quite distinctive, with yellow and black stripes head to tail and red heads. Can anyone tell me what they might be and how to deal with them? Are they likely to munch on other things as well? Grrrr...

(Also, any advice on uploading photos? I tried both directly from my computer and also hosting from a Picasa album, but no luck.)
____________________________
A WEED IS A FLOWER GROWING IN THE WRONG PLACE
Elizabeth City, NC
Click for weather forecast

Certified SFG Instructor




Posts

: 4343


Join date

: 2010-10-17


Age

: 74


Location

: wilmington, nc zone 8



Thanks, Kay. I had missed those instructions on the site. I think I've got it working!
I think they may be cucumber or potato beetles. I'm trying again with the photo. Not a very good shot, but you can make them out pretty well. We've been picking off by hand the four or five we've found, but no doubt there will be more. This is our second year, so we're almost newbies. Fun stuff, though! Ate our first snowpeas last night and strawberry this morning (the latter looked lovely, but wasn't very sweet).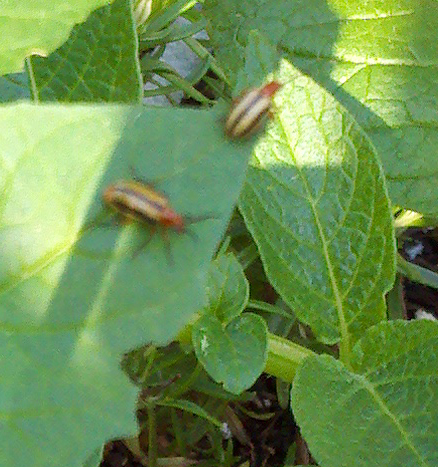 http://www.insectidentification.org/insect-description.asp?identification=Three-Lined-Potato-Beetle

Says they like Tomatillo's. It didn't look like the regular Potato Beetle to me.



Posts

: 273


Join date

: 2012-01-02


Location

: Philadelphia, PA



Thanks, CharlesB! Three-Lined Potato Beetle is what we've got. Which means that our potatoes and tomatoes (and maybe other things?) are at risk as well. Better stay on top of this. Will research various ways of getting rid of them. Last year, we had very little trouble with any pests. Just luck, I guess! At least we don't have deer in the city. (Not yet, anyway; coyotes have been seen here and there in pretty urban parts of Boston, though not near us so far.)
---
Permissions in this forum:
You
cannot
reply to topics in this forum