For the past few years I've been wanting to start a garden, and then I got overwhelmed or came up with excuses on why to wait "until next year". So this spring I decided THIS WAS IT I am getting my garden! (and the timing couldn't be worse with me now nearly 8mo's pregnant with kiddo #3).
My husband has been so amazing and doing nearly everything (besides the planting and care of the plants). Here it is from the beginning and where we left off just this weekend with the mulch. All that's left is adding chicken wire to the inside of our black metal fence. Oh, and keeping the plants alive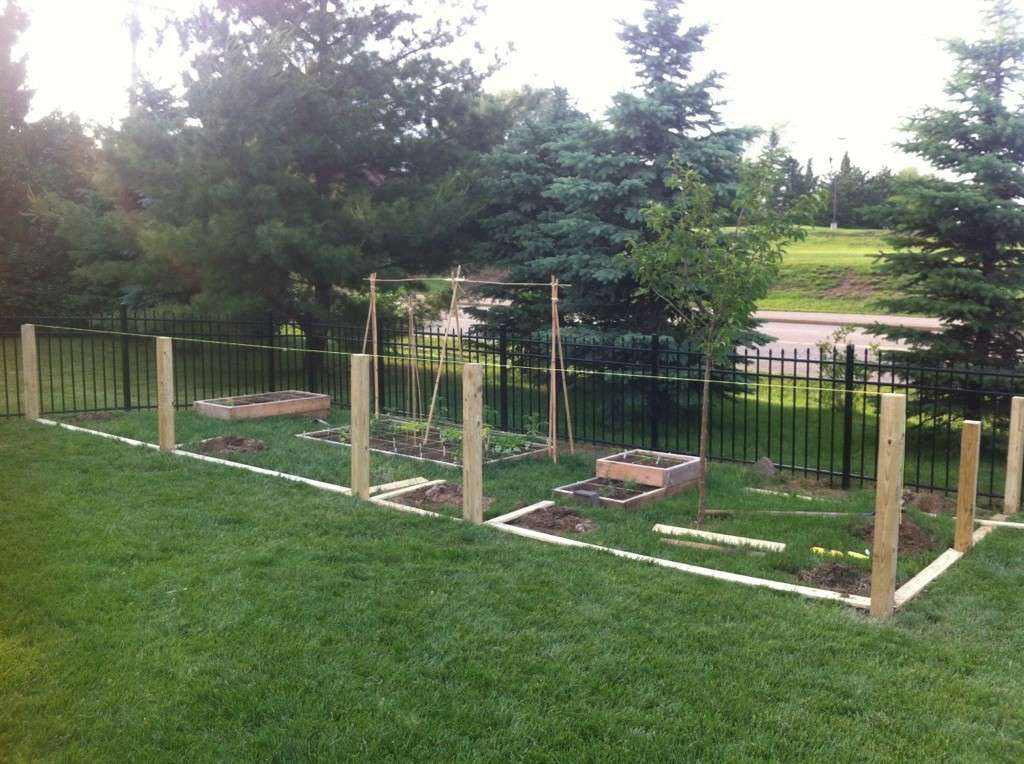 Posts

: 25


Join date

: 2012-04-10


Age

: 35


Location

: Hudson, Wisconsin Zone 4b






Posts

: 27


Join date

: 2012-04-15


Age

: 42


Location

: Ottawa, Ontario, Canada - Zone 5a



What a terrific garden. Lucky you having that hard-working manual laborer to do your bidding. I hope you've given him a hug or two.



Posts

: 4674


Join date

: 2010-03-21


Age

: 75


Location

: Southwestern Maine Zone 5A



FABULOUS WORK! congratulations on your lovely garden.

if your pregnancy is like mine, this is about the time when you really get energized to do things. when i was almost 8 months pregnant i decided we HAD to have a fenced-in yard. so we hired the contractors and the day before they came i went out--in the near 100º heat hell that is nashville in august--and dug up EVERY. SINGLE. PLANT on the fence line--dozens of hostas and columbines and two little cedar trees--and moved them SIX INCHES in from the property line so they would not be destroyed when the fence was put in.

this was also about the time when i was so antsy that considered doing things like polishing all the light bulbs and dusting the fake logs in the fireplace.

anyhoo, everything on the fence line survived, and your garden will give you plenty of lovely outdoor time with your new little one this summer. what a blessing it will be to be able to offer fresh, homegrown and homemade baby food when the time comes!

Certified SFG Instructor




Posts

: 438


Join date

: 2011-01-06


Location

: nashville, TN



So attractive! I love my sfg but it isn't so decorative as yours. And your plants look like they're thriving! Beautiful. Best wishes on the arrival of your little blessing.



Posts

: 121


Join date

: 2012-04-20


Age

: 55


Location

: Muncie, Indiana: home of Ball State University






Posts

: 3411


Join date

: 2011-02-16


Age

: 52


Location

: Zone 4A - NE SD






Posts

: 237


Join date

: 2011-06-23


Location

: SE Wisconsin, Zone 5a



Very nice - thanks for the pictures.



Posts

: 101


Join date

: 2012-06-07


Location

: Vallejo, CA



---
Permissions in this forum:
You
cannot
reply to topics in this forum