This is our first SFG. We had a regular row garden garden "way back when" and decided it was time to give it another go. While checking out supplies at Home Depot, I noticed Mel's book, "All New SFG" and began to flip through it. I couldn't put it down - it just made sense. The book was much cheaper than the rototiller I was thinking of buying. Plus, I like to build things!
The hardest part of getting started was finding the vermiculite! I live in the Wilmington, Delaware area - I called every garden center in a 30 mile radius and all I could find was 8 quart bags. I did a bit of web searching and found the Schundler Company in New Jersey - producers of vermiculite products. I called them and they gave me the name of a distributer in Virginia, Wetsel, Inc., who handles coarse vermiculite in 4 cubic foot bags. I called Wetsel and they gave me a name of a garden center near my house that they deliver to, Summit Bridge Farms. I called Summit Bridge Farms and the owner, Pat, said she did not carry vermiculite but that she had an open order from Wetsel and called and had two bags added to the order. I picked it up the next week for $20 per bag. So, persistence pays!
So, here are some pictures of the construction of the two 4x4 boxes and getting them ready to plant.
Chop saw set up in garage made the work easy and fun! Used 1" x 4" x 8' pieces of cedar.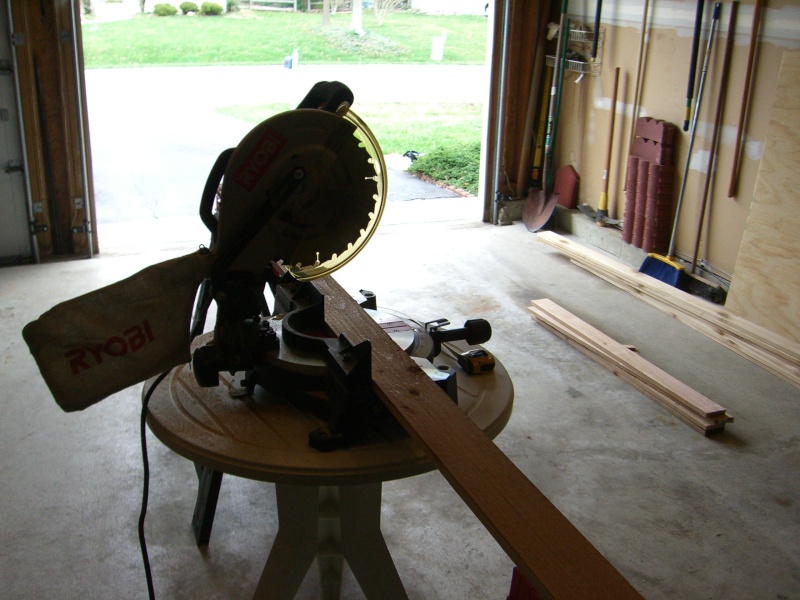 I put two 1x4's together to make an 8" high wall (4' long). 1x4 on each corner overhangs by one board width so corners will fit flush. Used tan no-rust decking screws, all counter sunk, of course. Must drill pilot and counter sink holes because cedar will split easily. Extra 1x4 at center of 4' length is for extra support, but mostly to use up extra wood and I thought it added some flair!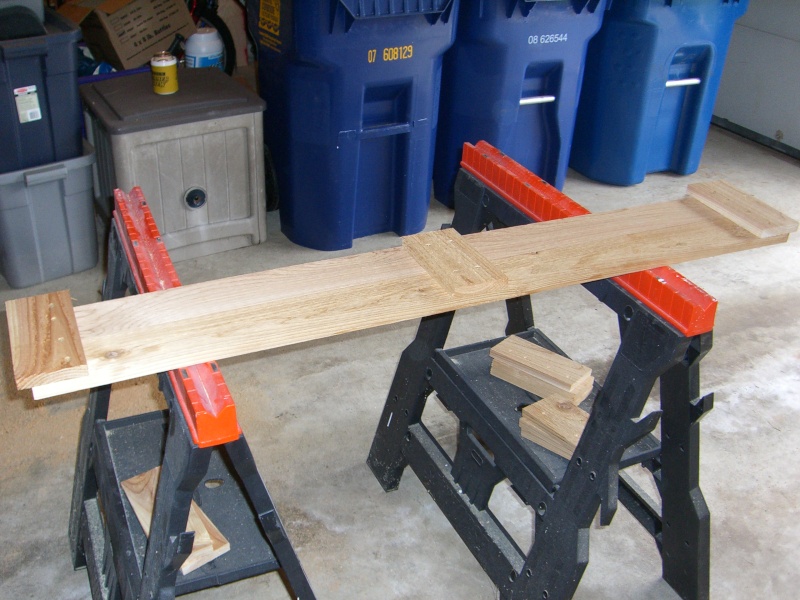 Close-up detail of end piece with overhang the width of one board.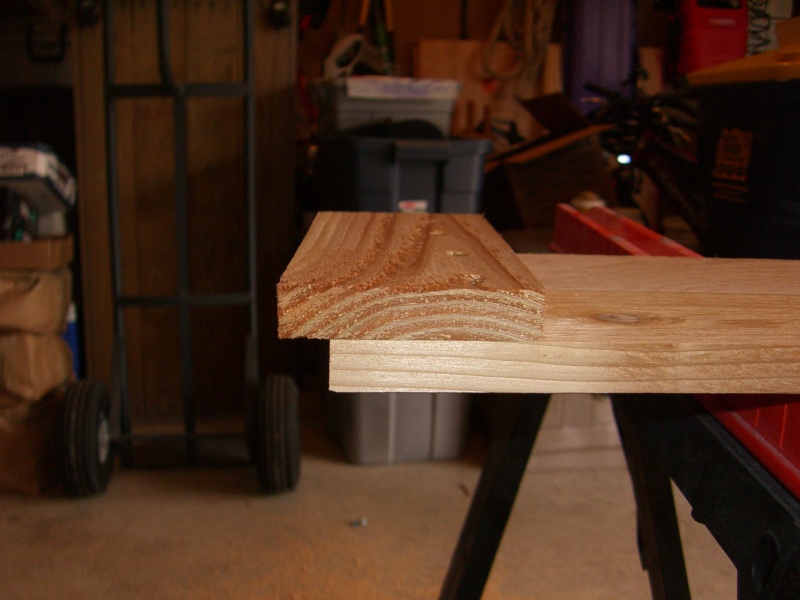 I made the corner pieces stick up about an inch above the side walls. This way when I put a weather, sun, or pest shield over the box it will fit without slipping off - the corners will hold it in place.
Here is the box assembled with the four walls. A piece of 3/4 plywood on the saw horses makes a nice work surface. Notice how the corners fit together.
I flipped the assembled box over and used a staple gun to apply weed block. Lowe's had the 3' width considerably cheaper than the 4' width, so I overlapped two 3' pieces to cover.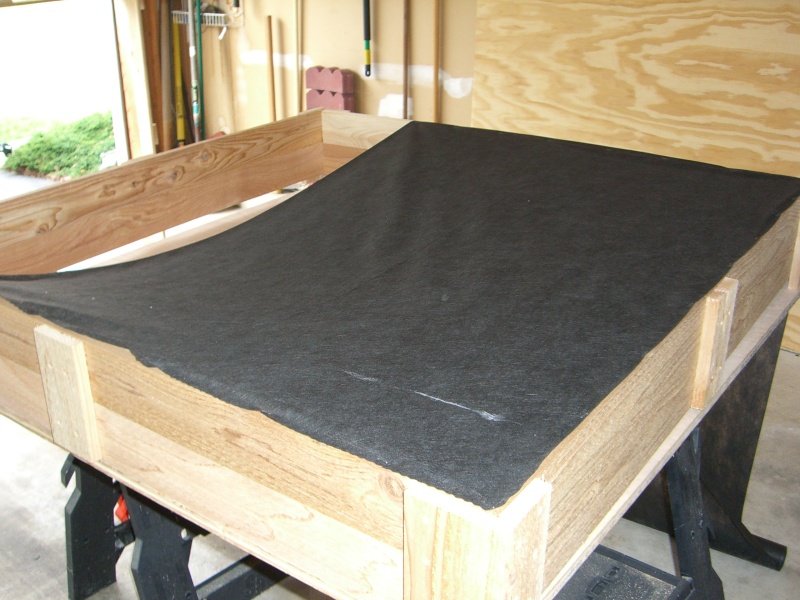 Here they are - ready for Mel's mix!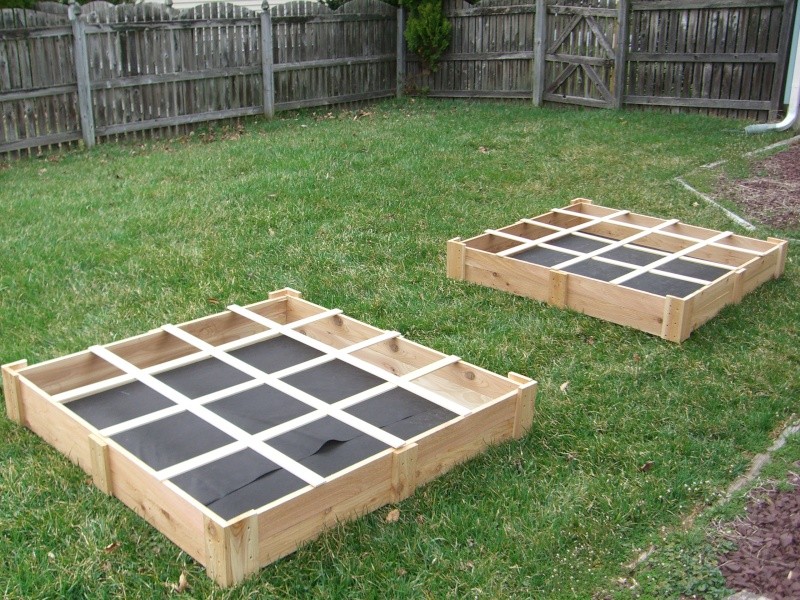 My compost is not ready yet, so I bought compost and mixed with peat moss and vermiculite. We used a tarp to mix - just like in the book - worked great!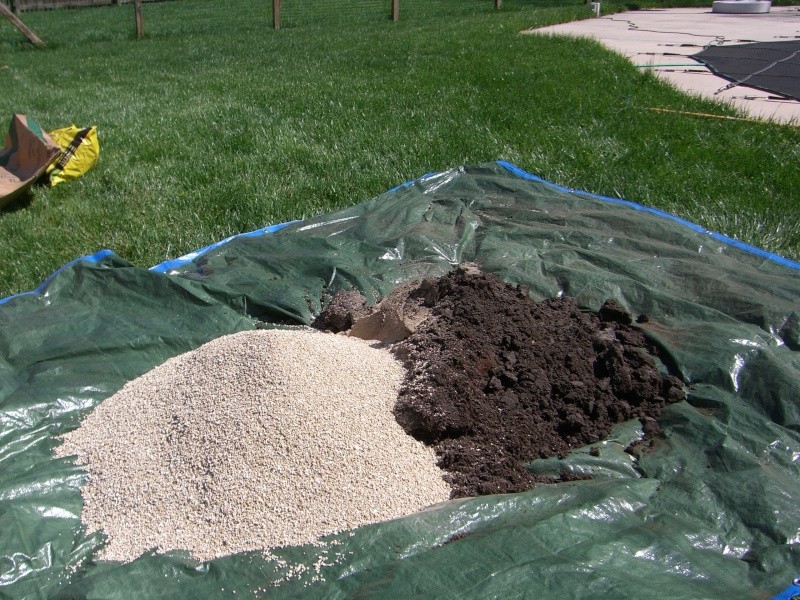 All mixed up!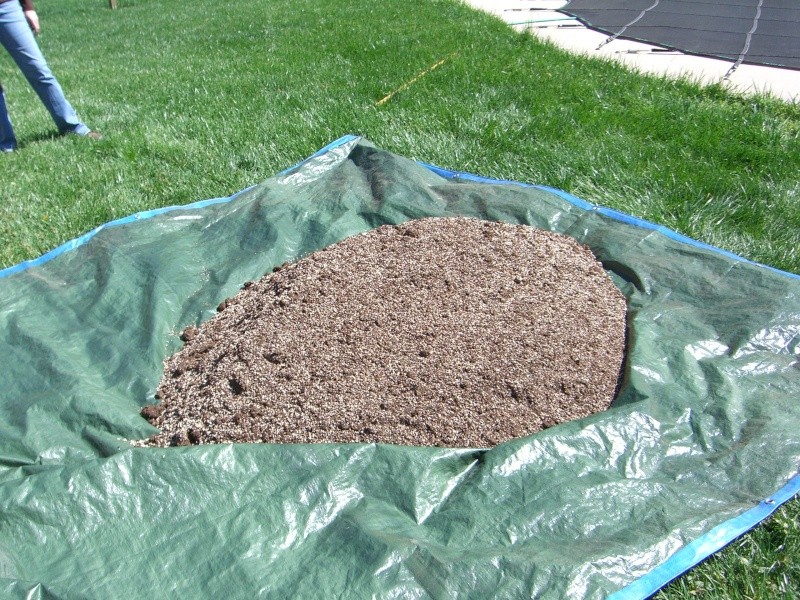 Rather than shovel the mixture, we dragged the edge of the tarp into the box and grabbed the opposit corners of th tarp and just rolled the mixture right into the box!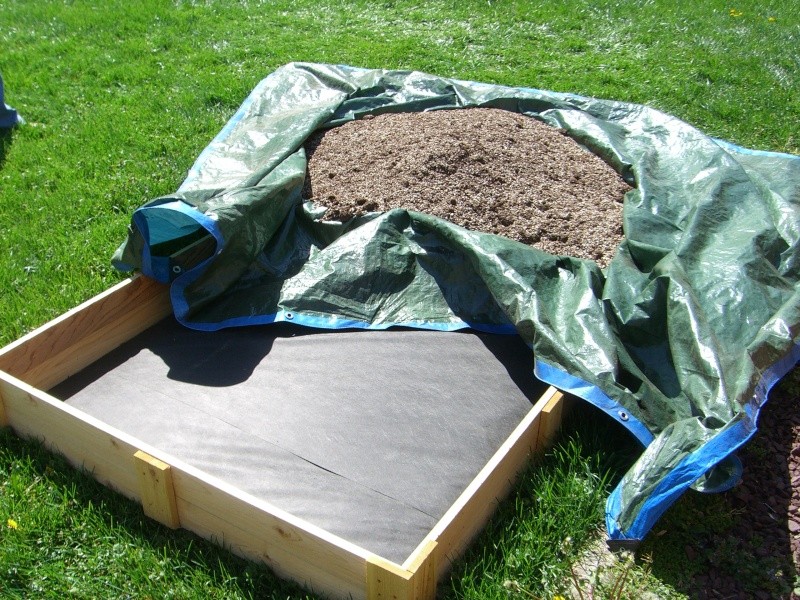 Here are the two boxes, ready for planting. The grids are 1/4" x 1' pieces of poplar put together with #8 3/4" long stainless machine screws with stainless lock nuts.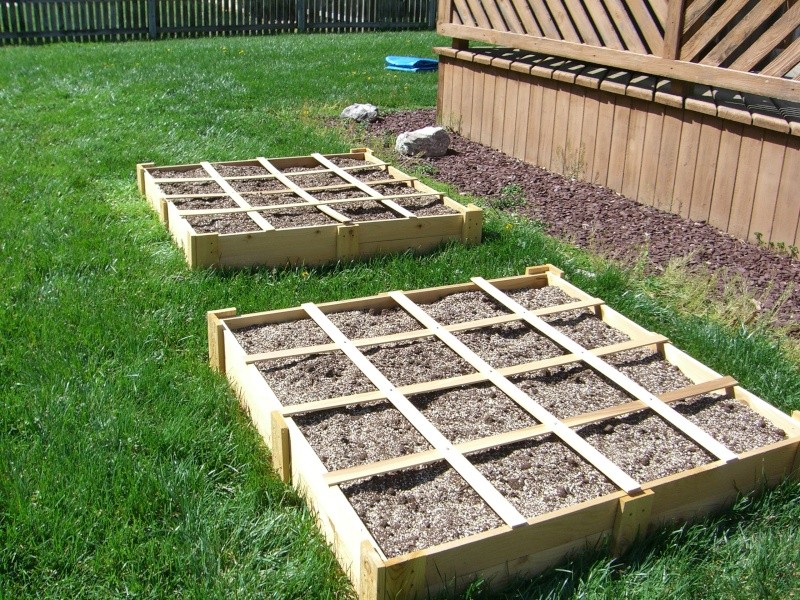 Can't say our dog Frank did much to help, but he did a good job of staying out of the way!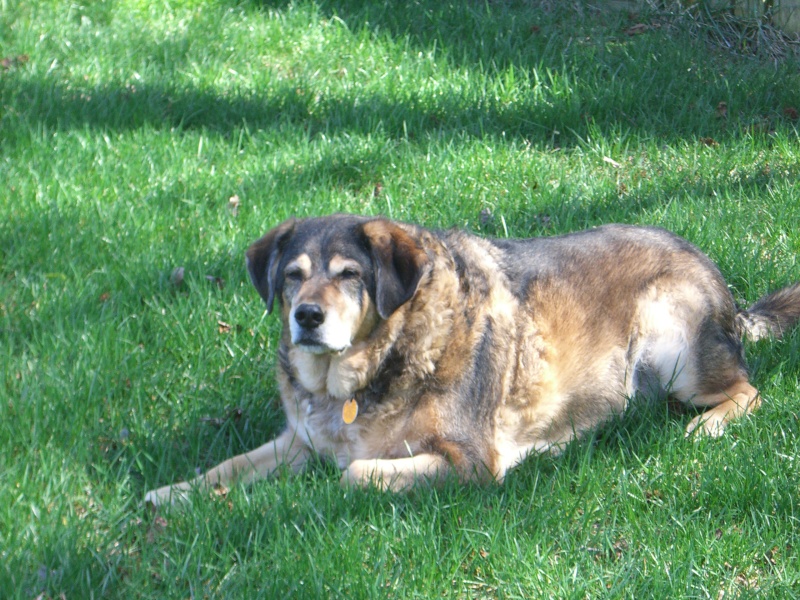 We'll post more pics when something starts to grow!



Posts

: 2


Join date

: 2010-04-10



Looks great! You are gonna have an awesome garden!!!




Posts

: 107


Join date

: 2010-04-05


Age

: 38


Location

: Hastings, MN (zone 4a)



Great Job! I must compliment you on a really nice posting as well. I enjoyed all the pictures!

Crystalheart



Posts

: 8


Join date

: 2010-04-01


Age

: 64


Location

: Bethany Beach, DE



Excellent job, beautiful boxes, but I'm most impressed by your CLEAN garage! Only in my dreams....



Posts

: 755


Join date

: 2010-03-02


Age

: 68


Location

: Southeast Tennessee



Those look awesome! Love the corner idea!



Posts

: 53


Join date

: 2010-03-26


Age

: 37


Location

: South East Idaho (Zone 4a/4b)



Great looking boxes! Your tip about being persistent in the pursuit of vermiculite is spot on. The stuff is out there, but it can sometimes take a while to find it. ... My favorite quote, "The book was much cheaper than the rototiller I was thinking of buying." Greatness.


Certified SFG Instructor




Posts

: 778


Join date

: 2010-03-02


Location

: Frisco, Texas



@tfra

wrote:The book

was much cheaper than the rototiller I was thinking of buying. Plus, I

like to build things!
That's the best reason I've heard to do it

And you're right, being persistent pays off for sure. It also pays of to ask a nursery to just order some for you.



Posts

: 249


Join date

: 2010-03-03


Location

: Salt Lake City, UT



Beautiful boxes! If you love to build, maybe you can make me some nice ones and ill come down to pick them up lol! Just kiddin. Great job getting some verm, I think locating the compost and vermiculite is probably the most difficult task of SFG.



Posts

: 210


Join date

: 2010-03-03


Age

: 41


Location

: Burlington County, NJ - Zone 6b



Hey Tfra --

We must be neighbors - are atleast close to it -- as I'm in the Wilmington, DE area too.

Great looking boxes -- we finished up ours & the potting bench this weekend too (see the thread "And so it begins..."). Guess it was SFG weekend in Wilmington! LOL.

vfclead
a.k.a. Jennifer



Posts

: 39


Join date

: 2010-03-26


Age

: 46


Location

: Wilmington, DE



---
Permissions in this forum:
You
cannot
reply to topics in this forum