I'm ready to plant!!!! Just waiting for things to warm up a bit.
I did this all by myself!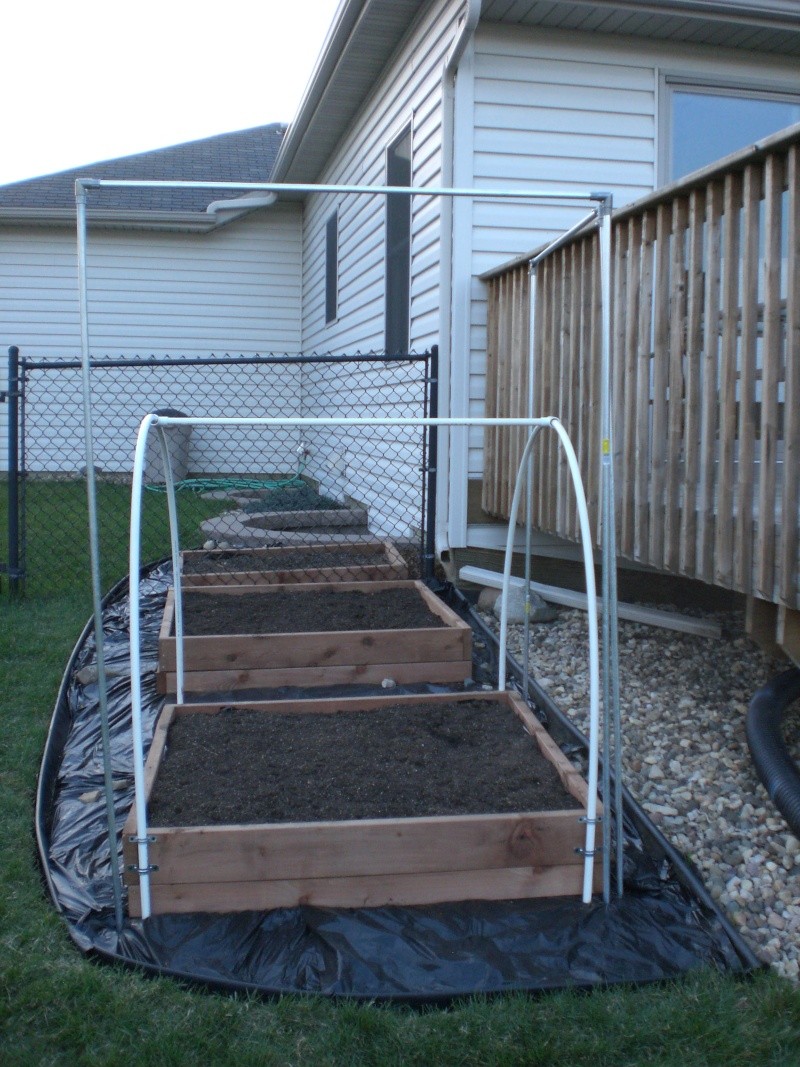 Here's a view of the PVC piece I used to make the arch cover. It actually worked pretty slick.
I just slid it through a 10' piece of PVC....easy - no screws. I just hope it holds.
The cover will probably only be used at the start of the season so my seeds don't drown or wash out with too much rain.
Looks awesome!! Can't wait to get planting with ya! I forget...have you already started seeds indoors? Or are you going to start them in the boxes or just use plants? I still need to plant my seeds inside!! agh!! Also, what are you gonna use for the grid?



Posts

: 107


Join date

: 2010-04-05


Age

: 38


Location

: Hastings, MN (zone 4a)



Wow, impressive. Can't wait for you to update with pictures of your plants in there.



Posts

: 249


Join date

: 2010-03-03


Location

: Salt Lake City, UT



Very nice! I just put PVC frames on my beds too, but I put the ends inside the bed - I like how yours looks!



Posts

: 58


Join date

: 2010-04-03


Age

: 51


Location

: Edmonds, WA



That looks great! I like the clamps on the side of the boxes to hold it in.



Posts

: 53


Join date

: 2010-03-26


Age

: 37


Location

: South East Idaho (Zone 4a/4b)



Well done!

Are you going to put mulch or stone on the black weed cover surrounding the boxes?

Certified SFG Instructor




Posts

: 778


Join date

: 2010-03-02


Location

: Frisco, Texas



Nice work on your boxes! Isn't it so much fun?

When we use PVC as you have on the arch, my Handy Husband will twist a screw in between the 3 way 'T' and the pipe, not into the plastic, but into the space between the 'T' and the pipe. The screw wedges in just enough to prevent the 'T' section from moving along the pipe so there is no slippage.

The screw is easy to remove if the pipe needs to be taken down, and
doesn't leave holes in the plastic.

Probably not a 'new' idea, but wanted to share it.



Posts

: 22


Join date

: 2010-03-05


Location

: Central Calif. San Joaquin Valley Zone 9



Thank you for the idea, jollo....I will have to do that!

Tim, my neighbor has some rock he wants to get rid of....that'll cover up the spaces.

I did not start seeds indoors - to be honest, I didnt' even think about it! I was too busy thinking up my bed and trellis plan, and then doing all of the work; I forgot about seed starting! That's why I went with the pvc frame as a cover-- I don't want a wetter-than-usual sprign to ruin my planting. I think Mother Nature would win if she wanted to, but hopefully this will help if need be.

Oh yah...grids...I have some kite string I will use for one bed and tomato steaks for another. The steaks were a bit thick, so I had to notch them out like lincoln logs to get them to fit better. (not the best looking, but it'll work - post pix of that later.)

What a wonderful feeling; playing in the dirt. I mean really...the smell, the feel....so peaceful and calming. I had such a great day yesterday!!
---
Permissions in this forum:
You
cannot
reply to topics in this forum