Latest topics
»
The Research Journey:Back to Eden Organic Gardening 101 Method with Wood Chips VS Leaves Composting Garden Soil
by
sanderson
Today at 3:02 am
»
The Research Journey:Composting Leaves Only
by
sanderson
Today at 2:36 am
»
California's Drought
by
sanderson
Today at 2:24 am
»
Second Year SFG in Canada
by
sanderson
Today at 2:22 am
»
CANADIAN REGION:What are you doing in October 2016
by
Kelejan
Yesterday at 10:47 pm
»
Can i just mix up the Mel's mix right in the garden box?
by
Kelejan
Yesterday at 6:15 pm
»
Fall garden push
by
Cajun Cappy
Yesterday at 5:44 pm
»
Testing MM Calculator
by
pforrester1
Yesterday at 5:09 pm
»
Sweet Potatoes
by
sanderson
Yesterday at 4:40 pm
»
Tomato Tuesday 2016
by
countrynaturals
Yesterday at 4:06 pm
»
When do I prep potted raspberries for winter?
by
trolleydriver
Yesterday at 1:19 pm
»
Please Welcome Our Newest Forum Moderator!
by
CapeCoddess
Yesterday at 12:07 pm
»
who has chickens
by
bigdogrock
Yesterday at 7:12 am
»
N&C Midwest: October Happenings!
by
MrBooker
Yesterday at 7:05 am
»
Sanderson's experiments with Bio-Flora Ag Products
by
dstack
Yesterday at 6:13 am
»
Flowers that easily reseeded
by
yolos
Yesterday at 12:07 am
»
Jade Plant
by
Scorpio Rising
10/25/2016, 11:21 pm
»
Microbes...you gotta see this one !!!
by
Scorpio Rising
10/25/2016, 9:53 pm
»
Fun Spider addition to Home Page
by
Scorpio Rising
10/25/2016, 9:49 pm
»
The Research Journey:Growing in a Raised Wood Chip Organic Gardening Bed
by
has55
10/25/2016, 7:16 am
»
The Research Journey:Building Healthy Soil
by
has55
10/25/2016, 7:13 am
»
the Research Journey:How to Grow Large Healthy Organic Tomatoes
by
has55
10/25/2016, 7:07 am
»
Bountea Compost Tea - Got it!!!
by
sanderson
10/25/2016, 3:23 am
»
Northern California & Coastal Valleys - What are you doing this month?
by
sanderson
10/25/2016, 1:28 am
»
Straw Bales with Seeds?
by
donnainzone5
10/24/2016, 11:50 pm
»
TrolleyDriver's Compost Thermometer
by
jimmy cee
10/24/2016, 10:44 pm
»
Notice: Gluten-free Recipes Sub-Forum- Up and running!
by
BeetlesPerSqFt
10/24/2016, 9:20 pm
»
Our Newest Regional Hosts!
by
Scorpio Rising
10/24/2016, 8:56 pm
»
Indian Solar Gardening Calendar
by
Scorpio Rising
10/24/2016, 8:52 pm
»
Asia Region -Showcase of Gardens - Show Us Yours
by
rajmahendra
10/24/2016, 8:36 pm
My DH built me 2 strawberry pyramids. Thought I'd put out a pic.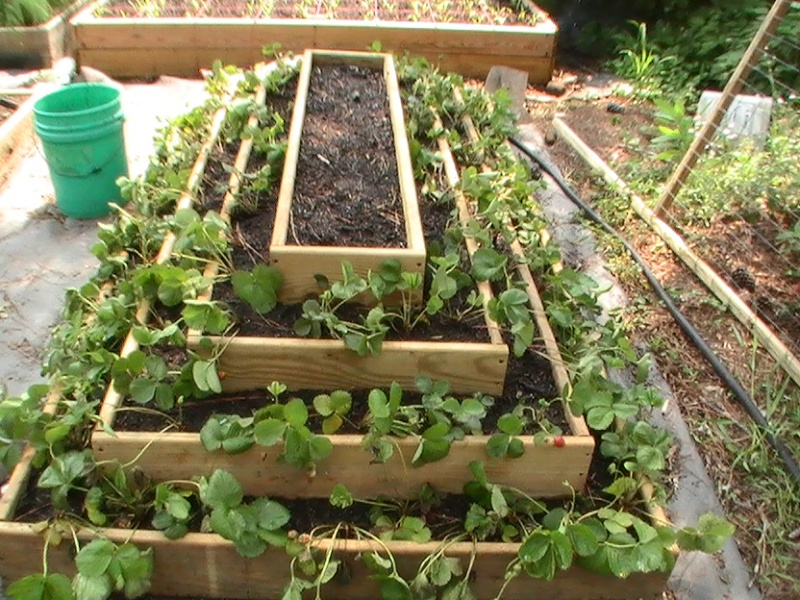 They are 4 x 8 on the bottom layer, 6 in width to plant in, so I put 2 per ft. I don't know what varieties, 1 is supposedly June bearing, and 1 is everbearing. Some of them don't put on runners per se. The crown divides or makes another crown rather than putting out a runner. The berries seem to just love the MM. I moved them to MM bed in the fall last yr. I think part of their success with so many berries, is that they must have made new crowns over the light winter we had. They were planted 4 per sq. last fall. There are probably at least 6 per square now to move. No way they will all fit in just 2 pyramids. I'd give some away, but, I cannot do this til I figure out what to do about the milipedes!
Love it! This will be on my list for next year's garden..! Hope the hubby won't be sick of building stuff by then, he built me 4 - 4x8 boxes that we have yet to plant in- but hoping for a fall garden...



Posts

: 61


Join date

: 2012-04-27


Age

: 42


Location

: New Castle, DE ~ Zone 7a ~



Oh those pyramid boxes are wonderful and your strawberries are beautiful! What's going on with millipedes?



Posts

: 1628


Join date

: 2010-06-04


Age

: 61


Location

: Northern Utah



I am very pleased with how the boxes turned out. First I had slugs, a lot, so I got some Sluggo for them. Soon after the millipeds moved in, and there were a lot of them too. I picked them out of the beds, but there were too many! I got an organic spray, and it got a lot of the adults, but then the tiny ones took over, probably hatchlings. I picked and sprayed, thought I had a handle on it. Then I picked some berries to eat, they had no blemishes at all. I cut into 1 and it was full of little tiny millipeds. Somehow I guess the eggs? were laid and hatched inside the berries. I have to inspect each berry and cut it open to be sure there are none inside. I don't know if they make a magnifying glass for berries! ha! ha!

I'm thinking maybe I got them in the woods when we went for pine straw.

I washed each plant that I moved to get dirt off, then dipped in water mixed with the organic solution. Hopefully I won't transfer to new beds. In the process, I found another bug in a cocoon, possibly a June bug or a Jananese beetle?

The berries are still blooming, which makes it a shame, for this yr. is the year of the berry! It feels like I'm fighting a losing battle, but I will not give up for I love my berries.

Jo
I love your strawberry pyramid. I do have a question about the contruction. When you add the second layer (and each subsequent layer), do the boxes just sit on the dirt of the box under them. It would seem that this would take mountains of mels mix.



Posts

: 2818


Join date

: 2011-11-20


Age

: 66


Location

: Brooks, Ga Zone 7B/8A



I figured I would have these a long time so the expense for the MM is an investment. I suppose you could use a cheaper mix in the very center. And yes, the next higher box just sits on the MM below. I guess someone could figure out how to support the higher beds? As it is, the plants can get extra moisture and nutrients from the inner MM.

Jo
I am thinking of building the same type of pyramid and was concerned about the amount of MM required. I got the idea to put legs on succeeding boxes, then attaching cardboard to the legs. Then I can fill the centers with sand or yard dirt and just have the MM in the outer planting area of each box. (In my case I have a huge pile of pine compost that my neighbor piled up with his Bobcat loader back in 1999 before I built my home). It was all the topsoil from the area of the pine woods where the house would be. If I fill the centers with that, the cardboard would separate it from the MM, but in time the cardboard would disintegrate and in the future blend in.



Posts

: 195


Join date

: 2012-05-14


Age

: 74


Location

: Northeastern Pennsylvania



I don't know about the legs. The upper levels sit fine on the lower dirt. Strawberries love the acid, so pine compost seems like it would be great. You could just scoot the mm to the edge of each level, and put the compost in the center. If you do the legs, let us know how it works out.

Jo
---
Permissions in this forum:
You
cannot
reply to topics in this forum