we have about 23 tomato plants most heirlooms all started from seed.....on the most part they all seem to be doing pretty well considering we live in the PNW and our weather is not the greatest.....
we do have a couple of plants that are sick looking.....
this guy even has fruit

....but his leaves are curled...next pick will show his stem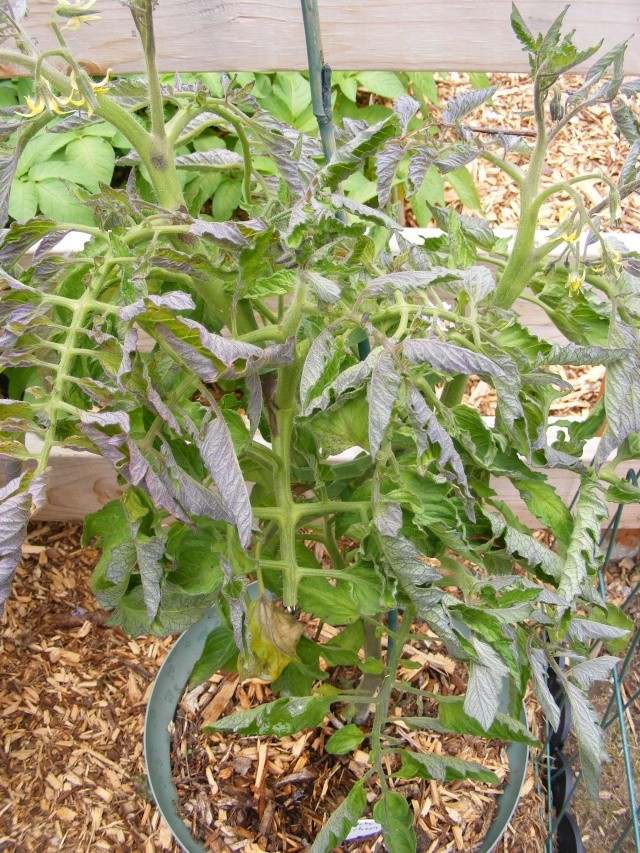 and his stem has these dark spots....he is not looking right.....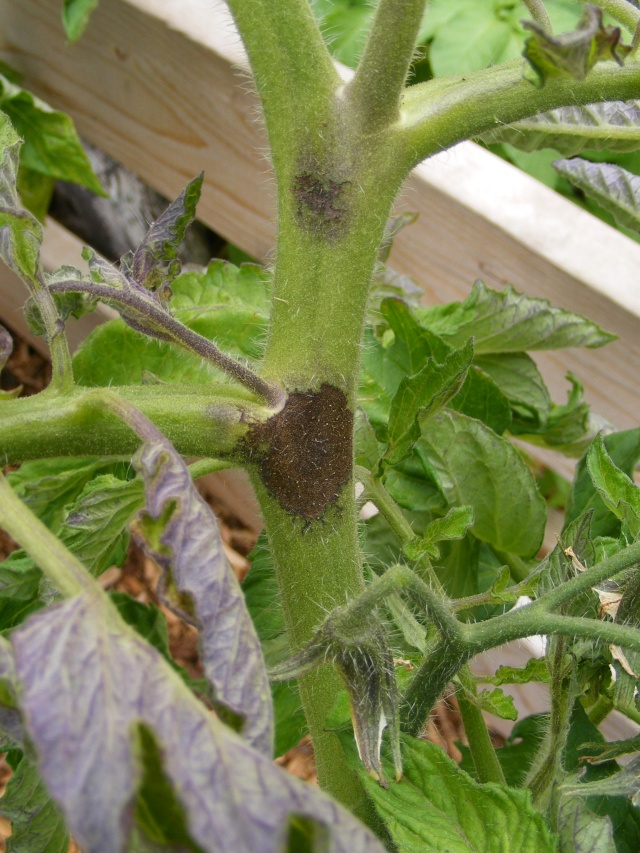 a few of our other plants that seem to be doing fine will have a leaf or two looking like this.....
any suggestions would be great.....this is our first year growing so many plants from seed and most heirlooms.....not sure what to expect.....
hugs
rose
____________________________
41 years a gardener and going strong with SFG.
http://squarefoot.creatingforum.com/t3574-the-end-of-july-7-weeks-until-frost
There are certain pursuits which, if not wholly poetic and true, do at least suggest a nobler and finer relation to nature than we know. The keeping of bees, for instance. ~ Henry David Thoreau
http://squarefoot.creatingforum.com/t1306-other-gardening-books

Forum Moderator Certified SFG Teacher




Posts

: 14165


Join date

: 2010-03-06


Age

: 54


Location

: Keene, NH, USA ~ Zone 5a



Man, oh, man. Definitely blight. It hurts, but rip out those with the stem rot out right now and burn the plants. Do not use in compost (which may not be hot enough to kill the blight spoors). Also, wouldn't hurt to arrange a hoop house over the other tomatoes using pvc pipe and painters' clear drop cloths to keep moisture from the other plants. Don't seal the hoop house; you want good air circulation to dry them each day. A good dose of kelp-infused water sprayed on and under the more healthy plants in early morning might be helpful. Be sure to spray the plants when you can be sure they will dry out before early afternoon to sidestep any infection. Best wishes and good luck. Nonna (who's been there/done that.)



Posts

: 1437


Join date

: 2011-02-07


Location

: In hills west of St. Helens, OR



blight??.....already

do we only need to get rid of the plant that has the ugly stem? or any plant that has a leaf that looks like above? ......does that leaf look like blight as well?
so far only one plant has a stem like this.......
we do have kelp.....how much per gal of water should we use as a spray?.....and our weather has been really nice the last few days but we have a chance of rain starting tomorrow.....should we wait until a dry spell or go ahead and give them a kelp spray?......we do have our plants spread out in pots in differnt areas ....they are not all together.....and when i trim i have been cleaning between each plant....so im hoping the blight wont spread......
now im wondering if our potatoes have blight as well.....

here is our yukon potatoes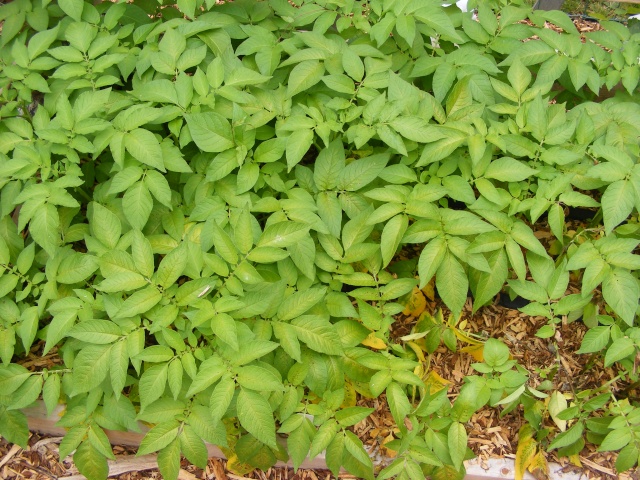 close up view of the leaves that are yellow and funny looking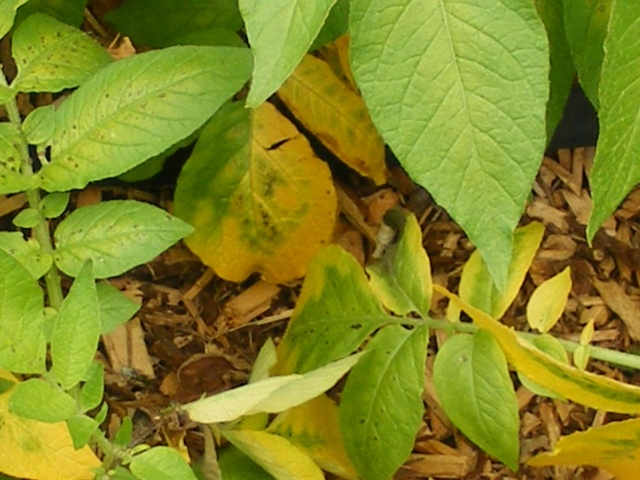 our other potato patch with whites & reds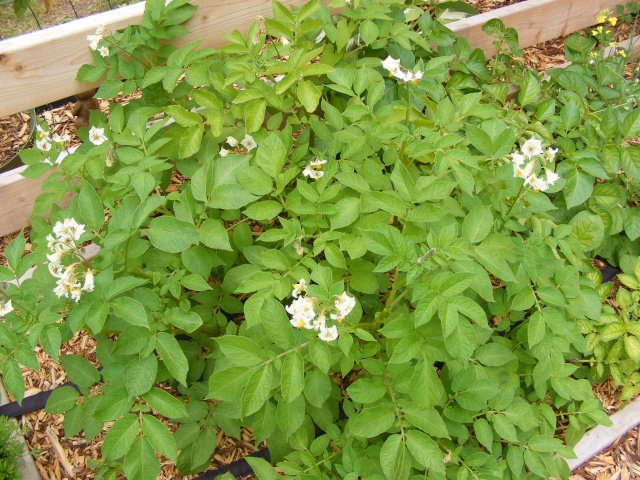 close up area of problem leaf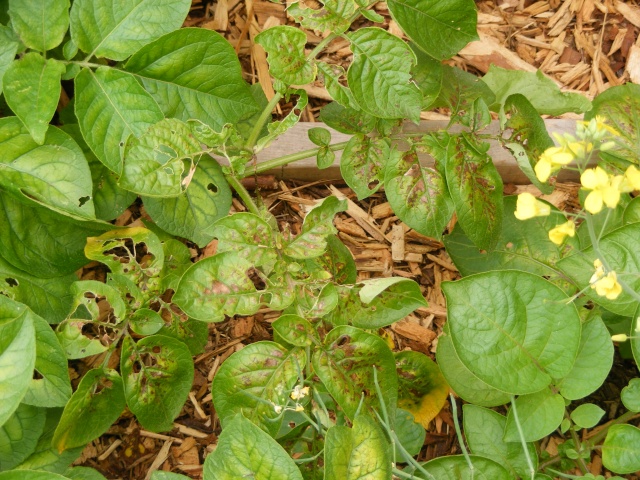 hugs
rose who is off to pull that tomato

and into a trash bag it will go......wondering what to do with the soil.....can we plant something else in that pot....or do we get rid of the soil as well?
family gardening
I am SOOOO sad for you
It would be SOOO hard to pull up some tomato plants and not even put them in the compost.


It does not usually rain here that much, but all the lakes are flooding around me right now ..... so hope I also do not get the blight.
best wishes for the other 21 plants...



Posts

: 2804


Join date

: 2012-01-14


Age

: 61


Location

: british columbia zone 5a



thanks
GWN & Nonna & Camp
we were sad to pull the plant with the MM and toss them into a garbage bag and throw them in to the trash can.....

....you know its just the way it is.....im starting to think the other plants around them might be getting sick too...just going to keep an eye on them....
funny thing is....there is a couple of plants that were not growing well when they were seedlings......was going to toss them but decided to baby them....stick them out in a corner here and there.....by them selves....and well....they look awesome now

....so glad we didnt toss them when they were younger....almost did because we really had to many to start with...but...hubby said baby them and give them a chance.....LOL....we shall see what happens....i know its the weather.....our baby corn has dew on them tonight

there is no getting around that the PNW is wet even on our hot days.....we have dew at night on the plants....

not sure what to do about the cantainer.....can we bleach it?
we pulled up a few potatoes from the plants that looked off to me from the pictures above and they seem fine.....

...so we sure hope that the potatoes dont get the blight as well....the sick tomato plant is on the other side of the fence from the potatoes....so we shall see....
here is what we harvested tonight

i think they look pretty good....a little small.....there is about a pound and half of new potatoes...dinner for tomorrow....the cauliflower next to the potatoes was harvested tonight also from an over winter plant...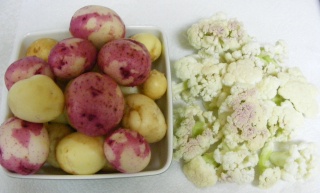 hugs
rose who is
so thankful
for great gardeners on this forum who help those in need!
That is great...
Living in Oregon, I found that though I started tomatoes early babied them etc etc, often the "volunteer" tomatoes from the compost caught up and got ahead of mine.
You might still have a chance to grow more
Why not try putting some seeds between two pieces of paper towel Wet.... and put them on a plate on your hot water tank and as soon as they sprout plant them...
With the warmer weather they might just take off.
My garden is way behind last year, I have the pictures DATED to prove it.
It has definitely been cooler this year.



Posts

: 2804


Join date

: 2012-01-14


Age

: 61


Location

: british columbia zone 5a



An extreme effort, but it is possible to sterilize potting soil....in the oven. Gives the whole house an aroma, which is why I only did it once. I'd be one to spread the soil from the tomato in the flower bed out front by the flagpole. Blight won't transfer to petunias and marigolds, IMHO, and it's 150 yards from the garden, with a paved driveway and whole bunch of yard in between.



Posts

: 1437


Join date

: 2011-02-07


Location

: In hills west of St. Helens, OR



There are a lot of previous threads about tomato/potato blight that have good info about life cycle, pre-treatment and how to deal with it once you know you have it. You can use the search feature at the bottom of the 'Latest Topics' list on the left.

I would suggest contacting your County Cooperative Extension Service Ag Agent, as they may have the best advice and can give you a positive ID. They would also want to know that it is spreading in the area.
____________________________
41 years a gardener and going strong with SFG.
http://squarefoot.creatingforum.com/t3574-the-end-of-july-7-weeks-until-frost
There are certain pursuits which, if not wholly poetic and true, do at least suggest a nobler and finer relation to nature than we know. The keeping of bees, for instance. ~ Henry David Thoreau
http://squarefoot.creatingforum.com/t1306-other-gardening-books

Forum Moderator Certified SFG Teacher




Posts

: 14165


Join date

: 2010-03-06


Age

: 54


Location

: Keene, NH, USA ~ Zone 5a



I had the same black splotches on some of my tomatos. It is late blight, an airborne disease and probably came from the potato fields near my house. I cut off and destroyed all the splotched stems, trimmed the leaves and was lucky enough to have a few suckers starting. Then I started spraying all my tomatos with copper fungicide every week. So far I've managed to contain the spread to the lower part of the plants and I'm getting some maters. The potato fields have been harvested so I'm hoping no more infectiction is coming my way as I also bought some extra starts and put them in buckets in the front yard.

Kay
____________________________
A WEED IS A FLOWER GROWING IN THE WRONG PLACE
Elizabeth City, NC
Click for weather forecast

Certified SFG Instructor




Posts

: 4354


Join date

: 2010-10-17


Age

: 74


Location

: wilmington, nc zone 8



---
Permissions in this forum:
You
cannot
reply to topics in this forum