Its so darn tiny, I can't understand it. This tomato I thought was an Early Cherry when I sowed it this spring. It stayed very tiny under the lights. It must have been a rogue that got into a seed packet at the distributors in error or its been stunted somehow. More likely stunted since I don't know of ANY tomato that is this small.
Above: I've placed a ruler beside it. This is 4" tall at the very top of the plant. It was transplanted here on May 27th. It already has a couple of tiny toms on it and blossoms.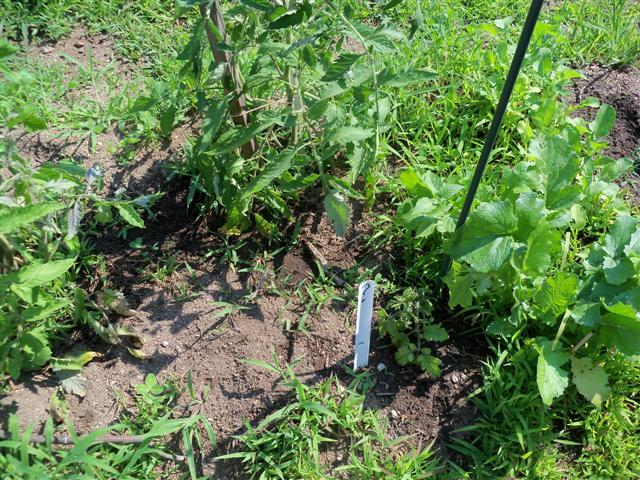 Above: See it to the right of the white label with the question mark? To compare, the tomato in back is a Gilbertie transplanted on 5/17 and its full height doesn't show in the photo. The plant to Tiny's right is a turnip.
I'll keep you posted on what happens. I'm undecided on whether to bag the plant and save seeds to see what happens next year. What do you think?



Posts

: 4646


Join date

: 2010-03-21


Age

: 75


Location

: Southwestern Maine Zone 5A



I recently bought a marked down tomato called Burpee Solar Power. It's listed height is 18 inches.

Kay
____________________________
A WEED IS A FLOWER GROWING IN THE WRONG PLACE
Elizabeth City, NC
Click for weather forecast

Certified SFG Instructor




Posts

: 4342


Join date

: 2010-10-17


Age

: 74


Location

: wilmington, nc zone 8



Kay.....I've grown a tomato variety only 18" high, but the leaves were normal-sized and the tomatoes were not cherry, but regular 6-7-oz size, Sophie's Choice. This little mystery is ultra tiny all over.
Above: One of my Sophie's Choice last year.



Posts

: 4646


Join date

: 2010-03-21


Age

: 75


Location

: Southwestern Maine Zone 5A



You're tomato plant must be one of my distressed/saved ones, Bea...they are STILL about 4 inches tall but have flowers now.

CC



Posts

: 5926


Join date

: 2012-05-20


Age

: 61


Location

: elbow of the Cape, MA, Zone 6b/7a



If you don't have plans for that space in the garden, you could just let it be and see what happens. On the upside, it's so small that if you leave it, it's not taking up much space.

Or you can pull it and I can tell you what my Super Sweet 100, which is the twin to yours, does this season. Today I was thinking that it hasn't grown since transplanting it from the nursery.

This may not be my garden's year for tomatoes. My plants are either dying or not growing. My teeny, tiny mini Super Sweet 100 is the only plant that has fruit. The others barely have blossoms. (My pepper and jalapeno pepper plants have not grown much in height either, but they are starting to set fruit.)

I just topdressed everything with compost yesterday to prepare for the hot temps and to add nutrients b/c I don't know why my garden's just not doing much this season.



Posts

: 237


Join date

: 2011-06-23


Location

: SE Wisconsin, Zone 5a



---
Permissions in this forum:
You
cannot
reply to topics in this forum