I was out inspecting this morning and found these little guys. Any ideas?

These guys were on the underside of a pepper leaf.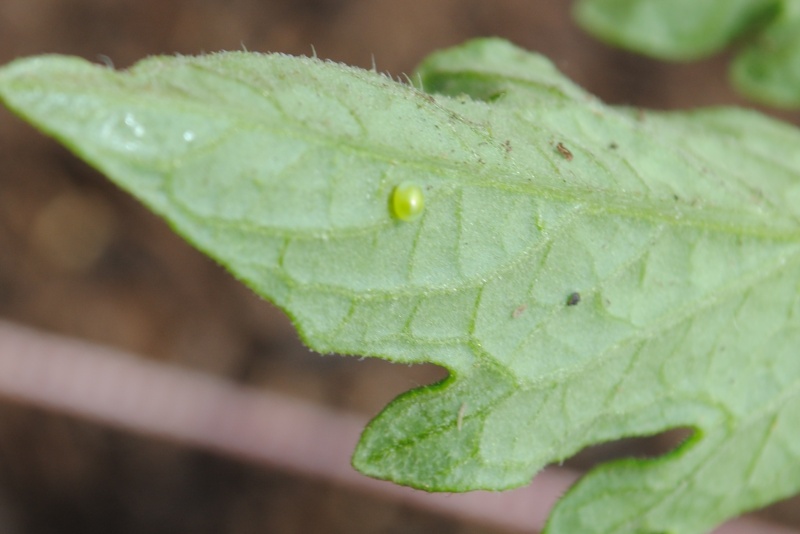 This lone guy was under a leaf of a red delicious tomato!

These were under a kohlrabi leaf.

This guy was hanging out on a broccoli plant, I caught him just incase he's a bad guy.
I am certain that's a cucumber beetle so he will be smooshed!
Oh no! I also just spotted a couple of these for the first time this morning. One on a cucumber plant, and one on a tomato plant. Besides "smooshing" which I don't think I can bear to do

, what other organic methods of destruction are there?



Posts

: 284


Join date

: 2010-03-17


Location

: Mason, OH



I am not exactly sure, there was a really good thread about organic pest control I will find it to post!

http://web.pppmb.cals.cornell.edu/resourceguide/cmp/cucurbit.php

http://www.ghorganics.com/CucumberBeetles.htm
I was able to confirm that the bugs on my cucumbers are cucumber beetles. So, this afternoon I decided that since I'm squeemish about smooshing that I'd go outside and offer the cucumber beetles a nice "bubble bath" (aka a cup of water with a squirt of dishwashing detergent). I was able to catch a half dozen and drop them into the cup. They went belly up, so I guess they don't like baths very much. I didn't see any others, and I checked for eggs but didn't see any. I'll be out again in the morning when apparently they are most active though, to see if anyone wants a morning bath!



Posts

: 284


Join date

: 2010-03-17


Location

: Mason, OH



Look at these pics.... http://engineeredgarden.blogspot.com/2010/07/taking-closer-look-at-insect-eggs.html So I am thinking corn earworm/tomato worm

According to this the black eggs are the parasitized ones by Trichogramma wasp.



Posts

: 2269


Join date

: 2012-03-29


Location

: Gallatin Valley, Montana, Intermountain zone 4



Freaky deaky, thanks Turan, I did a little googling too but never saw anything like this, I was guessing cutworms! I will be smooshing all eggs that look like this. Any idea about the green one, I was thinking a tomato horn worm. We have tons of moths and millers in this neck o the woods so I try to keep the porch lights out at night but I knew that they would find there way eventually.
I sure miss EG! Has he returned to blogging yet? In fact he is the real reason my beds are 12 inches deep. He had suggested it to make crop rotation easier.
Last edited by Pepper on 6/26/2012, 12:38 am; edited 1 time in total (Reason for editing : added a thought)



Posts

: 564


Join date

: 2012-03-04


Location

: Columbus, Ga



---
Permissions in this forum:
You
cannot
reply to topics in this forum