Here are the pictures of our raised beds, we are planning on adding at least 4 more boxes next year. The box with the hanging strawberries is going to be our strawberry box, I am attempting to root the runners, but no luck yet, they just don't want to root. Any ideas on how to get them to root? Also in the strawberry box I have 4 squares of onions planted. I will get current pictures in another post.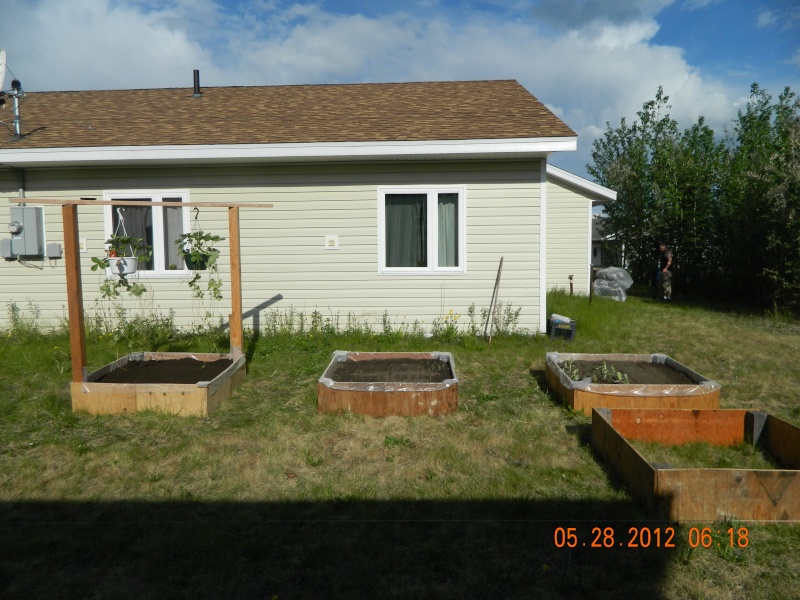 Hi Tanarose, I'm glad you came back and posted pictures! I like your hanging bar going diagonally over that one box - good use of space.

When we rooted our strawberry runners last year we used wire hooks (think landscape pins or pieces of wire hangars bent like a candy cane) to pin the runner down to keep it securely in contact with the dirt where we wanted it to grow. But we also didn't cut it from the mother plant until after we were sure it had rooted in nicely. Not sure if that matters, but haven't tried rooting ones that have been cut from the mother before so can't say.

Certified SFG Instructor




Posts

: 1413


Join date

: 2011-05-10


Location

: Vancouver, WA



i have found that it takes awhile for the baby to root its self from the mother plant.....what we do is cut off any runners from our hanging baskets while it is producing berries....when the berries have stop/really slowed down.....we put our hanging basket onto the ground located where we want the runner babies to go....i have found that strawberry plants will continue to put out runners.....we leave the baskets on the area we want new runners all thru the fall and winter....then in spring we cut the baby runner who now are nice new plants....and then hang the baskets back up to do it all over again

in the spring.....
hugs
rose



Posts

: 2424


Join date

: 2011-05-09


Location

: Western WA



I will get some wire hair pins or something similar and try that. I did have a runner that got broken off that I tried to root and it didn't work.
I like the idea of leaving the baskets out, but in interior Alaska I would have to bring them in, afraid the baskets might freeze. My plants haven't even started blooming yet, so am thinking that I won't get any berries

this year.
tananarose, I'm so glad you are trying in the Great North. When did you plant the berries into the pots? I really wish I could help. Maybe there is too much nitrogen in the pots and maybe add some tomato fertilizer to the pots or add some peat moss. Strawberries like the high acid content. The berries should bloom before they put on the first runner.

I think that if you add maybe some chain or wire to extend the hanger closer to the ground, where the runners can reach the ground, they will root.

If you have to take inside before they root, you can put each runner in a plastic baggie with some damp peat moss and they will root soon.

When is your 'beginning of winter'?

Jo



Posts

: 1557


Join date

: 2011-05-04


Age

: 64


Location

: Cottageville SC 8b



The baskets were my birthday present, my mom got then at a local greenhouse. I have added chains to lower the pots closer to the dirt, but the wind blows just enouegh to keep the runners from rooting.

Our first frost may occur anytime after the 1st of September with snow anytime as well. And then our first frost could hold off until October, it is hard to predict.

I did talk to the local green house earlier and they informed me if the plants are first year or have alot of runners that they won't produce flowers/berries, but that next year I should have lots of flowers/berries.
I had that issue the first year with my strawberries. LOTS of runners and maybe two berries. But since then (2seasons) they are producing great! My strawberries are in the ground so the runners just do their thing...not sure how they manage. I find the odd strawberry plant growing happily several feet from the patch all the time. But I will add that the runners from the second season were much more successful than the first. I'd guess less than half rooted the first year and it seems like ALL of them did last year!

I grew up in Alaska...much farther south in Seward...but my family did lots of gardening. I remember some MONSTER root veggies :-). And NO slugs...*sigh*. Your beds look wonderful and I love the hanging bar!



Posts

: 5


Join date

: 2012-06-24


Location

: Seattle, WA



Corrinaq
, I have lots of family in Seward - for a few generations now. Hmmm... Is it a small enough town that I should ask if you know them? Oh, but maybe I don't want to be associated with them...

tananarose
, Yep, our strawberries started off with runners right off the bat the first year, and no flowers/berries. Plenty of flowers and berries this year. In regards to the wind keeping your runners from staying put - can't you just take the basket down and set it in the bed for a few weeks while the runners root, instead of doing longer chains?

Certified SFG Instructor




Posts

: 1413


Join date

: 2011-05-10


Location

: Vancouver, WA



I got about 5 of the runners to root, we got alot of rain in for about 3 weeks so that helped, the others I trimmed back to only one clone on each runner, to see what would happen. 2 of our 3 tomatoes have about 2 1/2 dozen tomatos on them, and probably another 2 or 3 dozen blossoms, the 3rd is covered with blossoms but no fruit yet. The peas are all covered with blossoms and pods, and my carrots and lettuce took off. I have a female blossom on my pumpkin but no male blossom yet, have lots that haven't opened yet. My onions are doing great as well.
Wow, such success on the North

Pole no less. You're doing Great!
Enjoy...



Posts

: 370


Join date

: 2011-07-21


Location

: PNWet 7 B



Thanks, I harvested the first of the cauliflower last night. Nice and white, not like the store bought ones. I can't wait for the rest of the garden to be ready to harvest

---
Permissions in this forum:
You
cannot
reply to topics in this forum