After messing around for a couple of years and having moderate (at best) results, my wife and I finally built nice, tall boxes for our SFG! Because of the tall retaining wall on the south side of the boxes, we had to built them two feet tall to accomodate shade/sun. The boxes are 4' wide by 6' long. We used some old 1/2" PVC pipe and joints to build the dividers, but I am not sure that I like them, and we may replace them. We started out seeds in peat pots before we had the boxes built, and they are just about ready to be transplanted. We just have to add out vertical supports and then we will be all set!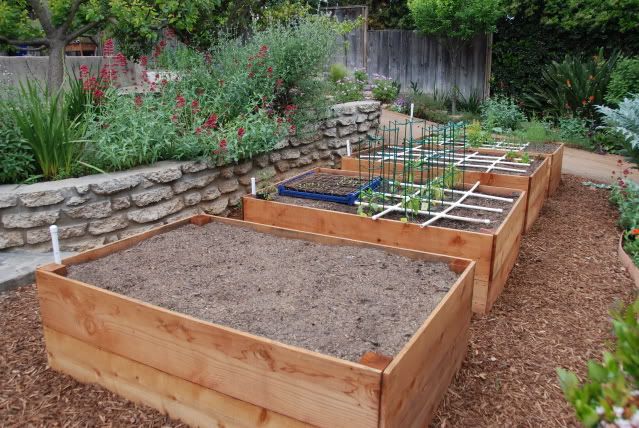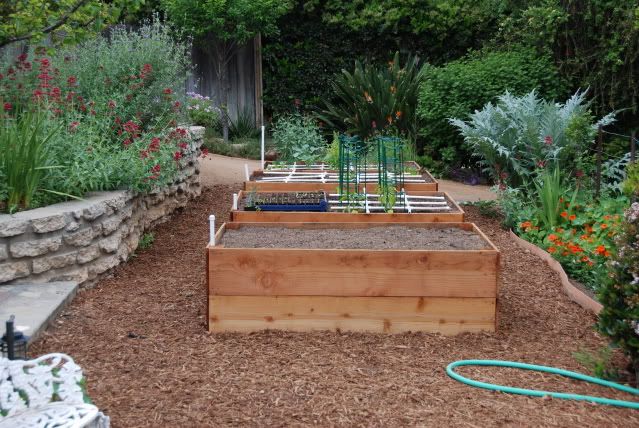 Wow, not only are your beds nice to look at, but the rest of the place isn't bad either! YOu have a beautiful yard.

I don't think the grids are too bad, and when everything grows in you'll hardly notice them. Hey - maybe there's a way to incorporate some sort of irrigation system within the pvc grids - then they'll serve 2 purposes!

Looks great.



Posts

: 215


Join date

: 2010-03-05


Age

: 42


Location

: southeast MN, zone 4a



Wow gorgeous beds in a gorgeous setting! I have to agree the pvc could serve a dual purpose as a drip system. You could always paint them to blend in some too.



Posts

: 327


Join date

: 2010-03-01


Age

: 43


Location

: Hobbs New MExico, Zone 7A/7B



WOW! Those are some serious beds! No need to worry about having a deep box for potatoes. Thanks for sharing.

Certified SFG Instructor




Posts

: 778


Join date

: 2010-03-02


Location

: Frisco, Texas



Thanks for the kind words! I am especially excited about how these turned out, and how well they are working thus far. The bottom photo is the only bed that is fully planted thus far, but everything is growing nicely. I reserved the northern-most squares for asparagus, and planted it all the way across, thus the missing grid up top. I am also trying out romanesco broccoli (second row from bottom, 1st, 2nd and 3rd squares from left). I think romanesco is the most interesting-looking vegetable that I have ever seen, and I really hope they grow well.
I got our vertical supports built this weekend, and now my vining crops are planted (tomatoes, lemon cucumbers and summer squash). I can't wait to start harvesting tomatoes!!!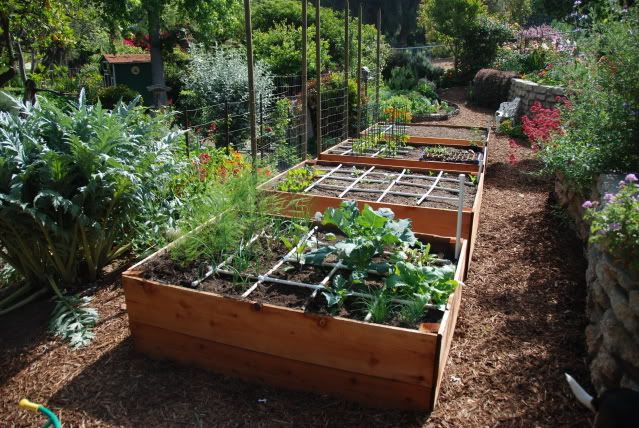 Also, I noticed that our artichokes are coming up. A sure sign that Spring is here in San Diego.
Gorgeous boxes!!!! Can I ask what kind of wood and how tall the boards are? This is exactly what I want to make this week!!!!




Posts

: 420


Join date

: 2010-03-18


Location

: MN Zone 4



Sure. I uses 4x4 redwood posts on the corners, and 1x12 redwood planking on the sides. I bought 10-foot boards, and cut 4-and 6-foot lengths. That way I only needed two boards per box, as they are 4x6 boxes. I filled the bottom 9" with crushed gravel for drainage and minimal settling, then my mixed soil in the top 15".
AFLfan you gardens are BEAUTIFUL!!

FOUNDER SFG forum 2009

certified SFG instructor




Posts

: 211


Join date

: 2010-02-26


Age

: 63


Location

: Illinois Z6



Thanks! We are fortunate to be in San Diego, where nearly everything grows wonderfully, and we love to work outside. It is a nice combination. I just wish I had more space to put in a few more SFGs.
---
Permissions in this forum:
You
cannot
reply to topics in this forum