In mid-May I planted four different varieties of tomatoes, two per variety. Some were planted deeper with only the top couple of inches above the ground, and the left ones of the pair was planted shallow, only about one inch deeper than they were in their transplanting pot. Things are pretty consistent for all of them.
As you can see in these I've posted, the pairs are about equal in height today. Some planted shallow produced blossoms earlier while some of those planted deeper did so.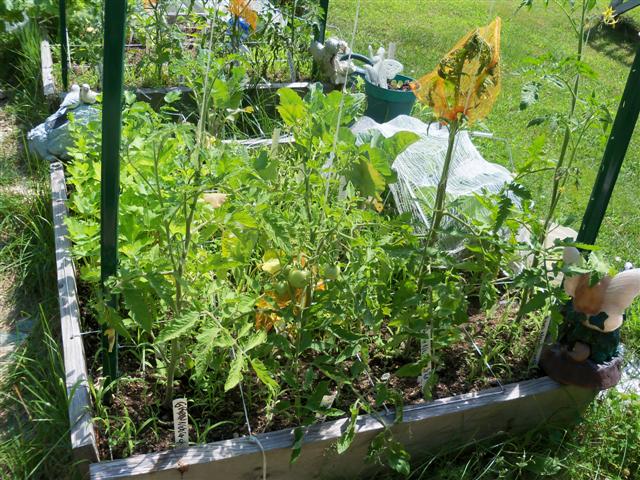 Above: The two on the left are Green Zebras with the furthest left planted shallow. The shallow one is a little taller but the one on the right, transplanted deeper, formed blossoms and fruits first. It was larger at transplant time.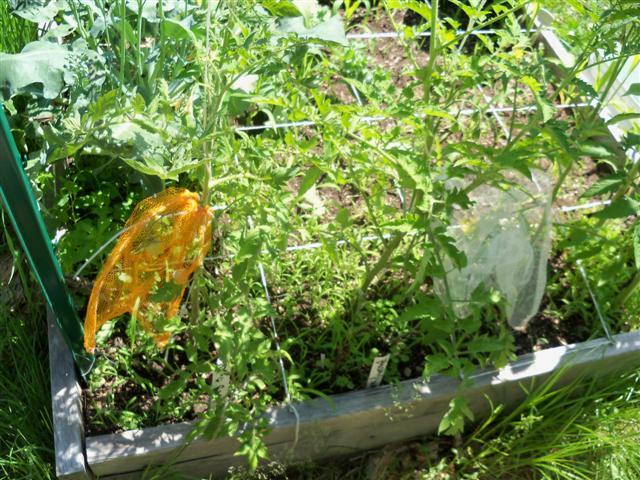 Above are a pair of Pasquebot Romas on the left. Again, about the same height but this time the one planted shallower is producing fruits sooner.
With the Super Marmandes above, it was the one planted shallow that produced flowers and fruits first. In this bed, with much more shade in the mornings, growth isn't thick and heavy but rather sparse. They want more sunshine than this corner gives them.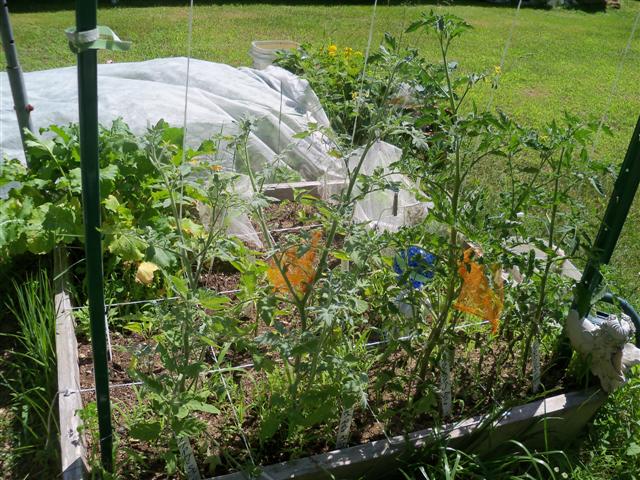 This last pair are Velvet Reds on the left. The one on the right (planted deeper) is taller, but it was also much larger of the two when it was planted and producing fruits first.
Conclusions to date: Planting depth doesn't matter in the final size of the plant, its the larger seedlings at transplant time that produces the earlier fruits.
If things change in the coming weeks, I'll let you know.



Posts

: 4646


Join date

: 2010-03-21


Age

: 75


Location

: Southwestern Maine Zone 5A



Great experiment & good info, Bea! I love doing stuff like that also. I planted 2 Sweet 100's - 1 layed down and 1 straight in. The diff in the size of the two is amazing, and the layed down has flowers but the other doesn't. Too dark for a photo but I'll try to remember to get one tomorrow.

CC



Posts

: 5925


Join date

: 2012-05-20


Age

: 61


Location

: elbow of the Cape, MA, Zone 6b/7a



Interesting!

Just an idea: We've seen in other threads that tomato roots don't get very big when nutrients and water are easy to get. Is it possible that because you have a good soil medium, that the deep plants aren't doing better because the extra rooting isn't needed for the plant to do its best?

Would the next experiment be to do the same thing only with one batch in good medium, and one batch in not so good medium?

I really don't know if that makes sense or not!



Posts

: 7392


Join date

: 2010-02-26


Age

: 64


Location

: yelm, wa, usa



Boffer,

I think that would be another interesting experiment. But if it is nutrients you want to compare it should be one's compost (a component of MM) compared to some other source of nutrient.

Comparing the soil medium would have to be some other comparison. Another trial where all the other conditions were kept the same. Such as MM w/it's compost against regular "dirt" with same compost (for example).

I'm not surprised with Bea's conclusion that the stronger/hardier seedling did better in this trial. When you have extra seedlings than you want to transplant, always go with the stronger/hardier looking ones and cast away the rest.

But then ..... if you've got'em and have the space plant'em anyway.

---Dave



Posts

: 51


Join date

: 2011-03-10


Age

: 60


Location

: Milton, WA; PNW - Zone 7-9



---
Permissions in this forum:
You
cannot
reply to topics in this forum