Here are some pics of my progress:
Bed constructed , but not much in yet as of 5/17

A little later on 5/28 I got more plants in and a few seeds also

On 6/14 I planted 4 patio tomato plants. Here are two. Check out that tomato on the one on the right.

Here is that same tomato getting ripe today

And here is an overall view from today.
So far I've eaten about 14 radishes, and a serving of yellow wax beans, but there are loads of veggies to come. I expect to can a lot of spaghetti sauce and tomatoes. I will have a lot of eggplant, too. And peppers, both bell and cubanelle. I've never tasted cubanelle, but on line I read that they are sweet with a touch of spiciness. I am not into hot peppers, but I will probably like a little.
Whatever I get out of my garden, I'm having a ball with it, and will be adding more beds.
Last edited by memart1 on 7/8/2012, 2:57 pm; edited 1 time in total (Reason for editing : Wrong picture)



Posts

: 195


Join date

: 2012-05-14


Age

: 75


Location

: Northeastern Pennsylvania



Looks great memart! Thanks for sharing
____________________________
I am my gardens worst enemy.

Forum Administrator




Posts

: 4298


Join date

: 2011-10-04


Location

: Colorado Front Range



Ohh just gorgeous Memart! Way to go. I am getting a few blueberries each day from my baby plants, 2 out of 3 have grown almost a foot since I got them, the third one is struggling. I keep watering and keep my fingers crossed.
Also, I put a few rutabagas in today and will put a few more in a couple weeks. Boy I am really looking forward to those. My everbearing strawberries are starting to produce, feels so good to walk outside and grab a few bluberries and strawberries, heavenly.

Certified SFG Instructor




Posts

: 4838


Join date

: 2010-08-20


Age

: 60


Location

: Central Ohio zone 6a



I hope to go Tuesday for some lumber to build a 4 x 4 pyramid for strawberries. I put in 2 squares of rutabaga - five to a square. I figure I can pull the one in the middle first and since I am a family of one, I don't need a really big one to make a meal. Today I had 22 pods of wax beans and it made a nice side dish for just me. My brother and his 27 yr old daughter were in on the 2nd and 3rd and on the third we made a Blueberry strata that I found on AllRecipes.com. It was really good and Jessica asked if she could take the remainder home. I am probably going to make it again for Tuesday as my daughter and her husband will be here to go for lumber for a new front porch (and my strawberry bed)



Posts

: 195


Join date

: 2012-05-14


Age

: 75


Location

: Northeastern Pennsylvania



What a great idea. I love the design of the garden around your house!




Posts

: 361


Join date

: 2011-04-28


Age

: 40


Location

: Delaware County, PA



beautiful garden! wow, love the way it wraps around your house. My marigolds out front are doing AMAZING!! I wish I could get the picture to post. I have tomatoes, cilantro, onions, peppers and sunflowers mixed in and they're all growing like gangbusters! It's not in a SFG mix, but they are all sure happy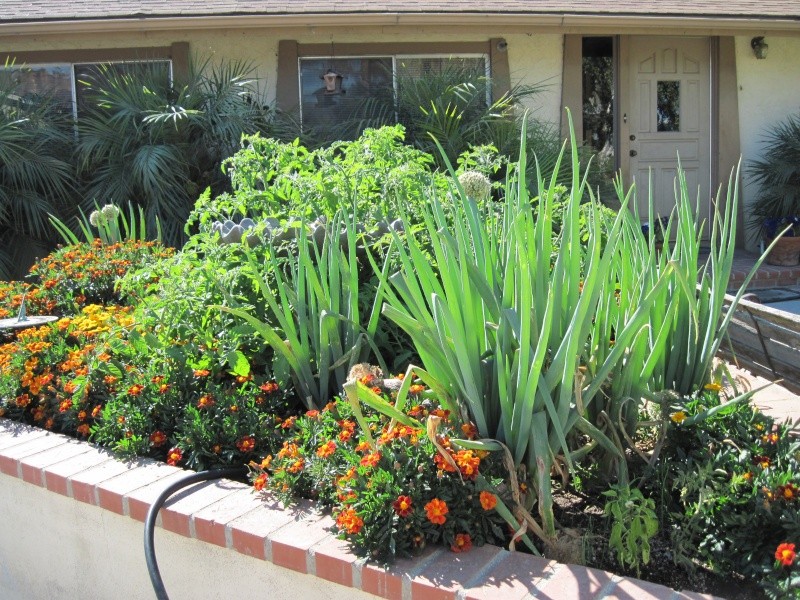 Last edited by southern gardener on 7/8/2012, 8:09 pm; edited 1 time in total (Reason for editing : add pics)



Posts

: 1887


Join date

: 2011-06-21


Age

: 36


Location

: california, zone 10a



WoW memart1! That has filled in nicely! Looks great!
GG



Posts

: 3412


Join date

: 2011-02-16


Age

: 52


Location

: Zone 4A - NE SD



It's amazing how fast things change! Your garden is beautiful!



Posts

: 2037


Join date

: 2012-03-21


Location

: Custer, SD



Mabel your garden is just beautiful and healthy looking and I love the wood around the bed!

Southern Gardener I wish my front yard or any part had that planter bed with your beautiful plants!

Llama Mama you sound like you are doing very good also!

It is so nice to hear and see how your gardens are growing!



Posts

: 1628


Join date

: 2010-06-04


Age

: 62


Location

: Northern Utah



---
Permissions in this forum:
You
cannot
reply to topics in this forum