I have prepared two pots with the top 6 inches having MM as mentioned here on the forum. I am going to put Spacemaster in one and Bush Champion in the other. Do I plant as if it was a square or just do one per pot? One pot is a 14" across plastic (the look-like-tan pottery kind) and the other is a half-whiskey barrel which I did not measure across but is larger than the 14" one.

The chart in the book does not list cucumber spacing (just says 'vine') so I wouldn't know how many to put in a square if I was doing it that way although the 'thin to' figure is 2 for one plant and 3 for the other.

Thanks, in advance, to anyone who helps.
Hmmm, what is the thin to recommendation on the packet? All of mine are vines but just guessing I would think at least 2 per container! Hopefully someone else can chime in that has a little more experience!



Posts

: 2037


Join date

: 2012-03-21


Location

: Custer, SD



The thin to for one is 2 and the other is 3.

I guess I will put in the tomato cage and plant two seeds on each side of it. Hopefully I will get 2 -3 plants out of that. I am not sure what the germination rate is because it is not listed on the packets.
I have six in a 18 inch square wood planter box, they're doing fine. three are improved telegraph, 3 are some other kind (long anglais or marketmore can't remember and can't tell by looking at them)

The telegraph keep producing the other, not so much. I'm guessing a slightly lighter load would be better.



Posts

: 461


Join date

: 2011-04-22


Location

: Orange County, CA aka Disneyland or Sunset zone 22



Here is a picture of my beautiful cucumber plant and another close up of a couple of the flowers. (I have five flowers on them!)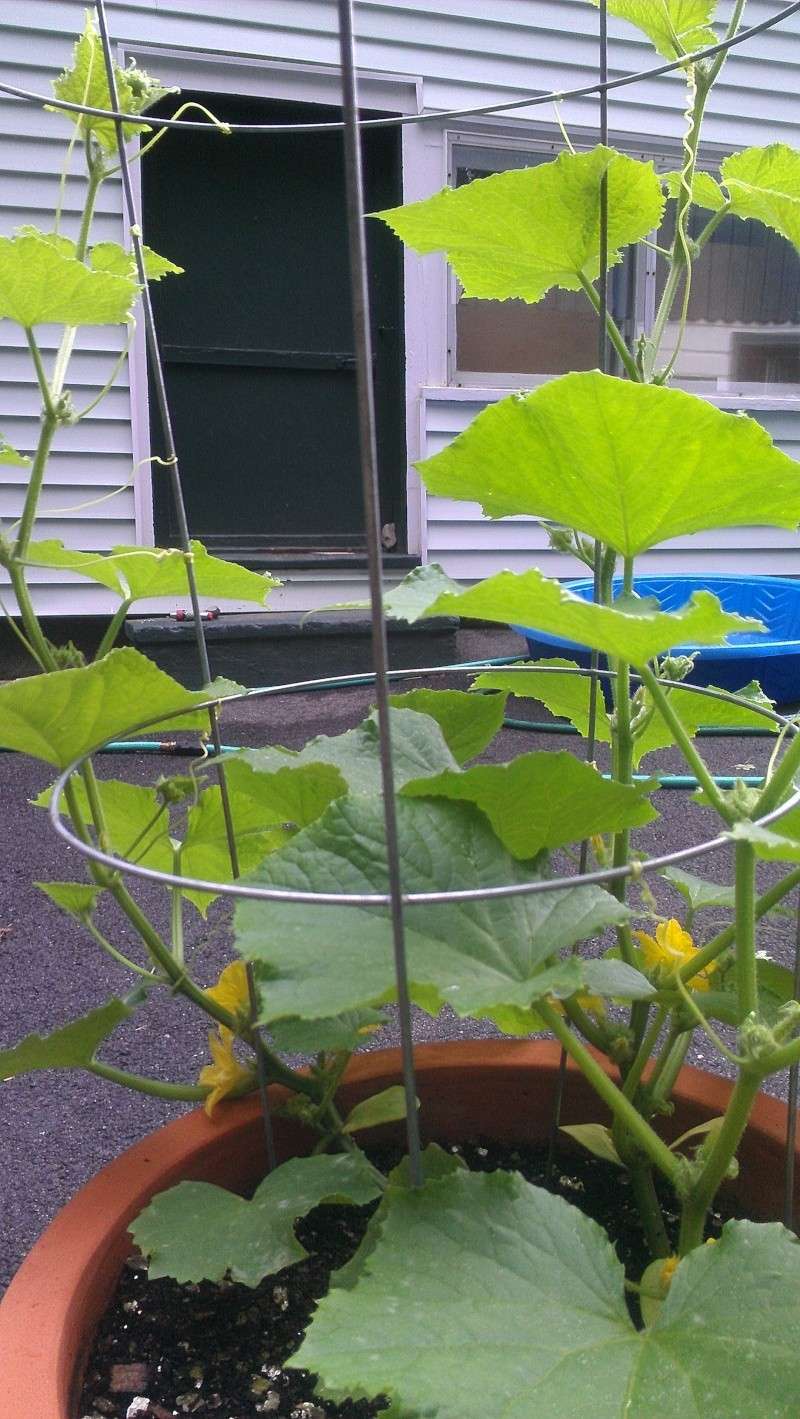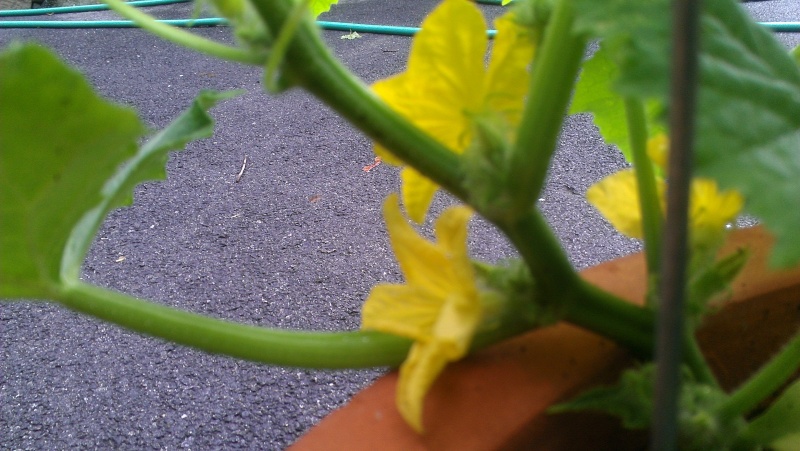 I think these are male flowers. Don't see any females. :-(
Petty! Son you'll have cukes.
____________________________
41 years a gardener and going strong with SFG.
http://squarefoot.creatingforum.com/t3574-the-end-of-july-7-weeks-until-frost
There are certain pursuits which, if not wholly poetic and true, do at least suggest a nobler and finer relation to nature than we know. The keeping of bees, for instance. ~ Henry David Thoreau
http://squarefoot.creatingforum.com/t1306-other-gardening-books

Forum Moderator Certified SFG Teacher




Posts

: 14146


Join date

: 2010-03-06


Age

: 54


Location

: Keene, NH, USA ~ Zone 5a



I hope so! I have to get 'something' that I really planted from this journey. I am tired of learning that everything that is developing is really a weed!

I hope those male flowers stay around long enough for the female ones to appear. Seems stupid that the plant would not produce them both at the same time so the bee can do it's thing!
Update: Yesterday I went out and there were two spots on two different leaves. So I sprayed the entire plant with Neem oil again. Today there are no spots but I did notice this aberration on one leaf: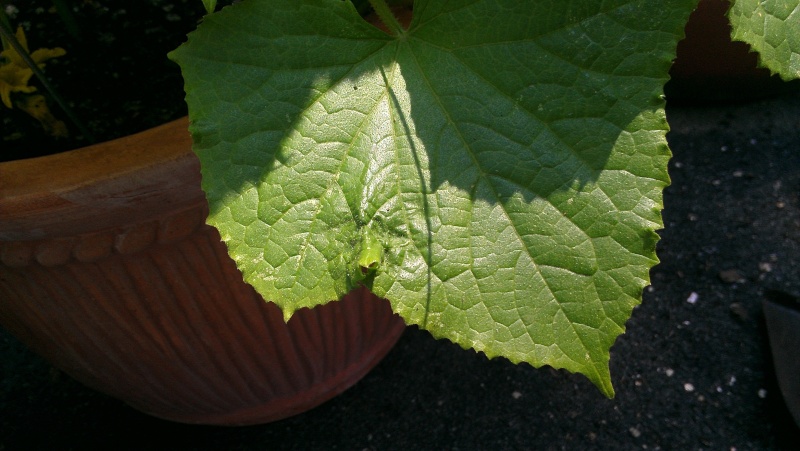 (Notice the puckering that wasn't there yesterday.)
---
Permissions in this forum:
You
cannot
reply to topics in this forum