This plant looks terrible...
The stem is entirely a weird brown and the bloom stems are all drying up and falling off. tomatoes too... and it's fine in terms of water...
Can anyone diagnose the problem>? It's right next to a healthy plant and I want to know if I should rip him out asap!! I feel bad doing it because it's got a bunch of tomatoes on it but even they look a little washed out lately...

THANK YOU!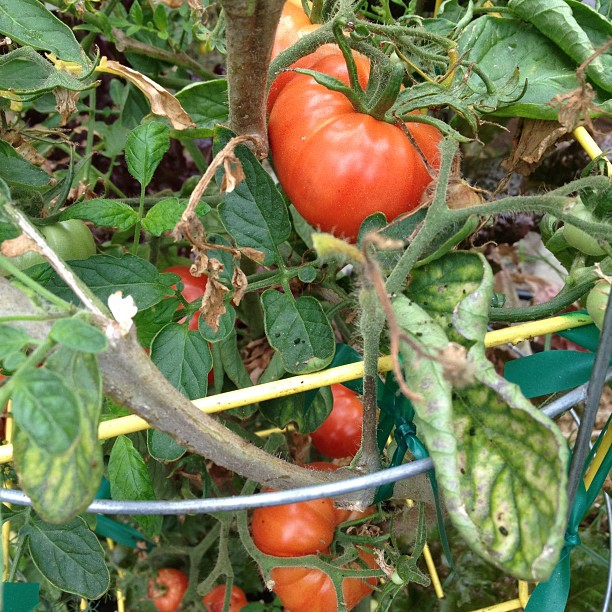 Posts

: 19


Join date

: 2012-07-11


Location

: Los Angeles



Look at where you have it tied up. Could be the ties are causing. I strangle one of mine because I had it tied to tight to the fence it was growing up and it looked about like your plant.



Posts

: 52


Join date

: 2011-05-27


Location

: Ellis County, Texas



Oh wow, that looks scary! I am thinking it is late blight but if it is some bacterial disease, I don't know much about them. I am also thinking that you are right about the whole plant needing to be pulled. I am copying Turan from another post on her suggestions for websites. I'm sorry someone hasn't answered your post earlier!

"http://extension.umass.edu/vegetable/diseases/tomato-septoria-alternaria
UCornell has one too. http://vegetablemdonline.ppath.cornell.edu/DiagnosticKeys/TomLeaf/TomLeafKey.html"

I will try to do more research but I wanted to give you these sites to get a start looking yourself and hopefully someone with more knowledge than I have will come along to help!



Posts

: 1628


Join date

: 2010-06-04


Age

: 62


Location

: Northern Utah



That black splotch on the stem looks like the late blight I had on a few of my tomatos earlier in the year. The worst one was in a pot so I isolated it, trimmed as much leaf and stem as I could out leaving only one leader. Sprayed it with neem that day. The next day I bought some copper fungicide (organic) and literaly soaked the entire plant -leaves, stems, green tomatos and top of soil. I also trimmed and soaked all the other tomatos in the garden. Five days later I did it again. Then I started a once a week program. Seemed to work.
http://squarefoot.creatingforum.com/t12610p15-tomato-blight
Kay
____________________________
A WEED IS A FLOWER GROWING IN THE WRONG PLACE
Elizabeth City, NC
Click for weather forecast

Certified SFG Instructor




Posts

: 4352


Join date

: 2010-10-17


Age

: 74


Location

: wilmington, nc zone 8



---
Permissions in this forum:
You
cannot
reply to topics in this forum