What is this little guy? He's all over in the soil.
Good? Bad?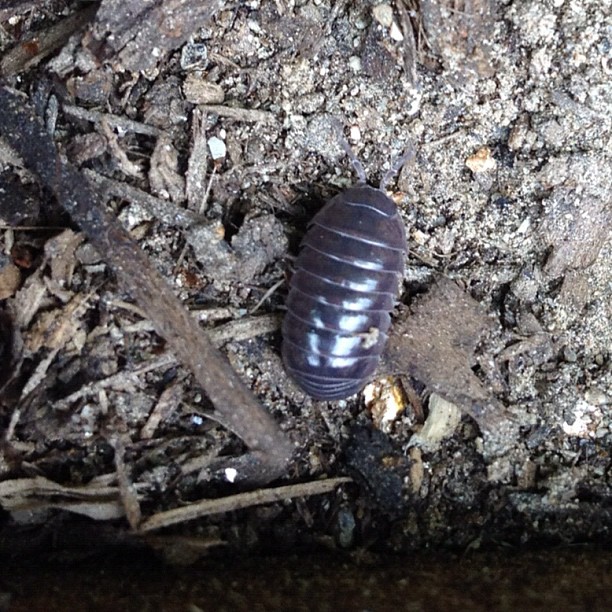 Posts

: 19


Join date

: 2012-07-11


Location

: Los Angeles



that looks like a roly poly......

*Rolly Pollies, or pill bugs, are crustaceans that are part of the Isopod family of insects, commonly found living in moist areas underneath rocks, decaying wood, or in playground soil. They can live for up to two years and survive mostly on decaying matter like leaves, but can be fed other items like fresh vegetables, corrugated cardboard, or fish food.*
http://www.ehow.com/how_7643197_care-rolly-polly.html

hugs
rose



Posts

: 2424


Join date

: 2011-05-10


Location

: Western WA



Are they nice? I made my own compost this year in a compost spinner from our house veggies etc. and they popped up in there - I think that's how they got into my garden.

They are little and everywhere!!!!!



Posts

: 19


Join date

: 2012-07-11


Location

: Los Angeles



I call them a roly poly bug, think it is also known as a sow bug, pill bug If you touch it it will roll into a ball.
I don't think it is harmful to the garden. Some one else will have to answer that.



Posts

: 65


Join date

: 2012-05-05


Location

: West Central MO



My SFG is constructed from concrete blocks with concrete topper bocks. These little buggers were attacking the outer covering of my cantaloupes until I moved them off of the MM and onto the concrete. I also used some of that organic (phosphate?) pesticide. Then I didn't have any problem with them. But I do think they would have cause some problems if I hadn't done something. Maybe it was the ground contact that made the melons susceptible.



Posts

: 96


Join date

: 2012-02-13


Location

: West Central Louisiana



These bugs eat decaying matter, tender young plants and as you found they will eat your cantaloupe. They like to hide out in cool moist places during the day. They will be hiding out under pots, under or in compost and decaying leaves, etc. They help in the decomposition of your compost. It is not something to be overly concerned about unless there are large numbers of them or if they are eating your cantaloupe. They do not usually climb up plant stems but will climb up a leaf if it is touching the ground and eat the leaves as one member on this forum showed us. I can't remember who that was right off hand.

You did the right thing in removing them from your cantaloupe! I agree that they would have done more damage if you hadn't removed them! Good thing you noticed them! If you want you can use diatomaceous earth around your plants to help protect them.





Posts

: 1628


Join date

: 2010-06-04


Age

: 62


Location

: Northern Utah



I think these guys are one reason to put paper plates under the melons whist they are still in the garden.
____________________________
41 years a gardener and going strong with SFG.
http://squarefoot.creatingforum.com/t3574-the-end-of-july-7-weeks-until-frost
There are certain pursuits which, if not wholly poetic and true, do at least suggest a nobler and finer relation to nature than we know. The keeping of bees, for instance. ~ Henry David Thoreau
http://squarefoot.creatingforum.com/t1306-other-gardening-books

Forum Moderator Certified SFG Teacher




Posts

: 14165


Join date

: 2010-03-06


Age

: 54


Location

: Keene, NH, USA ~ Zone 5a



---
Permissions in this forum:
You
cannot
reply to topics in this forum