The wind and rain roared through last night. A little damage, and everything is soaked, although nothing like back east...I feel for those who have so much water damage to deal with.
As with every storm, there's the promise of better things to come. Here's a picture of a strawberry promise...along with flowers just poking out of the enamel tub...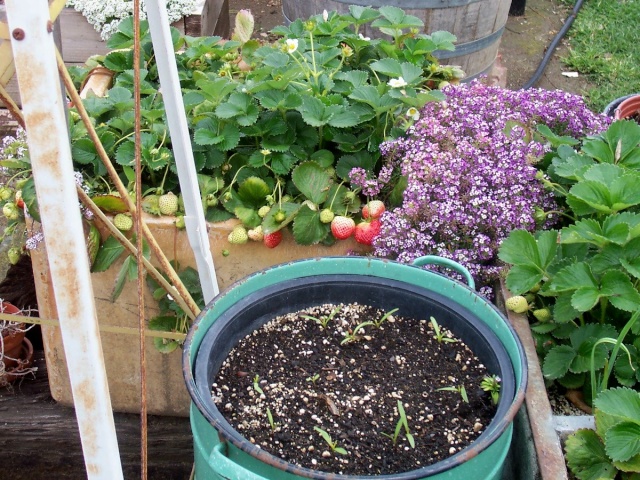 My trellis bed is full of promise; it's long and narrow, but full of lettuce, spinach, onions, carrots (some just poking their heads out), two kinds of pole beans starting up, and one cherry tomato on the far end. Flowers, too.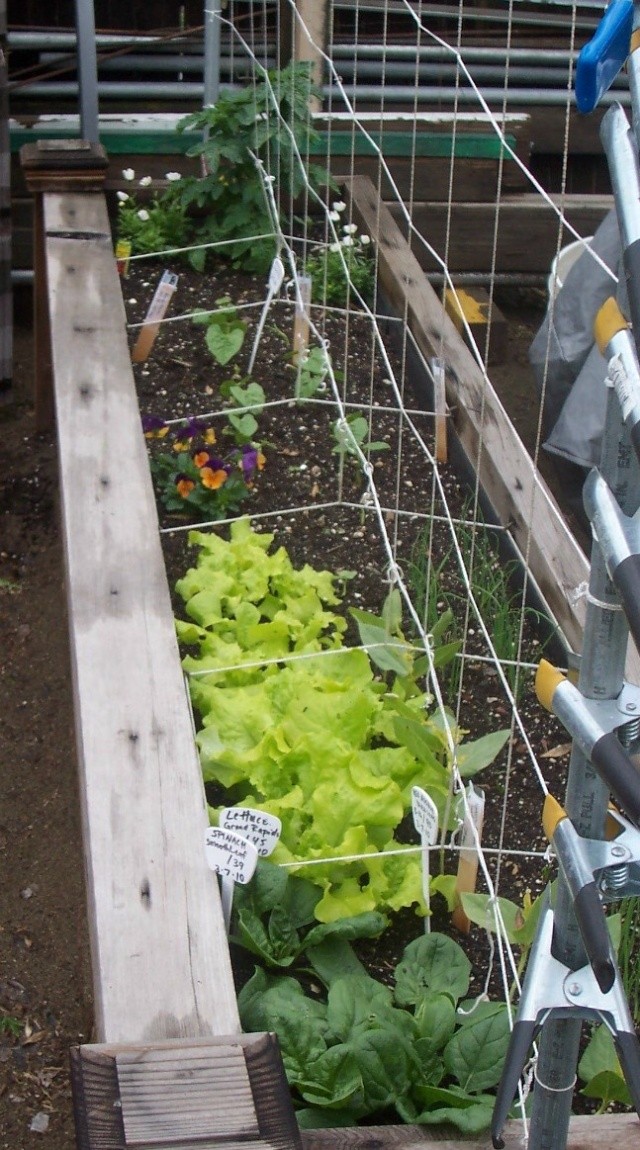 The other trellis bed has the last crop of sugar snap peas, a big beef tomato on the right end, and a wee cucumber on the left end, barely visible, along with garlic tucked here and there...
I'm proud as a new mother of the tomato plants I started from seed. These are two different kinds, and are about ready to go into my big raised bed and into the garden down at my folks.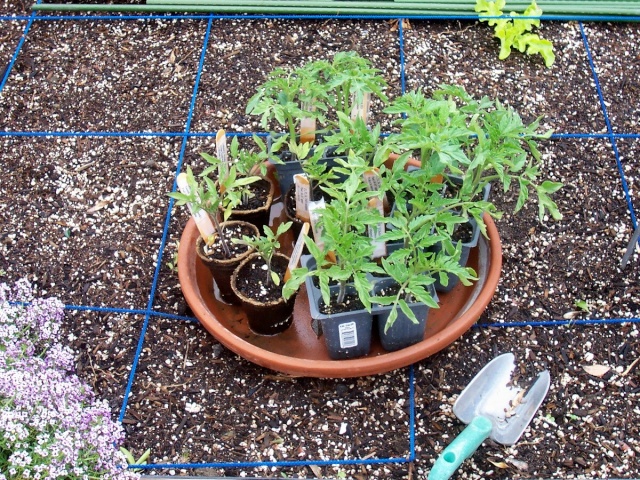 One last subject to share. I found these in the compost bins when I turned them this morning: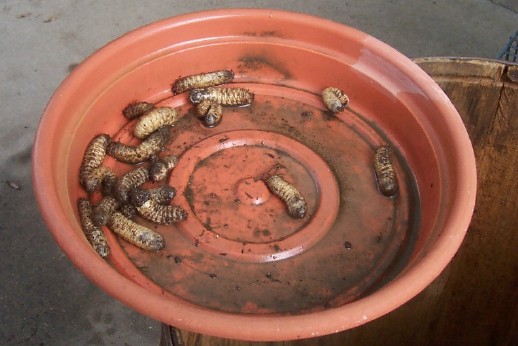 Ugh! I put them in this plant saucer and set them out for the birds nesting in our huge pine tree (a regular bird condominium!). The wind last night blew out of few of the nests and those couples will be starting over. I thought they could keep their strength up with a little protein. The dogs were curious. The lab mix actually ate one (shudder), but the setter mix turned up his nose at them. Good dog.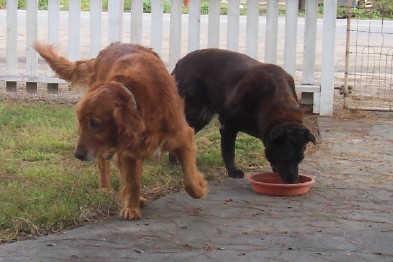 The sun will be out later today so things will start to dry out and continue to grow. We've already eaten the first 4 strawberries, and anxiously await the promise of more to come.
What are those grubby things?

Forum Moderator Certified SFG Teacher




Posts

: 14134


Join date

: 2010-03-06


Age

: 54


Location

: Keene, NH, USA ~ Zone 5a



They are some type of grub that overwinters in soil. I don't know for certain what they turn into, but my research has led me to believe they will be June bugs, which we have plenty of at the right time of year, or the iridescent green scarab bettle, which I see in my yard every year. I don't think I'll keep any in a jar to confirm my theory!

They are so huge, 1 1/2 to 3 inches long, and so...juicy...looking. I thought the birds might enjoy them for a feast.
I am sure the birds were very happy with those juice things.


Forum Moderator Certified SFG Teacher




Posts

: 14134


Join date

: 2010-03-06


Age

: 54


Location

: Keene, NH, USA ~ Zone 5a



@camprn

wrote:What are those grubby things?
They look like white grubs. They turn into June Bugs.
http://vegipm.tamu.edu/soil1/whitegrub.html

Certified SFG Instructor




Posts

: 778


Join date

: 2010-03-02


Location

: Frisco, Texas



Thank, timwardell, for the link. Informative site, by the way.

The birds feasted on those grubs! They made such a ruckus over the grubs once they discovered the saucer, I think I'll go dig out some more today to feed to them!
---
Permissions in this forum:
You
cannot
reply to topics in this forum