Being as new to SFG and gardening in general, I did not realize that yellow squash comes as either vining or bush. I assumed that it would attatch if you put it up against something. Well my cucumber sprouted some runners yesterday and look like they're well on their way to start vining, but my squash just keeps getting bigger and bigger and looks like it has zero interest in vining anything. So I guess I got a bush variety. Grrr. Is there anything special to be done for them? I have them in litter buckets as you can see below. They've got all sorts of buds all over them. If they do start producing squash, is there anything I can do to keep them off the ground away from the big bad earth (since Mel says it's great to have them vine up a trellis to lessen the risk of disease/pests on the ground). Thanks!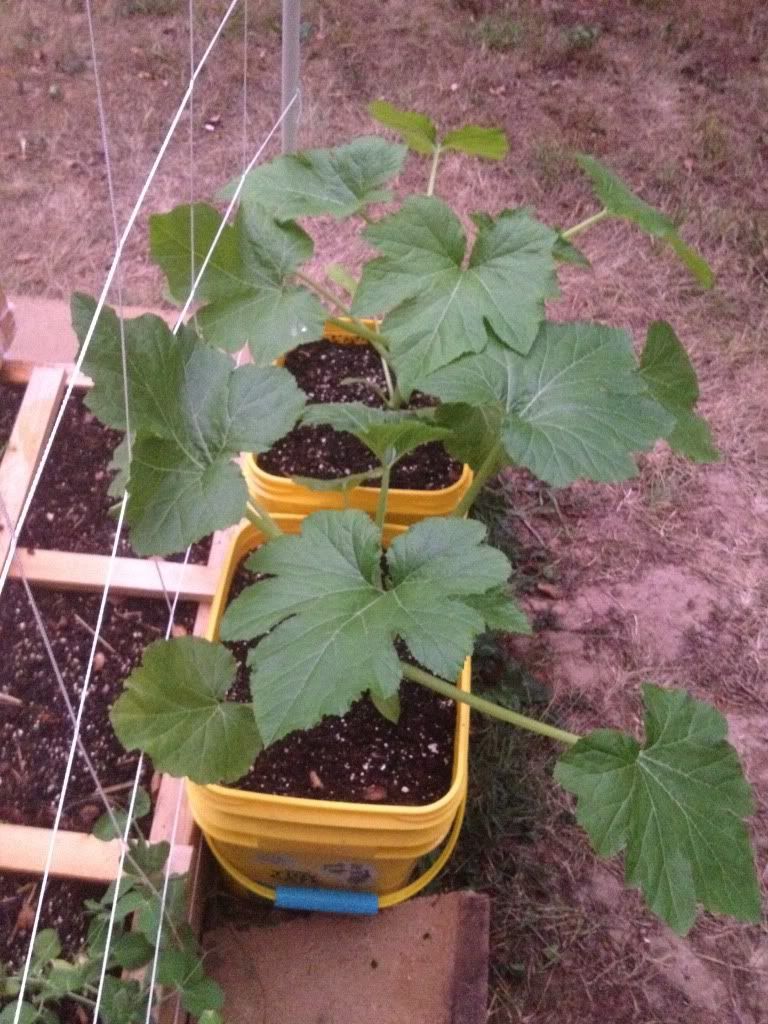 Posts

: 74


Join date

: 2012-06-16


Age

: 29


Location

: St. Louis, MO



wow, are you plants GREEN! so jealous! I'd just let them go, and see what they do. I think one of mine isn't going to climb either. It's putting off gourds, but they are just staying in a bunch. My plants aren't even close to being as green as yours tho! nice job!!



Posts

: 1887


Join date

: 2011-06-21


Age

: 36


Location

: california, zone 10a



I'd say you got a bush-variety there. I've planted several in buckets just like that and plan to just let them go crazy. Well...as crazy as they can go in the bucket. I figure that each bucket has the same volume of dirt that a square 8" deep would (I used an online volume calculator), so they shouldn't have any spacing issues. The plant will likely hide the bucket, but should do fine. Mine are going crazy!

G.



Posts

: 43


Join date

: 2012-04-09


Location

: Saipan



Nice looking squash. One thing you might watch for is pickleworm. I had the nicest zukes I've seen in years last fall, in buckets just like yours. They were just starting to bear, when the plants suddenly died. Within two days all were gone.

I have never seen so many pickleworms in my life. They were not only in the fruit, but also in the stems, both the main stems and the leaf stems. Now borers usually inhabit the stems, but I've always seen pickleworms in the fruit.

I think I will try this again this year, but I'm going to be watching a lot closer. My main biological controls don't work with either borers or pickleworm, as they hide inside the plant. I'm going to try spinosad, an organic pesticide this year. I will use it very carefully and sparingly, as the material will kill bees, if it contaminates the blossoms.

I have heard of injecting it into the stems. Has anyone ever tried this?




Posts

: 445


Join date

: 2012-06-23


Location

: Coastal SC



Thank you for the advice and the compliments!!! I see all sorts of buds all over the stems but nothing looks like it's ready to open yet. I'm so excited to see my first bloom!!! I guess if my squash isn't going to vine, I can put my bucket of cucumbers up against the trellis. It is sprouting all kinds of runners and I'm afraid the little tomatoe cage won't give it enough to hold on to. I love how these little plants keep surprising me




Posts

: 74


Join date

: 2012-06-16


Age

: 29


Location

: St. Louis, MO



---
Permissions in this forum:
You
cannot
reply to topics in this forum