Latest topics
»
New Member
by
BeetlesPerSqFt
Today at 7:22 pm
»
Tomato Tuesday 2016
by
BeetlesPerSqFt
Today at 6:36 pm
»
CANADIAN REGION: What are you doing December 2016
by
trolleydriver
Today at 6:06 pm
»
1st Seed Catalog Arrived :)
by
AtlantaMarie
Today at 5:51 pm
»
CHALLENGE - Smallest possible footprint
by
sfg4uKim
Today at 1:19 pm
»
Calcium and Magnesium Deficiency
by
sanderson
Today at 12:43 pm
»
Facebook - SFG Foundation postings
by
sanderson
Today at 12:32 pm
»
Happy Birthday!!
by
sanderson
Today at 12:05 pm
»
Anyone out there tried crosne tubers?
by
sanderson
Today at 11:52 am
»
New England, December 2016
by
CapeCoddess
Today at 11:32 am
»
California's Drought
by
countrynaturals
Today at 11:21 am
»
Mid-South: December 2016
by
AtlantaMarie
Today at 7:40 am
»
Second Year SFG in Canada
by
sanderson
Today at 4:16 am
»
N&C Midwest: December 2016
by
GardenGal
Today at 2:14 am
»
TrolleyDriver's Compost Thermometer
by
trolleydriver
Yesterday at 5:21 pm
»
Holy snow Batman!
by
donnainzone5
Yesterday at 12:13 pm
»
Butterfly Junction
by
countrynaturals
Yesterday at 11:44 am
»
Garlic: Freeze, thaw, and heave
by
camprn
Yesterday at 7:05 am
»
Garbanzo (Chickpeas, Cicer arietinum) and Kidney Beans
by
BeetlesPerSqFt
12/7/2016, 11:28 pm
»
Northern California & Coastal Valleys - What are you doing this month?
by
countrynaturals
12/7/2016, 10:43 pm
»
What are you eating from your garden today?
by
Scorpio Rising
12/7/2016, 9:43 pm
»
GF Collard Greens, Kale Recipes
by
BeetlesPerSqFt
12/7/2016, 12:49 pm
»
2016 SFG in Brooks, Ga
by
sanderson
12/7/2016, 11:48 am
»
Bon fires on the Levee
by
Cajun Cappy
12/6/2016, 12:17 pm
»
Mid-Atl - Dec 2016 - Seed Catalog ?
by
Scorpio Rising
12/5/2016, 10:24 pm
»
Gardening in Central Pennsylvania
by
Scorpio Rising
12/5/2016, 10:21 pm
»
Amaranth
by
countrynaturals
12/5/2016, 12:06 pm
»
Live and learn
by
jimmy cee
12/5/2016, 9:08 am
»
AtlantaMarie's Garden
by
countrynaturals
12/4/2016, 2:04 pm
»
Mychorrhizae Fungi
by
audrey.jeanne.roberts
12/4/2016, 1:28 pm
I was just slicing up my first zuke of the year and it had large seeds in it. Di I just let them dry out and plant them next year? This was a transplant from a nursery that did not come with details but I thought it might be fun to see what pops up next year...



Posts

: 2037


Join date

: 2012-03-21


Location

: Custer, SD



I would like to know the answer to this also. I was given some Patti Pan and would like to save the seeds, but they are all covered in squishy stuff and I can't separate them out. I put them on a paper towel hoping that would drain out the liquid, then put this in the bay window, but it's been days and they are still damp.

How does one save squishy seeds?
CC
Hey there, I don't think the seed you saved will be worth the effect. The summer squash are typically picked when the fruit is still immature. I've never tried it, but from what I've read, you need to let the fruit get huge and way over-ripe to get viable seed.

PS. In the spring I read a book on saving seeds and made some notes. They are at home - I will find them and post later today. I recall something about letting the seeds ferment in water, the good seeds will sink and the junk will float. More later.
Last edited by J_in_HamiltonON on 8/1/2012, 12:39 pm; edited 1 time in total (Reason for editing : added PS)



Posts

: 49


Join date

: 2012-05-13


Age

: 38


Location

: Hamilton ON zone5(A?)



Last fall, for some reason I can't remember, I buried a pail of my kitchen scraps in one of my raised beds. This spring, this bed overflowed with "volunteers"--Though I threw out many, I transplanted some just to see what they were. Turns out there was lots of zucchini and pumpkins. They are growing strong. So, I would guess your seeds could be viable if you can separate them out and dry them.



Posts

: 128


Join date

: 2011-08-01


Location

: zone 5a



I bought a spaghetti squash at the grocery store and thought I would try to save the seeds since I had never seen any in the store. I washed them and dried them. That was a few months ago. I thought I would try them for the heck of it and they all came up. Give it a shot! The worst that can happen is that it doesn't sprout.



Posts

: 107


Join date

: 2012-06-10


Location

: Zone 8 Southwest High Desert, CA



Spaghetti squash and other winter squash are not picked until the are ripe, and as such they have had the proper amount of time for seed development. Last spring a found a bunch of "squash-like" sprouts in my compost. I transferred two to the garden. One turned out to be a spaghetti squash and the other a butternut. They both produced tasty fruits. My wife saved seeds from the butternut squash, and i gave it a try this year. I wasn;t sure what would happen, since the two squash types grew side-by-side and I couldn't be sure about cross-pollination. Those seeds have proven true and they are just about outperforming everything else in my garden, including the AAS winning butternut squash seeds that I bought this year! Sometimes I think that as gardeners we try to hard to force things to grow instead of letting the plants decide who's feeling most up to the job. Does that make sense how i said that? It;s like trees - they grow up all over the place all on their own, no help at all. But try planting on in your yard! You do everything imaginable to get it to grow and a year later it's dead :scratch: .



Posts

: 49


Join date

: 2012-05-13


Age

: 38


Location

: Hamilton ON zone5(A?)



Ha ha, that's funny, J. I understand what you are saying. I like hands off gardening for the most part.
I, too, had a spaghetti squash for supper one nite late last spring and plopped the seeds into the garden. Here's the result: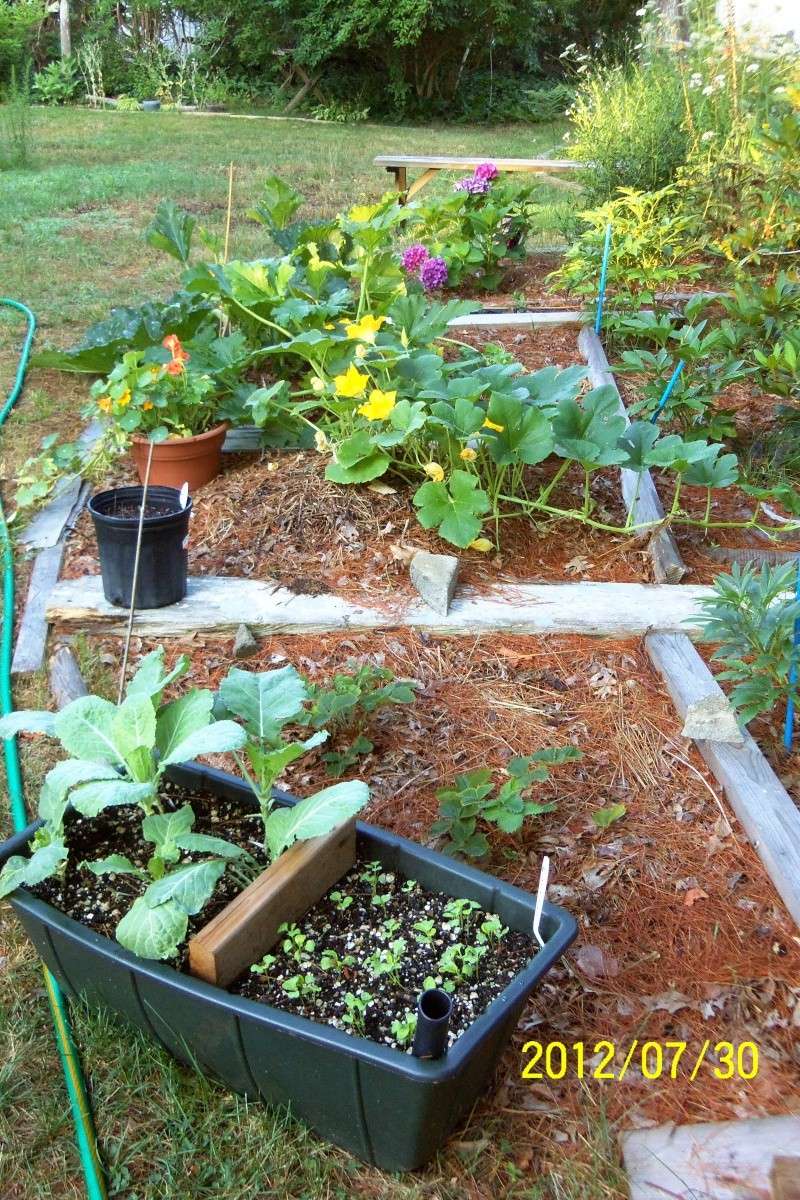 She's the first squash plant with all the flowers, and she's now climbing the giant rhodie bush behind her out of the photo.
Haven't check for fruits yet. Squash leaves bite me.

CC
CC, what a beautiful squash plant! That almost makes me want to plant one in amongst my flowers next year, lol.



Posts

: 826


Join date

: 2010-04-08


Age

: 32


Location

: Jamestown, NY (Zone 5a)



Julie, when I read your post I thought 'what a great idea!'. Until I reached over to scratch my arms from battling powdery mildew this morning.

It's like it happened overnight!
I cut off many leaves from my squashes and cucs, then spritzed them all with baking soda/water/soap solution.
I'm thinking what a pain that would be in my perennial gardens, right? And it might spread to some of the perennials.
Has anyone grown vining veggies in their perennial gardens?
CC
---
Permissions in this forum:
You
cannot
reply to topics in this forum