Latest topics
»
How's the Weather Where You're At?
by
sanderson
Today at 10:36 pm
»
N&C Midwest: February 2018 !
by
sanderson
Today at 10:33 pm
»
Potatoes: Yes or No?
by
sanderson
Today at 10:30 pm
»
The Infamous Zucchini
by
sanderson
Today at 10:25 pm
»
2018 SFG in Brooks, GA
by
yolos
Today at 6:45 pm
»
hanging grow light suggestions
by
sanderson
Today at 3:23 pm
»
A new SFG fan from Texas
by
Scorpio Rising
Today at 2:12 pm
»
N&C Midwest: When are your starting seeds?
by
Scorpio Rising
Today at 1:28 pm
»
Happy Birthday!!
by
Scorpio Rising
Today at 1:22 pm
»
Northern California & Coastal Valleys - What are you doing this month?
by
countrynaturals
Today at 10:48 am
»
Hi Everyone
by
countrynaturals
Today at 1:53 am
»
Horsetail weed
by
sanderson
Yesterday at 7:36 pm
»
CANADIAN REGION: What are you doing in February 2018?
by
Kelejan
Yesterday at 9:31 am
»
MD Home & Garden Ticket Drawing (until 2/24/18)
by
sanderson
Yesterday at 2:55 am
»
Path Width
by
donnainzone5
2/23/2018, 11:20 pm
»
parsnips in square foot garden?
by
Turan
2/23/2018, 8:38 pm
»
Your favorite blackberries or raspberries?
by
Mikesgardn
2/23/2018, 5:51 pm
»
SUGA 2018
by
SQWIB
2/23/2018, 2:02 pm
»
Mid-Atl - Feb 2018 - Anyone starting seed indoors yet?
by
BeetlesPerSqFt
2/23/2018, 12:22 am
»
Hello from Northern Ontario Eh!
by
skidmoca
2/22/2018, 9:04 pm
»
Eggplant - (Japanese) Millionaire
by
Scorpio Rising
2/22/2018, 8:57 pm
»
Floating Away and New Seeds!
by
Scorpio Rising
2/22/2018, 8:55 pm
»
ahoy mateys from Arkansas
by
Scorpio Rising
2/22/2018, 8:45 pm
»
Sowing Experiment! Anyone Tried This?
by
Scorpio Rising
2/21/2018, 8:49 pm
»
Fourth Year SFG in Canada
by
trolleydriver
2/21/2018, 5:13 pm
»
Aerogrow by Miracle Grow
by
AtlantaMarie
2/21/2018, 7:05 am
»
Seed Organizing Ideas
by
AtlantaMarie
2/21/2018, 7:04 am
»
Areogardening
by
BeetlesPerSqFt
2/20/2018, 9:54 pm
»
has55's R & D Journey
by
sanderson
2/20/2018, 1:55 am
»
WANTED: Pictures of Compost Bins
by
bigdogrock
2/19/2018, 10:28 pm

Part of Ontario, Canada is also in the Mid-Atlantic Region. I am not sure how Canada growing zones compare exactly to the US growing zones. Plus there seems to be a bit of variation from north to south in the Mid-Atlantic Region due to the effect of the Great Lakes and the Atlantic Ocean.

I am located in Canada Zone 4a northwest of Ottawa in Petawawa, Ontario along the Ottawa River and east of the Algonquin dome. We don't expect our last spring frost until late May / early June each year and are lucky to get a 4 month growing season before frosts start up again late September / early October.

This winter has been relatively mild, with only about 4 ft of snow which was gone exceptionally early this year by mid-March (we usually get a lot more). The weather has been quite warm but we have been receiving heavy frosts periodically since the snow melted and have had a one day relapse of snow that was gone by the end of the day.

I was feeling brave this weekend planting 3 squares of sugar snap peas (seed) and 2 squares of white onions (sets) into one of my 4x4 SFG plots. Next week I plan to plant spinach (seed), parnips (seed), turnips (seed), lettuce (seeds / transplants), and possibly the broccoli transplants I started indoors. I'll wait and see how heavy the frosts are over the next week before putting out the transplants.

How hardy are broccoli and lettuce transplants to frost? Should I wait a bit longer before putting them outside?
I'm pretty sure both lettuce and broccoli and hardy. My lettuce went in a month ago - 5 or 6 weeks before my last frost date. Everything looks great - I even clipped a few lettuce leaves last night to put on a cheeseburger. Yum!

Best wishes!
n.



Posts

: 595


Join date

: 2010-03-16


Location

: Cincinnati, Ohio (6a)



Today seed for spinach, parsnips, and white turnips went into my SFG plot (2 squares of each). Some of the onion sets that went in last week are starting to grow. No sign of the snap peas yet. It has been cool and rainy this week.

I have started hardening off the white onions and broccoli that were started from seed in early March by putting them outside in the front entrance way.
Today I put my broccoli out into my SFG. It has been sitting outside to harden off this week. First in the porch and inside on the cooler nights, then I inched it out a little bit further each day until it was finally out in the sun for a few days and out over night for a couple days. It is still alive and seems to be ok in the sun, so out it goes...no more babying!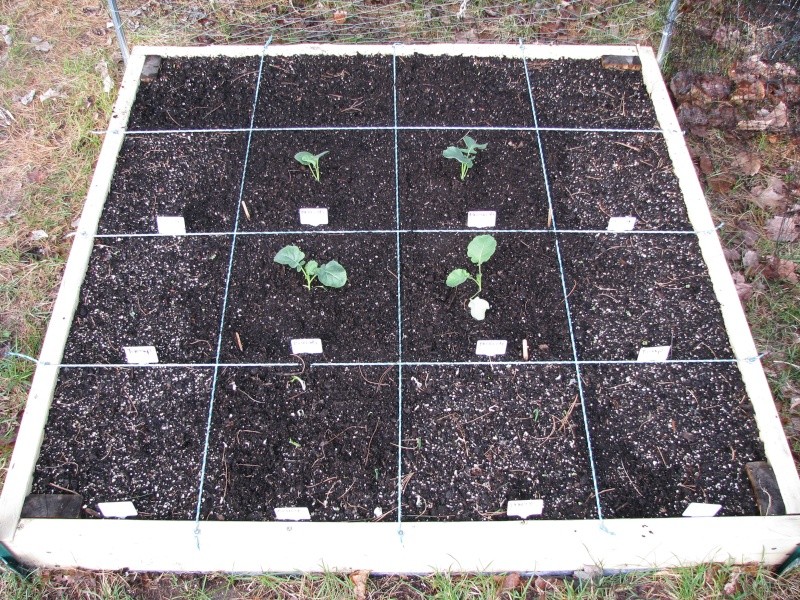 Starting to see snap peas coming up and turnips. So far no sign of the parsnips or spinach. Onion sets are starting to grow too. One garden box almost fully planted saving a square for a winter squash of some sort and have a bit of room with the snap peas for some carrots eventually. I'll have to put some lettuce out soon in my second box.
Moved 2 squares of strawberries from one of my 4x4 boxes into their own box and filled up the box with some "tristar" strawberry plants from the nursery. I don't expect much to happen this year, strawberries take a couple years to spead before they begin to produce. Have left one garlic plant in the corner of the strawberry box to see what happens (I may move it in with a tomato plant in one of my 4x4 boxes later on).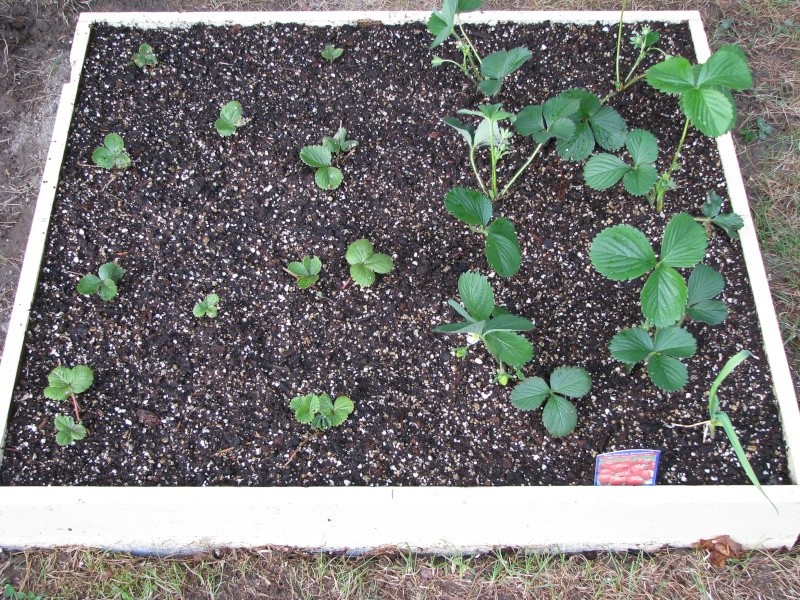 I have made a couple more 4x4 boxes that need to be installed along with a couple squash boxes. I'll need to set them up soon.
An update on how things are going in my SFG.
I transplanted the romaine, great lakes head, and buttercrunch lettuces I started inside into my SFG last weekend. Had enough transplants to do 1.5 squares of romaine, 1 square buttercrunch, and 2 squares of great lake head. I also planted 1-2 squares of each with seed.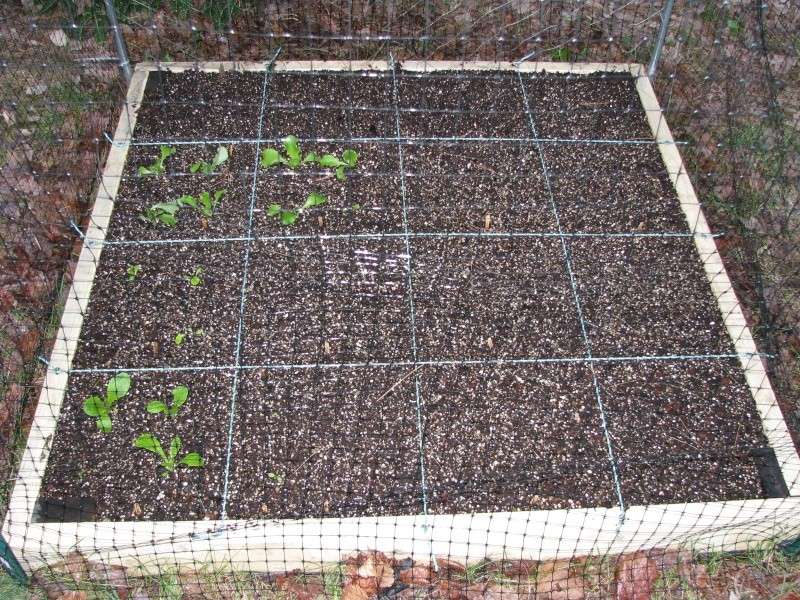 I also planted a second crop of sugar snap peas (2 squares - back halves) in the same box with the lettuce and planted carrot seeds in the front half of the snap pea squares this week. I also added carrot seed to the fronts of the 3 snap pea squares that have already started growing in the my other box (the one with the 4 broccoli in the middle depicked in my last post).
My broccoli is getting thicker and bigger -- it was really spindly when it went in but the stems are now 1/2" thick and still growing. The turnip sprouts look like little 4-leaf clovers and are starting on their first true leaves. I have also started seeing little itty bitty parsnip sprouts. The spinach germination was spotty so I added a few more seeds into the gaps.
I already have the deer mesh around my boxes so the deer won't get anything this year!
Some of the tomato plants I started indoors are getting too tall for my grow lights so I am going to have to start putting them outside to harden off. I still have approximately 3 weeks to wait until frosts become less likely before I put out my vining tomatoes. I potted the 12 largest ones from the first round of tomato seed started back in early March (8 Juliet and 4 Cherry -- both indeterminant varieties) into XL and L Tim Horton's cups so they will have more support and room to grow some more roots up their stems. They still fit just barely under my lights for now -- but when things warm up outside later this week I am going to start putting them outside in the front porch for a bit each day. I will then start inching them out into the sun.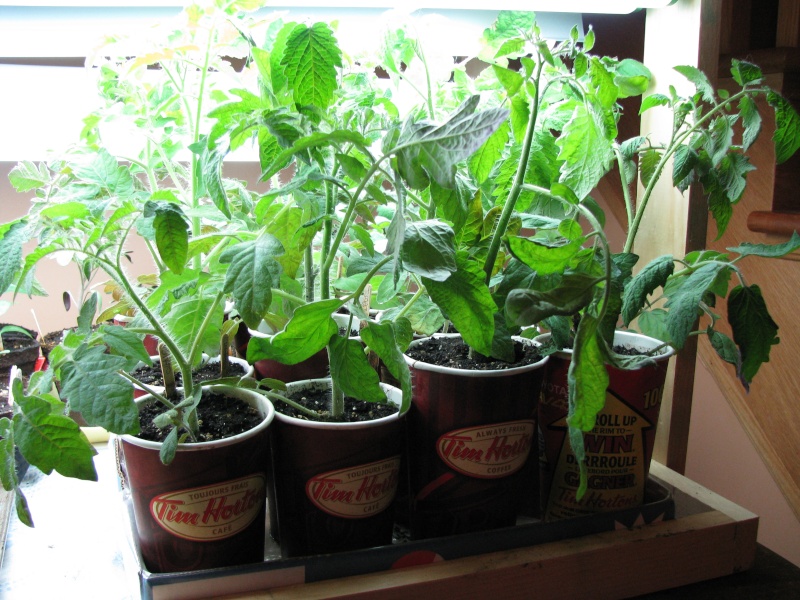 I started cucumbers, summer squash (yellow crookneck, white custard pattypan, and sunburst pattypan) and winter squash (acorn, buttercup, acorn, spaghetti, and sweet dumpling) seeds indoors this week. I started them in Jiffy pots so I can plant them pot and all so the roots won't be disturbed. They germinated very quickly 1-4 days for most of them so far. None of the sweet dumpling squash as of yet.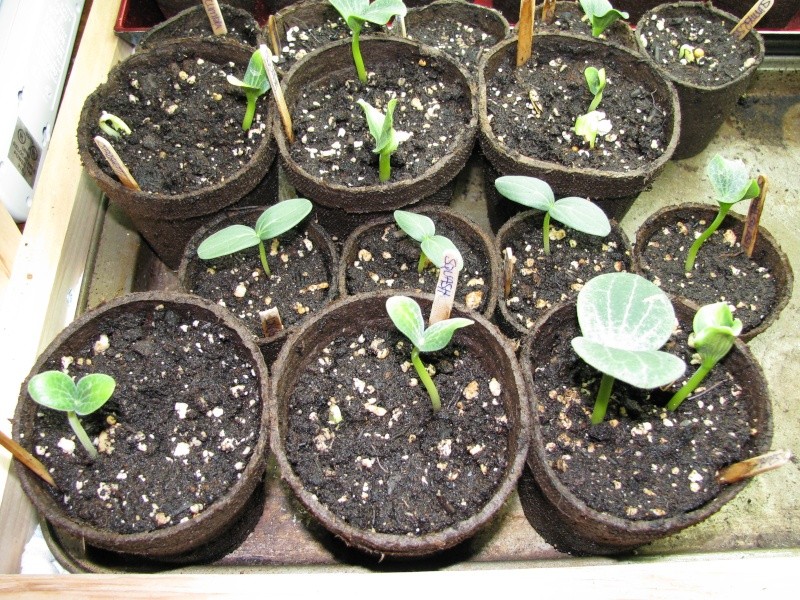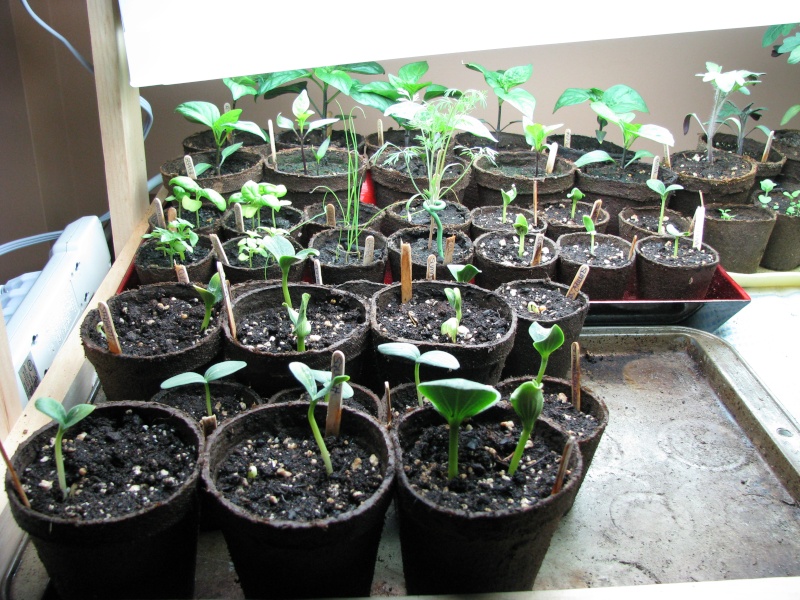 It got pretty cold this weekend, we had hail and cold rain off and on all day yesterday (Saturday). Today (Sunday) started out with light snow flurries and very cold wind. I put plastic plant domes over my lettuce, broccoli, snap peas, and turnips to protect them until the temperature gets better!
It was cold enough to freeze layer of ice on all 3 three bird baths! I dumped them out so they won't crack.
My gardens are growing! Looks like I may actually get more than 2 bites of broccoli this year as the stems are already thicker.
Here is what my gardens looked like today (May 24, 2010).
Back Row: 3 squares sugar snap peas / carrots, 1 empty square
Third Row: parsnips, broccoli, broccoli, parsnips
Second Row: white turnips, broccoli, broccoli, white turnips
Front Row: spinach, onions, onions, spinach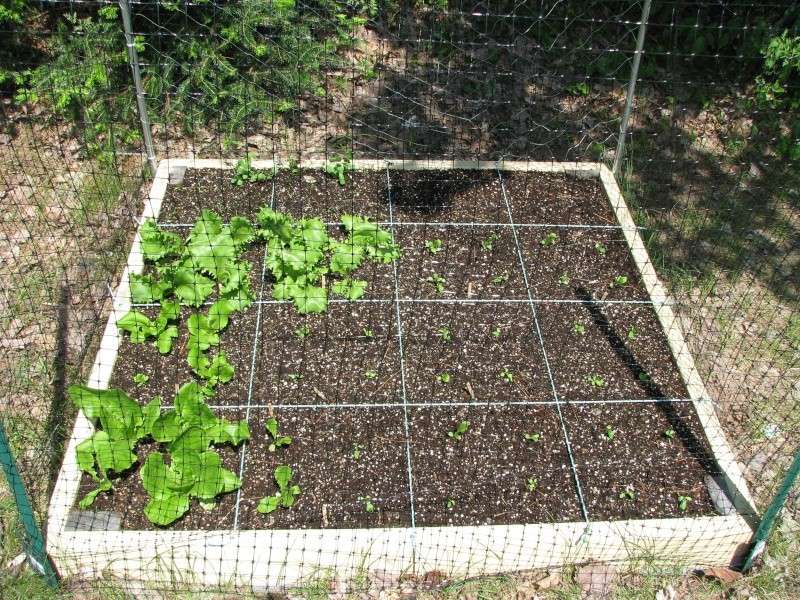 Back row: 2 squares of sugar snap peas / carrots, 2 empty squares
Third Row: great lakes head lettuce x 4 (first 2 squares transplants, next 2 seed)
Second Row: buttercrunch lettuce x 4 (first 1 square transplants, next 3 seed)
Front Row: romaine lettuce x 4 (first 1.5 squares transplants, next 2 from seed)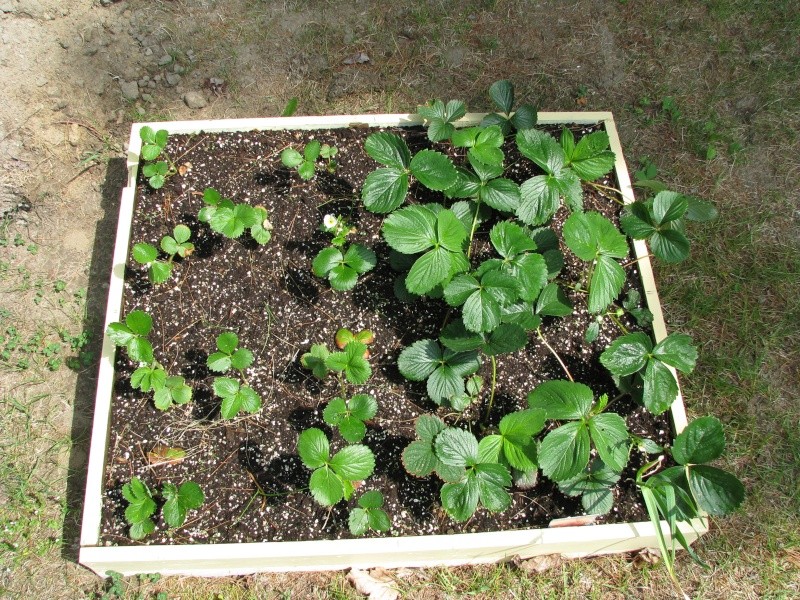 2.5 x 2.5 ft box of strawberries:
left half everbearing, right half Tristars, and 1 garlic in front right corner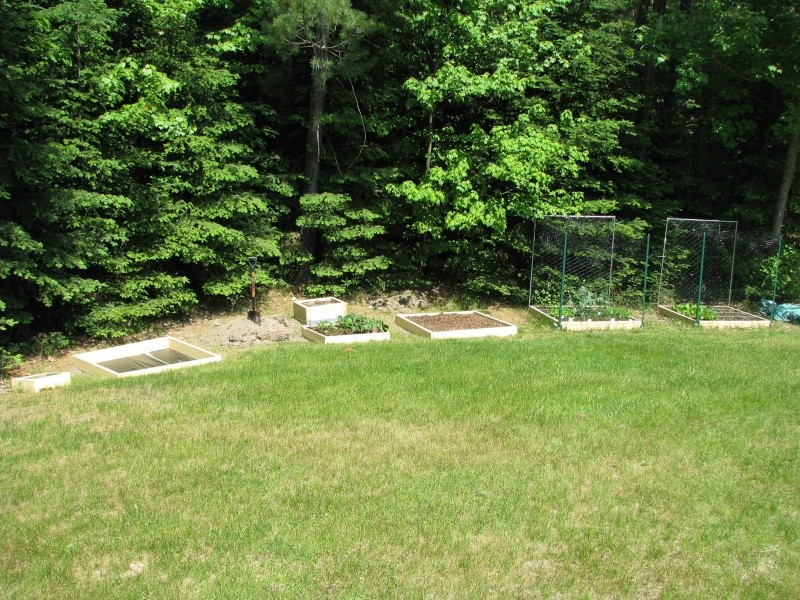 Setting up 2 more 4x4 SFGs, will need them shortly for peppers, tomatoes, radishes, beets, and more lettuce. Also have 2 smaller boxes for summer squash bushes or tomatoes. Also have a 3x3 box I picked up on junk day, I think it was a drawer for sliding under a bunk bed -- not sure what to put in it yet (not in picture).

---
Permissions in this forum:
You
cannot
reply to topics in this forum