Latest topics
»
What is this? Plant identification?
by
sanderson
Today at 3:10 am
»
Too Many Red Wiggler Worms in Raised Beds??
by
sanderson
Today at 3:07 am
»
Areogardening
by
sanderson
Today at 2:38 am
»
My first Attempt
by
Mikesgardn
Yesterday at 8:04 pm
»
January 2018 Avatar: Surprise Us
by
sanderson
Yesterday at 4:51 pm
»
My Shreveport Garden 2018
by
sanderson
Yesterday at 4:47 pm
»
2018 - First Annual Seed Exchange Week - January 20-28 (Edited)
by
BeetlesPerSqFt
Yesterday at 4:13 pm
»
Are vegetables hurt by too much light?
by
BeetlesPerSqFt
1/20/2018, 8:38 am
»
Seed Starting!!
by
brianj555
1/19/2018, 9:14 pm
»
Spring Fever Anyone?
by
sanderson
1/19/2018, 3:06 pm
»
How's the Weather Where You're At?
by
sanderson
1/19/2018, 2:56 pm
»
Weight Watchers Turkey, Bean and Vegetable Chili
by
hammock gal
1/19/2018, 8:43 am
»
Sow True Seeds
by
AtlantaMarie
1/19/2018, 8:00 am
»
Colored Mulch
by
No_Such_Reality
1/18/2018, 7:12 pm
»
Taking on 4 Season Gardening
by
Roseinarosecity
1/18/2018, 5:19 pm
»
Fourth Year SFG in Canada
by
trolleydriver
1/18/2018, 3:53 pm
»
SUGA 2017
by
SQWIB
1/18/2018, 12:57 pm
»
Senseless Banter...
by
sanderson
1/17/2018, 9:42 pm
»
Butternut squash, turkey Italian sausage, cannelini bean soup
by
yolos
1/17/2018, 9:25 pm
»
Happy Birthday!!
by
yolos
1/17/2018, 9:12 pm
»
N&C Midwest—January 2018!!!
by
Scorpio Rising
1/17/2018, 7:08 pm
»
Is there ever enough compost?
by
has55
1/17/2018, 2:41 am
»
What are you eating from your garden today?
by
Scorpio Rising
1/16/2018, 9:10 pm
»
Gophers
by
countrynaturals
1/16/2018, 12:32 pm
»
High heat tolerant tomatoes
by
walshevak
1/16/2018, 6:03 am
»
Mid-Atl - Jan 2018 - Brrrrrrrrrr! and Happy New Year
by
AtlantaMarie
1/15/2018, 6:43 am
»
CANADIAN REGION: What are you doing in January 2018
by
sanderson
1/15/2018, 3:53 am
»
New England Jan 2018
by
hammock gal
1/13/2018, 5:50 pm
»
Air Fryer! HELP!
by
sanderson
1/13/2018, 3:26 pm
»
New SFG box-Humanitarian way
by
sanderson
1/13/2018, 3:24 pm
I thought I would post some tomato pictures and see how other Canadian gardeners are doing with their tomatoes...
Hopefully A FEW pictures.
These are my brandy wines, just a few more days...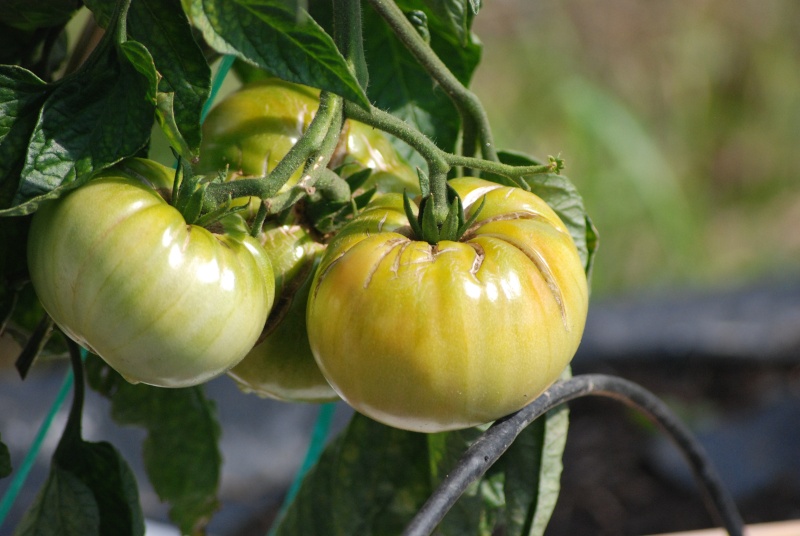 These are Allicante heirlooms
Narm heirloom
and zapotec a southern mexican heirloom so far none ripe
So any other tomatoes out there
Mine are still really green... and not looking have as big!!! It's been dry here, and I haven't been great at keeping them wet enough. Sigh. Hoping to get some pics to you soon!



Posts

: 27


Join date

: 2012-04-15


Age

: 43


Location

: Ottawa, Ontario, Canada - Zone 5a



Most of mine are still green, in fact after I picked those, there are no others that are red.
I am bringing in any of the ones closest to being ripe and ripening them in my ripening cupboard (which is just my plates and bowls cupboard) and they are ripening very fast there) It is one of my many ways of stretching the season.
The fumes from an overripe banana will START the ripening process and then the ripenned tomatoes will START the process for the rest of the tomatoes.
I would still love to see your tomatoes, we could compare green tomatoes...
Yay, Tomato Tuesday for Canada! Just saw this post today. I only have two varieties of tomato this year, Big Beef (hybrid) and Rutgers (heirloom). Big Beef have been ripening slowly, a few each day, for a week or more. Mostly smaller-sized ones are ripening, and many larger ones still green. No Rutgers yet but there are just starting to snow signs of ripening. Were away at Bible camp next week, there will probably be bumper loads of toms ripening while were away.
I was just looking over my notes and see that it was about 4 months from when the seeds were started until the first ripe tomato! In fact, I feel like the plants are late this year in spite of the very hot summer we've experienced. I am glad to say that BER has been a lot less problematic this year compared to my old dirt garden last year. It seems that the Big Beef are somewhat susceptible, I don;t think BER has been an issue on any Rutger plants. Maybe because those plants are generally smaller?
Next year I will plant more varieties and less of the same kind.
Your garden is quite beautiful, , I like what you have done with the boards around the gardens.
I only have BER on a couple of my plants that are growing in buckets.
I have tried to rectify it with epsom salts and powdered milk.

I have been told that a ripening banana under the tomato plant will give off a gas that will encourage them to ripen, it is the same gas that THEY give on when they are ripening, which apparently is why once one starts to ripen they all do.
Thanks for posting
What is in front of your tomatoes, squash?
Thanks for your comments GWN. Your plants look very healthy and so tall! Did you select any varieties based on your climate? I've never heard of the varieties you have posted in this thread. Please keep us updated how they do.
I have tomatoes across the back (upper) level, and ground cherry (with a few toms) across the front. Zucchini on the left and butternut squash rooted on the right and slowly invading the whole garden, the grass, and into the backyard! One vine climbed up the chainlink fence then decided to head east. It went through the chainlink fence about 3 feet off the ground, through the hydrangeas and poked out into the backyard. I peeked into the hydrangeas the other day and found a nice-sized squash secretly growing hidden among the flowers.
I believe the chemical that is emitted from most ripening fruit is ethylene, it is a natural plant hormone which promotes ripening. I never thought about using it to ripen toms on the vine but also question whether the concentration would get high enough to have any real effect.
http://www.plant-hormones.info/ethylene.htm
Ethylene has been used in practice since the ancient Egyptians, who would gas figs in order to stimulate ripening. The ancient Chinese would burn incense in closed rooms to enhance the ripening of pears. It was in 1864, that leaks of gas from street lights showed stunting of growth, twisting of plants, and abnormal thickening of stems (the triple response)(Arteca, 1996; Salisbury and Ross, 1992). In 1901, a russian scientist named Dimitry Neljubow showed that the active component was ethylene (Neljubow, 1901). Doubt discovered that ethylene stimulated abscission in 1917 (Doubt, 1917). It wasn't until 1934 that Gane reported that plants synthesize ethylene (Gane, 1934). In 1935, Crocker proposed that ethylene was the plant hormone responsible for fruit ripening as well as inhibition of vegetative tissues (Crocker, 1935). Ethylene is now known to have many other functions as well.
Last edited by J_in_HamiltonON on 8/1/2012, 9:57 pm; edited 1 time in total (Reason for editing : had a few more things I wanted to say, that's all :roll:)
One vine climbed up the chainlink fence then decided to head east.
What a great story...
Last year I used several bananas and it started a chain reaction with my tomatoes, I had ripe tomatoes LONG before anyone at the farmers market.
This year I have used a few, and got some ripening and I have brought some of these tomatoes inside and am ripening them in a cupboard,(my way of extending the season)
I just plop them in the cupboard and presto 2 days later they are ripe, I am sure that the ethylene level in that cupboard is high because nothing is ripening fully on the vine yet.
I just moved back to Canada a year and a half ago, and not knowing where to get seeds I ordered from West Coast Seeds, only to find that they focus on things that grow best down at the coast... (vancouver area)
I have a little greenhouse and two of the varieties, they said were good for growing in doors, and so I am opening up the greenhouse totally in the summer and growing 11 plants inside, so that when it gets cooler in the fall, I can try to have tomatoes Later than I would otherwise have.
I am quite excited to try the zapotec variety, but none of the show even the earliest signs of ripening.
Where do you get your seeds?
janet
In the past I typically just picked up seed in big stores, from suppliers like OSC (Waterloo ON) or McKenzie Seeds (Winnipeg). That was sometime okay and sometimes a flop. This year I visited a local seed vendor, William Dam Seed Co. As far as I know they don't produce seed but the source seeds and repackage sometimes under a slightly different name. Check them out, I think the quality is good,the seeds are untreated, they are often sold the year after they are produced instead of two years later (what was that I read in the catalog?) and they have many organic varieties if you like. They also run big test gardens which is great for me since I am in the area - if the test plants do well then they work in my climate. I found information (on seed packets and online) a bit lacking compared to other companies and I spent a good deal of time on West Coast Seeds and Vesseys website trying to get growing information for seeds I was buying from William Dam. I was thinking about trying to link up with some other Canadian gardeners to split on tomato seeds for next year (because I'd like to grow a few of several varieties, instead of several of a few varieties). Like a seed exchange I guess.
Jason
I was thinking about trying to link up with some other Canadian gardeners to split on tomato seeds for next year (because I'd like to grow a few of several varieties, instead of several of a few varieties). Like a seed exchange I guess.
Jason
That would be great Jason, it seems like we are at least in a similar zone.
We have a late last freeze, and early first freeze, but pretty hot summer and of course the longer days.
The thing that has surprised me is how fast things grow once they have started. Down in Oregon, everything was more gradual, but it seems that here once it gets hot, that combined with the long days, things grow fast.
I am all for testing what I am growing this year and saving seeds. The Alicante seeds were quite expensive (I think I only got 10 seeds) but really are doing the best from every other aspect. I am thinking of definitely saving them.
GWN, sorry to butt in to your region, but this is so interesting. How do I use the bananas? If I have 2 sides of my 4x4 holding 7 tomato plants, now many bananas do I put under them? One under each?

CC



Posts

: 6522


Join date

: 2012-05-20


Age

: 61


Location

: elbow of the Cape, MA, Zone 6b/7a



Our region is open to anyone, please.... post if you are interested.
The deal with bananas is the gas from a few "withering" bananas will start a chain reaction because the tomatoes themselves will start to emit the gas.
I have 11 plants in my greenhouse and only one has started to ripen and that is the one with the banana under it, and in my garden the same only I have 40 plants there. I do not know if any of this is fact based, but it works for me.
However the part that REALLY works for me is the cupboard, once one tomato in the cupboard ripens they all ripen
I have 8 tomatoes in the cupboard fully ripe.
Ripening bananas are not that hard to come by, if you want to give it a try. The idea is, that once you get a few ripening they will stimulate more.
It is a local concept, prove me wrong.....

---
Permissions in this forum:
You
cannot
reply to topics in this forum