Latest topics
»
First day of spring
by
Scorpio Rising
Today at 9:08 pm
»
SW Ohio (Cincinnati Area)
by
Scorpio Rising
Today at 9:06 pm
»
What are you eating from your garden today?
by
Scorpio Rising
Today at 9:02 pm
»
Hello from Houston
by
sanderson
Today at 6:52 pm
»
N&C Midwest—March and Spring is Here!
by
Scorpio Rising
Today at 6:23 pm
»
Coco coir... How often to replenish?
by
plantoid
Today at 5:53 pm
»
SUGA 2018
by
SQWIB
Today at 8:26 am
»
CANADIAN REGION: What are you doing in March 2018
by
sanderson
Today at 2:33 am
»
Fourth Year SFG in Canada
by
sanderson
Yesterday at 6:28 pm
»
Happy Birthday!!
by
sanderson
Yesterday at 2:09 pm
»
Do You Get The SFG Newsletter?
by
sfg4uKim
Yesterday at 8:36 am
»
Garden Tower Project
by
sanderson
Yesterday at 2:14 am
»
Any suggestions on the stump grinding sawdust plus soil?
by
sanderson
3/20/2018, 6:55 pm
»
How much time for gardening?
by
sanderson
3/20/2018, 6:42 pm
»
Sanderson's Urban SFG in Fresno, California
by
sanderson
3/20/2018, 4:03 pm
»
Northern California & Coastal Valleys - What are you doing this month?
by
trolleydriver
3/20/2018, 1:13 pm
»
New England Mar 2018
by
CapeCoddess
3/20/2018, 10:45 am
»
Trellis mod
by
SQWIB
3/19/2018, 8:39 am
»
How's the Weather Where You're At?
by
Scorpio Rising
3/18/2018, 6:38 pm
»
Powdery Mildew and SoCal Fall Planting
by
countrynaturals
3/18/2018, 12:34 pm
»
Boat Gardening
by
AtlantaMarie
3/18/2018, 6:51 am
»
How many green beans per square foot?
by
Scorpio Rising
3/17/2018, 9:27 pm
»
2018 SFG in Brooks, GA
by
yolos
3/17/2018, 8:34 pm
»
Comfrey
by
sanderson
3/17/2018, 8:21 pm
»
Hello from Hagerstown MD
by
sanderson
3/17/2018, 6:10 pm
»
Horsetail weed
by
Kate888
3/17/2018, 3:02 pm
»
A new SFG fan from Texas
by
AtlantaMarie
3/17/2018, 7:17 am
»
Potatoes: Yes or No?
by
AtlantaMarie
3/17/2018, 7:13 am
»
Modesto, Central Valley, CA...
by
AtlantaMarie
3/17/2018, 7:03 am
»
has55's R & D Journey
by
sanderson
3/16/2018, 3:28 pm
Page 2 of 2 •

1, 2

Darci
Great news. On page 71 in the ANSFG book covers the building of your protective cover.
Yes you can use the painters plastic. Check and see how thick it is.
There are many gardener supply companies/websites you can find on the internet. You can check some local nurseries who could sell the products.
I found
www.Greenhousemegastore.com
was a good place to get supplies.
Hint: you can put bricks, lumber on the base. (see photo on page 74) You can use "hair clips" the size of the PVC plastic pipe to secure the plastic to the PVC pipe (from the wind)
Even if you get two months additional garden time, it is still better then NONE.

Some of the cold weather crops will not germinate in hot weather(under plastic). See page 252-254 on crop germination. Remember that the plastic cover will not be needed until frost time or later. The plastic will heat up the cold weather crops and take them down. You MUST keep your soil moist or it will suck the moisture out of the newly planted crops. Don't forget to open the plastic when the sun shines. Put a termometer in your covered plastic box and see how hot it gets before planting. This will give you a good indication of the climate in your growing space.
Mike

Certified SFG Instructor




Posts

: 87


Join date

: 2011-06-21


Age

: 63


Location

: Ellicott City, MD



My Square Foot Gardening book is on my kindle so it takes a bit more to search. Page numbers let me know the information is there though! I may just have to get a "paper" copy some day so it's easier to flip through.

I won't put anything over the dome, and actually haven't even planted the box yet, but wanted to get things figured out well in advance of that first frost. I'll take your words to heart about watering and letting it vent during the day. I need to buy a temp gauge so I can watch how hot it gets. I'm still considering creating a second one for another square, but we'll see. The dome was pretty simple to put in. I may tie the center to a brick or other type of anchor to make sure the wind doesn't cause me trouble, but anchoring the plastic along the side should work too. I'm excited to find out!



Posts

: 95


Join date

: 2012-05-01


Location

: Hudson, WI



____________________________
A WEED IS A FLOWER GROWING IN THE WRONG PLACE
Elizabeth City, NC
Click for weather forecast

Certified SFG Instructor




Posts

: 4364


Join date

: 2010-10-17


Age

: 75


Location

: wilmington, nc zone 8



I have most of my fall veggies planted. Carrots, spinach, turnips and lettuce early in August. Now I'm planting radishes. I have two cold frames and one raised bed I'm using. I've saved space for planting lettuce in late September. It goes dormat, but does fantastic in the spring in March. So far everything is up except spinach, the little rascals.



Posts

: 94


Join date

: 2011-12-07


Location

: SE Iowa



@floyd1440

wrote:@CC

Now I am pretty sure that spinach does not germinate in warm soil. I know goes against the grain, but I checked the seed packed and they do best in cooler soil.

If I have room it won't be till September at least. Could be way off here but seems better suited for spring growing.........
Check out page 60 of the ANSFG book
Mel give us a nice set of of days for germinations wrt temperatures
Spinach will germinate from 32 o F in 63 days to 6 days in temps of 86 o F
If you put in to a search engine something like " percentage seed germination + temeratures " ,you should be able to find more specific info ..
I have a set of printed off lists but it is out in the office & I'm too lazy to go out in the rain to get it




Posts

: 3792


Join date

: 2011-11-09


Age

: 67



My spinach is finally sprouting outside! I've been planting a few seeds every couple weeks all summer and it looks like they want 70's and no higher in my area. The inside ones haven't sprouted yet, but the inside kale & leaf lettuces have.
Also coming up outside now is the romaine, leaf lettuce, pak choi, kale, scallions, turnips, kohlrabi & more beets/ carrots/ radishes. I just planted more chives, snow peas and sugar peas for fall, but we've been eating previous snow peas for a couple of weeks now.
I cut off all the bug eaten leaves of my collard greens and there are itsy bitsy new leaves coming out. You can bet they are now covered with tulle!
Spring & summer kale, chives, tomatoes, cucs, green beans, chard, jalapenos and peppers are still going.
Speaking of peppers, my sweet peppers have taken off!!! It wasn't that long ago that I was cursing them and thinking I should give up on them. I can't believe how big they got over the past week and how many baby peppers there are. Amazing!
Some powdery mildew hit the tomatoes yesterday so I sprayed with baking soda solution and it didn't spread today. *crossing fingers*
OH...is this a cantaloupe? If so, I have 2 of them and have cut off most of the leaves and other vines in hopes of getting these babies to finish off before it's too cold. But shouldn't they be green and not yellow?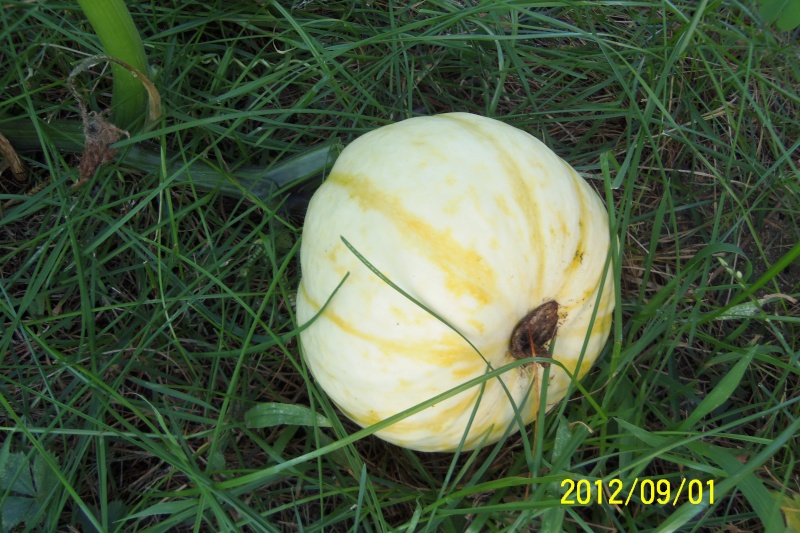 Check out how green that grass is, too. It's been a while since we've seen THAT!

CC



Posts

: 6559


Join date

: 2012-05-20


Age

: 62


Location

: elbow of the Cape, MA, Zone 6b/7a



My hubby and I spent much of the weekend putting leaves through the shredder. we now have a pretty large fence-bin half full, and we'll have many more leaves coming down. That will be a big help in keeping my compost "browns" up!

Today I cut the clear plastic to put over my PVC dome in my "fall" box and now it's folded in the garage and ready to attach whenever the weather turns frosty. The temps are dropping into the 70's so I planted the rest of that box with Swiss Chard, Kale, Arugula, and Spinach. I stuck some lettuce varieties under my tent trellis hoping they'll have time to mature too and get a little frost protection from the tent/vines. We've started eating radish from my first wave of fall planting and the spinach isn't far behind. This fall planting stuff is all new to me, and so I'm pretty excited by every experience!



Posts

: 95


Join date

: 2012-05-01


Location

: Hudson, WI



Page 2 of 2 •

1, 2

---
Permissions in this forum:
You
cannot
reply to topics in this forum