Latest topics
»
N&C Midwest: February 2018 !
by
aliceingardenland
Today at 7:35 am
»
Happy Birthday!!
by
AtlantaMarie
Today at 6:14 am
»
has55's R & D Journey
by
sanderson
Today at 1:55 am
»
parsnips in square foot garden?
by
sanderson
Today at 1:43 am
»
Seed Organizing Ideas
by
sanderson
Today at 12:06 am
»
WANTED: Pictures of Compost Bins
by
bigdogrock
Yesterday at 10:28 pm
»
A new SFG fan from Texas
by
BeetlesPerSqFt
Yesterday at 10:27 pm
»
2018 SFG in Brooks, GA
by
yolos
Yesterday at 7:06 pm
»
The New Square Foot Gardening Foundation page is now online!
by
sanderson
Yesterday at 6:40 pm
»
February: What to plant in Northern California and Central Valley areas
by
sanderson
Yesterday at 6:31 pm
»
How's the Weather Where You're At?
by
Scorpio Rising
Yesterday at 6:24 pm
»
Invasive Tree Roots - Very important topic for newbies.
by
sanderson
Yesterday at 6:23 pm
»
excited to be here!
by
Kate888
Yesterday at 2:57 pm
»
Northern California & Coastal Valleys - What are you doing this month?
by
sanderson
2/18/2018, 2:58 pm
»
Butterfly Junction
by
sanderson
2/18/2018, 12:16 am
»
New England Feb 2018
by
sanderson
2/17/2018, 8:14 pm
»
Eggplant - (Japanese) Millionaire
by
Scorpio Rising
2/17/2018, 11:42 am
»
TrolleyDriver's Compost Thermometer
by
has55
2/17/2018, 8:17 am
»
SUGA 2018
by
SQWIB
2/16/2018, 3:15 pm
»
LED grow lights......any advice?
by
sanderson
2/15/2018, 12:08 pm
»
Mystery plant - need ID please
by
yolos
2/14/2018, 8:44 pm
»
new to the site from Arkansas
by
Scorpio Rising
2/14/2018, 8:36 pm
»
Hiya from Massachussets
by
Scorpio Rising
2/14/2018, 8:31 pm
»
What I learned this year
by
Scorpio Rising
2/14/2018, 8:21 pm
»
Happy Valentine's Day!
by
Scorpio Rising
2/14/2018, 8:19 pm
»
Jicama
by
countrynaturals
2/14/2018, 3:29 pm
»
CANADIAN REGION: What are you doing in February 2018?
by
Kelejan
2/14/2018, 1:56 am
»
What are you eating from your garden today?
by
Scorpio Rising
2/13/2018, 10:10 pm
»
Fourth Year SFG in Canada
by
trolleydriver
2/13/2018, 7:32 pm
»
Turan in the Western Mountains
by
sanderson
2/13/2018, 2:57 am

I'm super excited and super proud that I figured this one out. I wanted some type of watering system to make watering easier, (who doesn't) but didn't feel like digging into the sprinkler system, or using any power tools to cut pvc or drill holes in anything. I wanted something easy to move if needed, and something that could be maneuvered into or out of a bed with established plants. The 'water hopper' is a 2 liter soda bottle, and I used sprinkler system pieces to put it together... This what I did...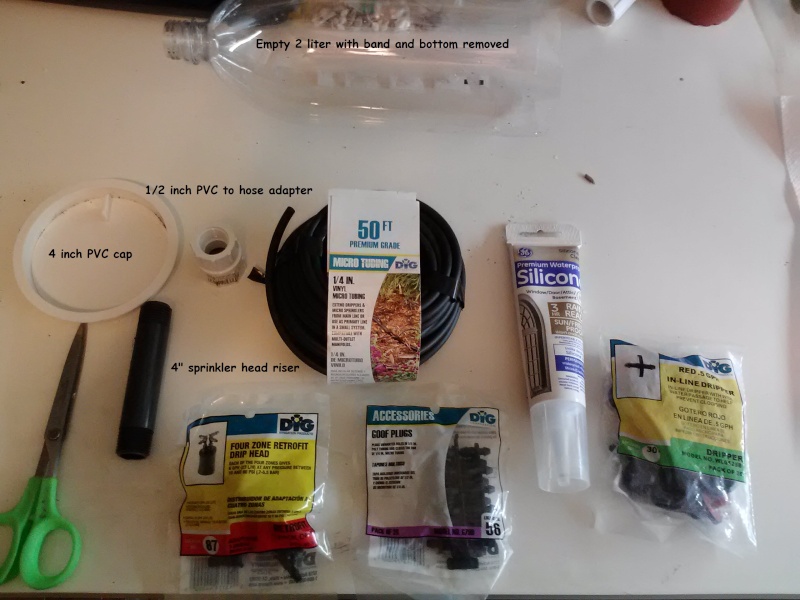 Most pieces are in the sprinkler system aisle. The only things that were not are the PVC cap, (I think it's actually called a KnockOut Plug, I used to keep critters and debris out of the bottle). The 2 liter has a similar thread to a garden hose, the 1/2" PVC to hose adapter will either be with the rest of the sprinkler things (in the big blue store) or in the PVC aisle (in the big orange store). This piece is also sold as a metal connector in the plumbing aisle, but I found that it started to strip the threads off the bottle since they don't match perfectly.
This is the complete 'bottle half'. The PVC to hose connector goes on the bottle, and then I used the 4" riser for my set up. I wanted the bottle a few inches off the ground, the bottle seems to only take up about a 2 inch square in the corner of my bed. You could use a longer riser, or no riser at all. You would just need a different adapter, and they sell the hose to both male and female PVC to make anything work. (The riser goes in the 4 way splitter once it's in the garden)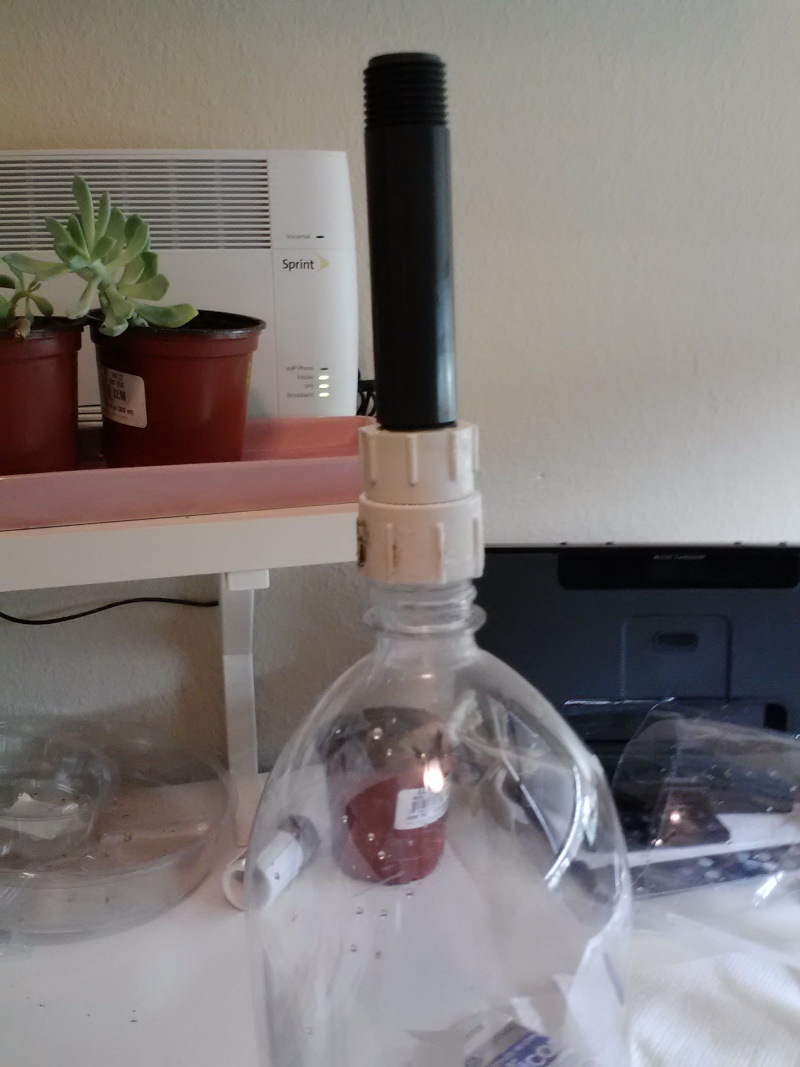 This is the part I struggled with. I tried a few different adapters, and finally decided I need to use silicone to get a good seal on the bottle. There are gaps in the threads of the bottle, and the water leaks pretty good through it without any silicone. I found a tube to sealant (in the adhesive aisle in the paint section) for $3, it seems to do the trick. This particular one advertised being sun and freeze proof, and it needed to set up overnight before be watertight. I put up a picture of how much of the sealant I used, it needs to get between the thread gaps, as well as a ring all around the top of the bottle. I also put a ring of it down on the washer inside of the adapter. It will ooze out onto the bottle once the pieces get screwed together, just smooth it out but don't wipe it off.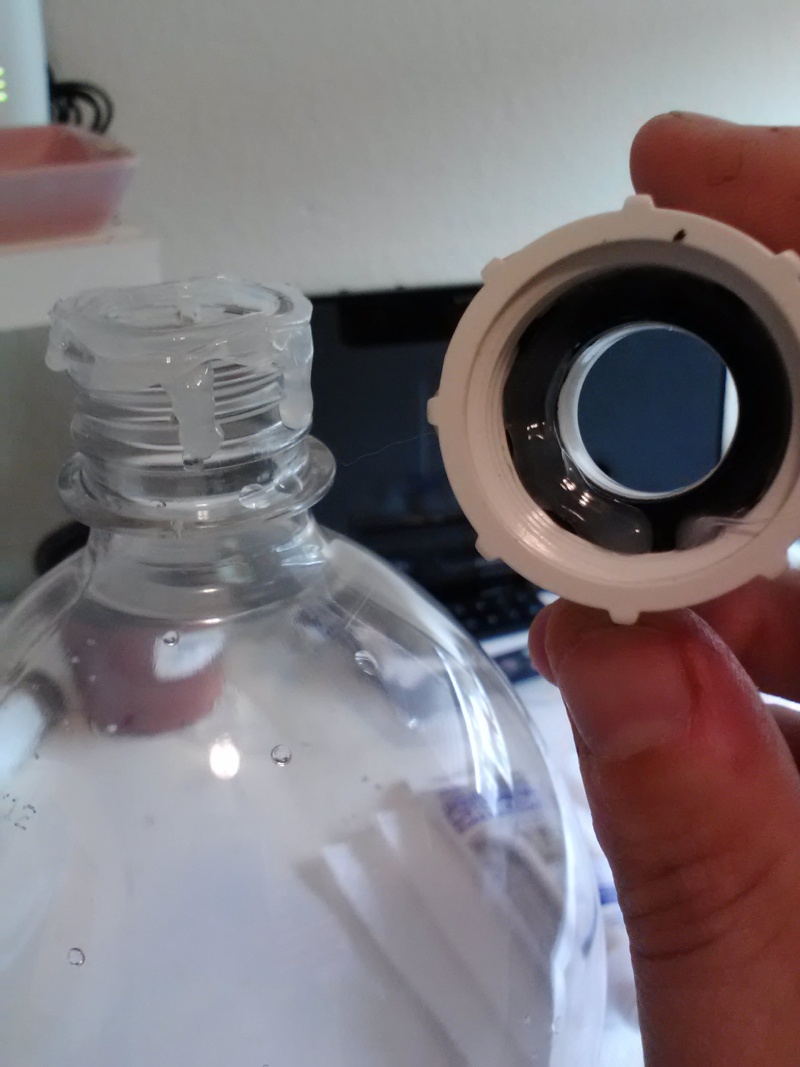 The 1/4" hose gets cut and slid over the drippers. It can be a pain, but it's not too bad. Moistening the hose helps, but it's the least fun part of this whole thing. Use a goof plug to plug up the end that won't connect to the 4 way splitter. I put my drippers about 14" apart, so I have a little room to lay the hose between plants without disturbing anything.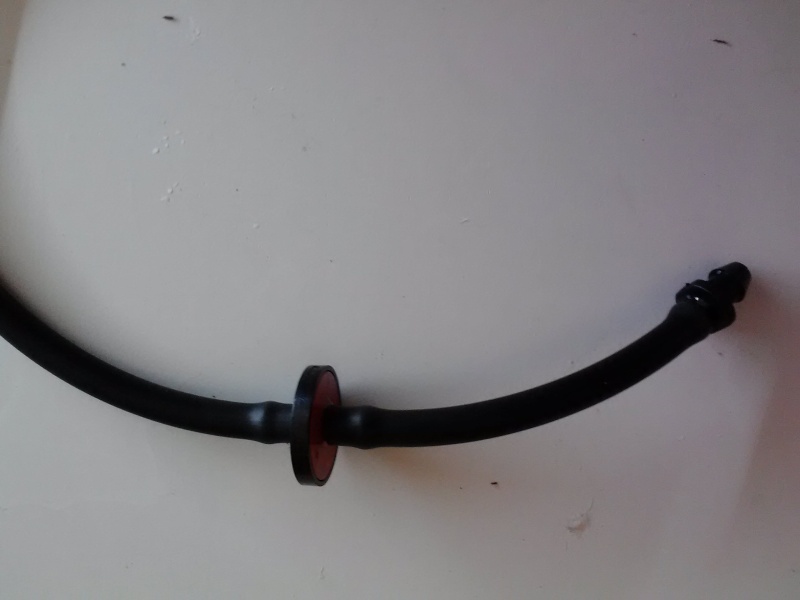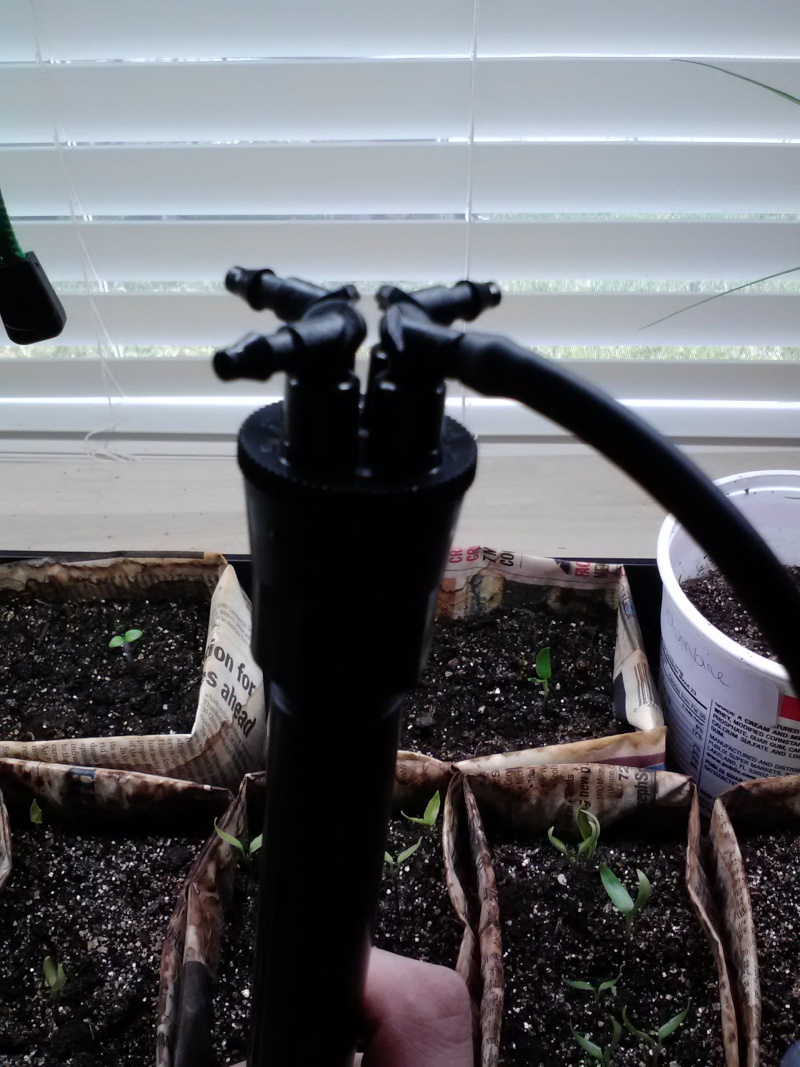 I only have two hoses running off each 4 way splitter, so I put a little 3 inch length of hose with a goof plug on the other two unused spots.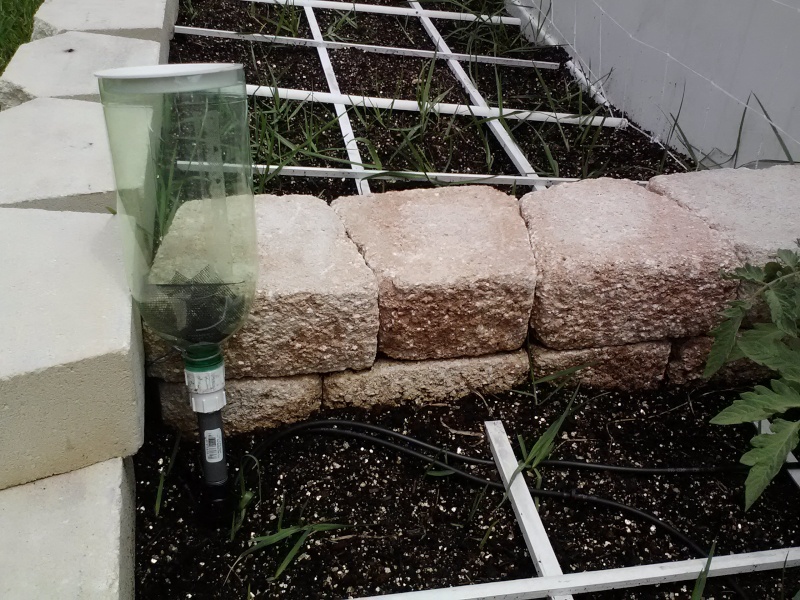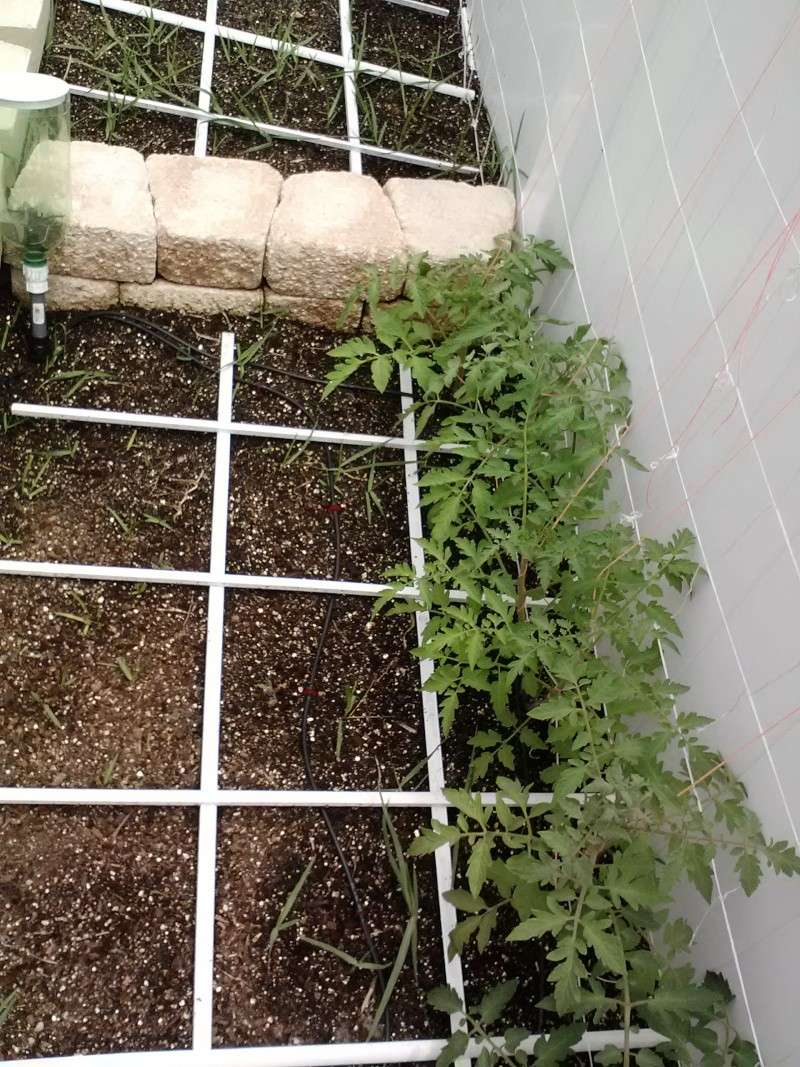 And where the hose runs under the grid and sets right up next to my little tomato.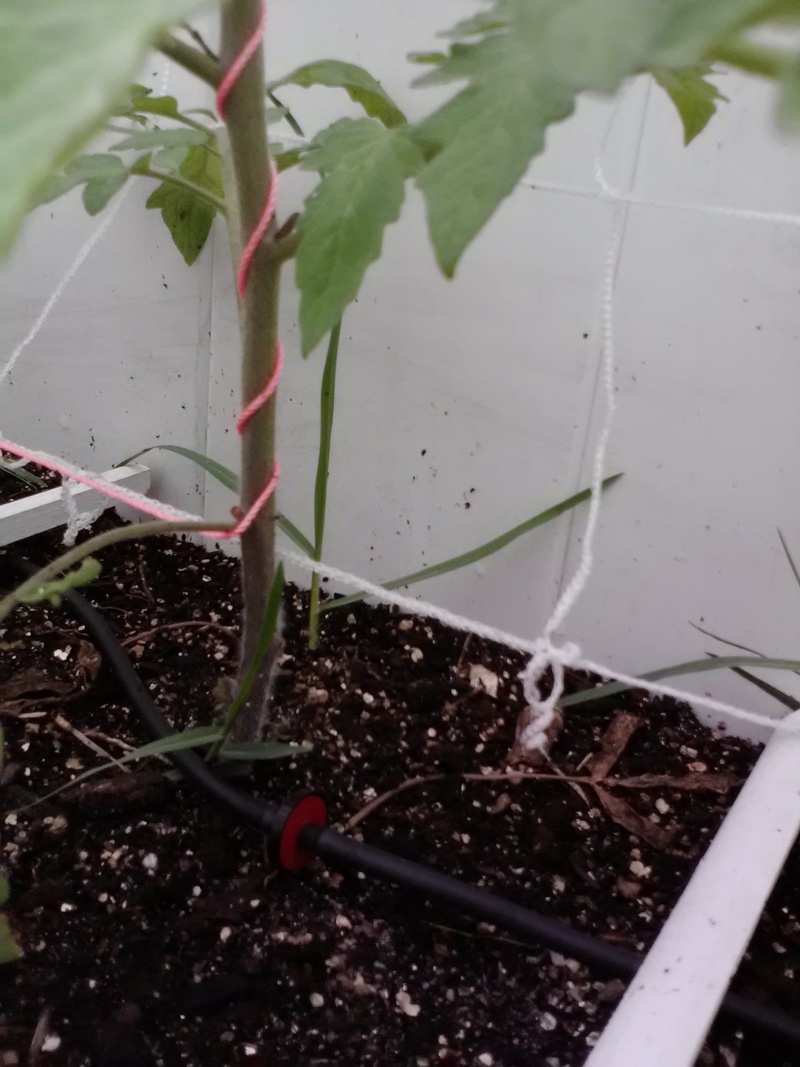 My boyfriend has some thick galvanized steel wire, it reminds me of a metal hanger, and I made a U shaped hook to slide between the stones in my wall to hold the bottle in place. If you have wooden beds I think it'd be really easy to find a U shaped bracket in the hardware section to screw into the bed wall and hook it around the bottle neck.
I had tried using three hoses originally, for each row in my garden bed, and noticed the hose dripped slower at the end. I also wanted some more control in case I have some plants that need more or less water, so I will have two drip systems in each bed, and if needed some plants can have two drippers in their grid box.
I was a little skeptical about the amount of water that the bottle holds, and if it would be enough to to water the bed, and I was surprised. It seems like the water drips slowly enough that it absorbs pretty deeply, and wet a circle about 7 or 8 inches across. If I can get another day without rain I'll post a picture of the wet soil to show.
This is a little long winded, but this was so simple and easy I had to share.



Posts

: 58


Join date

: 2012-05-25


Location

: Central Florida



Thanks for sharing excellent post.



Posts

: 273


Join date

: 2012-01-02


Location

: Philadelphia, PA



Great idea! I have some 2x4 beds that would be good for! And for my Gnome Bed where I don't want to haul the hose to the front of the house!





Posts

: 999


Join date

: 2010-08-30


Age

: 58


Location

: South Central Iowa, Zone 5a (20mi dia area in 5b zone)rofl...




---
Permissions in this forum:
You
cannot
reply to topics in this forum