My sweet hubby and nephew making more SFG beds! 107 SF total in this area. There will be an arch going over the aisle way too! To the left of the pic is another 12x2 foot bed. To the right are the pumpkins planted on Father's Day in SFG as well. Will plant tomatoes, pole beans, cucumbers, cantaloupe and watermelon on the arch if all goes as planned. Super excited to see it done!!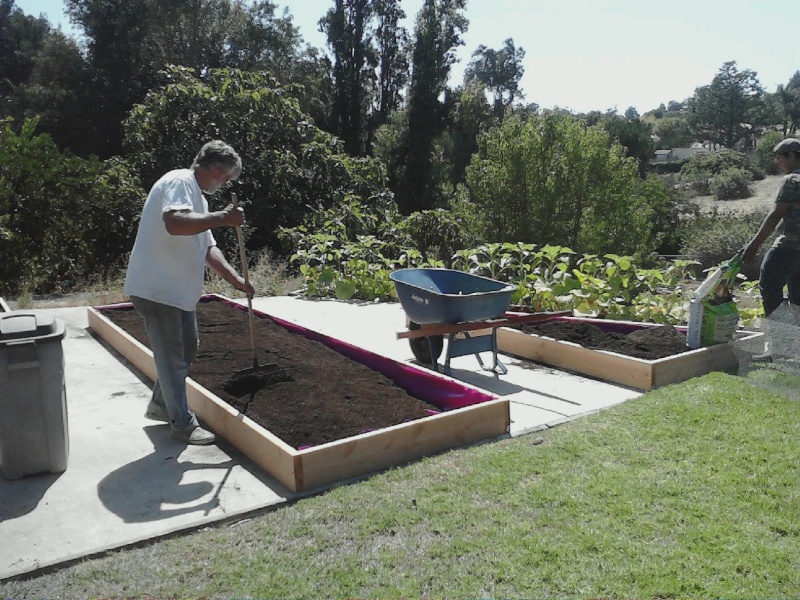 Looks fantastic Southern Gardener! Good luck, hope everything goes as planned for you!



Posts

: 2037


Join date

: 2012-03-21


Location

: Custer, SD



Your garden beds look wonderful!




Posts

: 675


Join date

: 2010-05-05


Age

: 62


Location

: Central NJ - From 6A to 7A 2012



thank you! we put an arch up too. I'll try and get a pic up here soon. Can't wait for stuff to grow up and over! Almost time to plant sweet peas in our area........LOVE 'em!

I love sweet peas too! I am excited to see pics!



Posts

: 2037


Join date

: 2012-03-21


Location

: Custer, SD



Well, we finished up the arches today

They were fairly easy to build, will be putting sweet peas in, in a couple of weeks. Planted about 100 seeds in 6 packs for our fall garden. The garden on the right of the pic is our pumpkins and sunflowers. The sunflowers are happy, but the pumpkins are yellow and scraggly. Will keep trying on them, there is a hill to the right, and want the pumpkins to sprawl down the hill.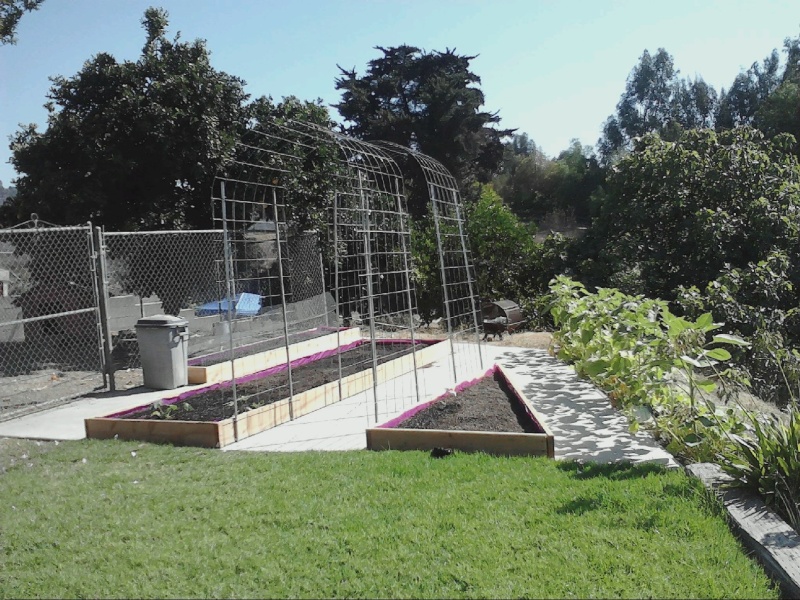 Happy gardening!



Posts

: 3412


Join date

: 2011-02-16


Age

: 52


Location

: Zone 4A - NE SD



did you use 16' cattle panels for the arches?



Posts

: 1145


Join date

: 2012-01-22


Location

: kansas city



landarch wrote:did you use 16' cattle panels for the arches?
No, we actually had a hard time finding them in our area. We used wire panels that are used for concrete reinforcement. They are 4'x7'. We measured them out so they were tall enough so we can harvest but not have the veggies hitting our head when we walk under...they're about 7' tall at the highest point. We "wired" them together with "hog rings" and bent the arch to fit the 4' walk way. The sides are made out of electrical conduit and attached with clips (I don't know what they're called) to the edge of the boxes. They feel pretty sturdy. I love the wire. It has 4" openings so we can reach through and pick things. We left a 2' gap between the arches so we can work in the squares easily. I LOVE sweet peas, so can't wait to get them growing! We had a 25' trellis of them two years ago, and it was amazing! You could smell them in the house, and it was beautiful to boot!
NICE! I can't find cattle panels here either.
How many 4x7 panels are used in one arch?

CC



Posts

: 6455


Join date

: 2012-05-20


Age

: 61


Location

: elbow of the Cape, MA, Zone 6b/7a



CapeCoddess wrote:NICE! I can't find cattle panels here either.
How many 4x7 panels are used in one arch?

CC
We bought 3 per arch, we needed about 2 1/2 per arch, so we just overlapped them to "fit" what we needed. they were about $8 per panel, so didn't think it was too bad. The conduit was only $1.67 per "stick" and we needed 4 per panel. i can't wait to get them covered

---
Permissions in this forum:
You
cannot
reply to topics in this forum