I found this in the garden today, on my tomato plants, and about 15 of his brothers, and a bunch more eggs...
I started to spray, then I thought it best to research what it is first.
I looked up various caterpillars for about ten minutes, but I'll be honest, I started feeling things crawling on me. It gave me the heeby geebies.
What is this guy, friend or foe? He kinda looks like the cutworm on the post right before this one, but the little red ball was different and I can't find a picture of a cutworm on the google box with the same red ball.
I am anxiously standing by with my bottle of spray to go take care of the rest of them. (Pssst, they're on my FAVORITE plant)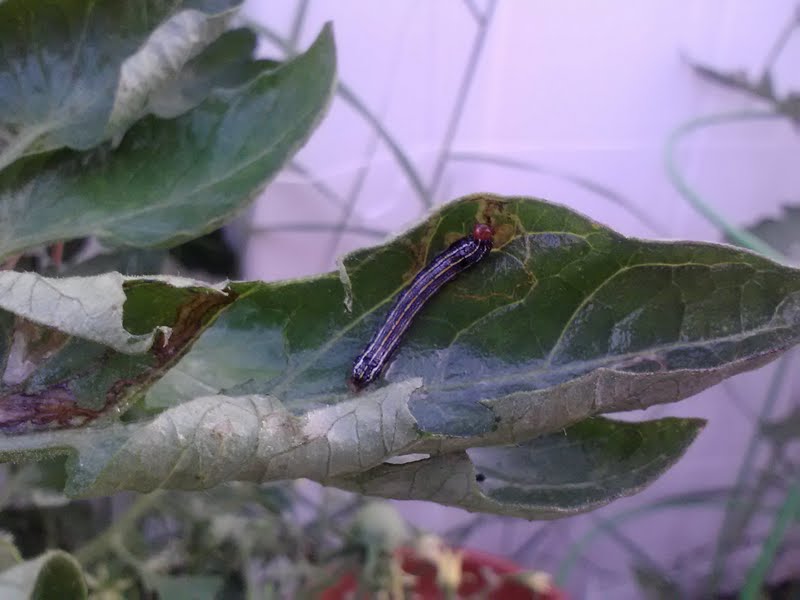 I cannot find an exact match. My guess it is a moth and will most likely wont eat a whole lot and pupate in a few days. If you spray these there is always risk to the pollinators in the neighborhood. I would suggest the extension service or capture one and keep it to see what it turns into.
____________________________
41 years a gardener and going strong with SFG.
http://squarefoot.creatingforum.com/t3574-the-end-of-july-7-weeks-until-frost
There are certain pursuits which, if not wholly poetic and true, do at least suggest a nobler and finer relation to nature than we know. The keeping of bees, for instance. ~ Henry David Thoreau
http://squarefoot.creatingforum.com/t1306-other-gardening-books

Forum Moderator Certified SFG Teacher




Posts

: 14139


Join date

: 2010-03-06


Age

: 54


Location

: Keene, NH, USA ~ Zone 5a



could this be it ...... http://bugguide.net/node/view/347993/bgimage



Posts

: 42


Join date

: 2012-08-21


Age

: 68


Location

: Illinois Zone: 5B



That could be it Larry, I was up on that same website looking around last night.

I'm about to go scope out the county extension office, see if they have any information for local bugs. My job has pulled me out of the garden the last few days, and I was sad to see the little guys had eaten the better part of the leaves on the bottom half of my tomato plant. They might be getting moved tonight to the flower bed.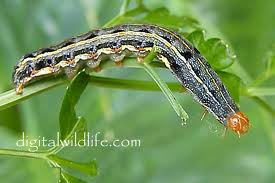 Found it, USF Extension Office for the win.
Southern Armyworm. And it turns into a moth, not a pretty butterfly. I could sacrifice a few plant leaves for something beautiful, but not this thing.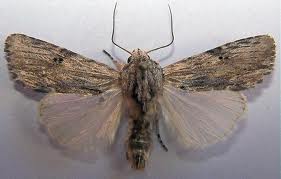 I'll be her husband thinks she purdy...

CC



Posts

: 5925


Join date

: 2012-05-20


Age

: 61


Location

: elbow of the Cape, MA, Zone 6b/7a



Southern Army Worms will eat anything in sight. If you have a lot of them hatching out they can eat your whole garden.
http://www.ext.colostate.edu/pubs/insect/05556.html
This stuff will stop them dead in their tracks and will not hurt anything else.
There was a major break out of those things years ago in Birmingham AL. in the subdivision where we lived. Nobody knew what they were the first week they showed up. They started out just eating the lawns, they went on to eating flowers and shrubs. By the time we all wised up and started spraying Sevin, there were so many worms it actually stunk outside when they started dying.. it was awful !!




Posts

: 383


Join date

: 2010-04-08


Location

: Florida Panhandle



I found information on them from the University of Florida, they have lots of useful information.

I've been spraying BT when I see them, they're all over my cherry tomatoes, so it's hard to spray them and not the flowers. Luckily my boyfriend is awesome and checked on them every two hours while I worked all day. They only got three little green tomatoes. Surprisingly they stayed on the one plant, even though my tomatoes are spilling out of their squares and making friends with the neighboring plants.

Having heard how much trouble they were for you, I'm glad I started wiping them out when I did. Hopefully they don't get out of control. I had no idea they liked the lawn and shrubs, I'll have to go check the rest of yard and not just the garden. Thank you for the heads up.
---
Permissions in this forum:
You
cannot
reply to topics in this forum