Hi everyone. I just moved to Atlanta and the apartment complex said I could have a garden outside my patio as long as I kept it "neat" in raised beds. Yay! I've wanted something more than the container garden I had on my patio in Los Angeles for many years and I had read about SFG years ago and always wanted to try it. The funny part is that I moved into my new place on August 28th and NOTHING is unpacked, but my garden is in full swing! LOL.

I got the new SFG book from the library and read it 100 times, built a 4x4 box to start, compiled all the components, made my mix and planted seeds and transplants on September 9th. It's only been 2 weeks but everything is growing like gangbusters and looking awesome. Other than the fact that it took a while to shop around and build everything by myself, this has been the easiest gardening ever!

I'm excited to see how my fall garden grows and before spring I may build a second box.

I'm very grateful to have found this forum to learn from other's experiences and to share ideas and tips! :-)

Theresa
Glad you are here. Post pictures and ask questions.



Posts

: 25


Join date

: 2012-05-08


Location

: Winter Haven, FL



Welcome to Georgia and SFG. I am in Brooks, Ga which is about 25 miles south of the Atlanta Airport. I am interested to find out what you planted in your fall garden.



Posts

: 3247


Join date

: 2011-11-20


Age

: 67


Location

: Brooks, Ga Zone 7B/8A



Thanks! Here is my garden so far (I haven't posted pics before, so bear with me if they come out funky):
September 9, 2012 right after building the box and putting the mix in. I chose to use 2x8's instead of 2x6 because when we've had torrential rain a lot of soil splashed out of my container gardens so I chose to use 8" boards but only filled it to 6":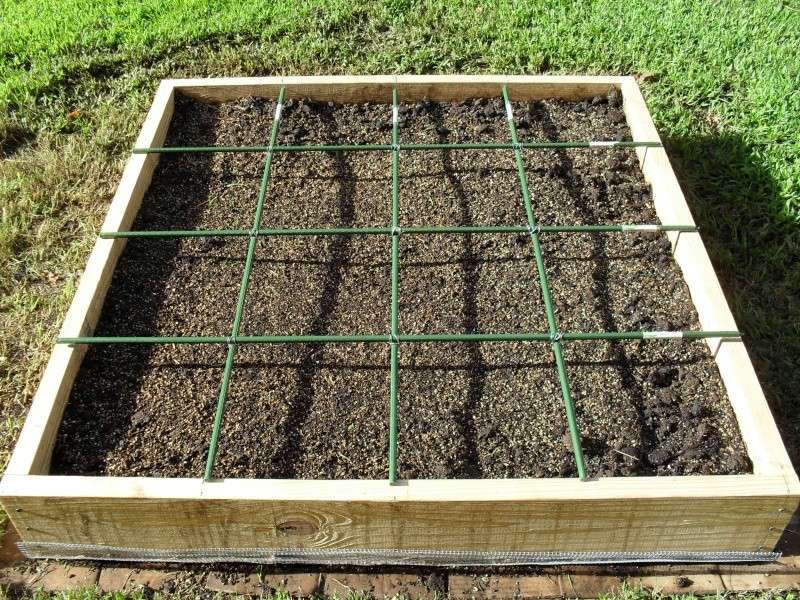 September 9 after planting all the seeds and transplants.
September 16th after one week.
I have: brussel sprouts, brussel sprouts, late season tomato, sugar snap peas
swiss chard, marigolds, baby carrots, spinach
kale, collards, nasturtiams, spinach
beets, mesclun mix, radishes and mache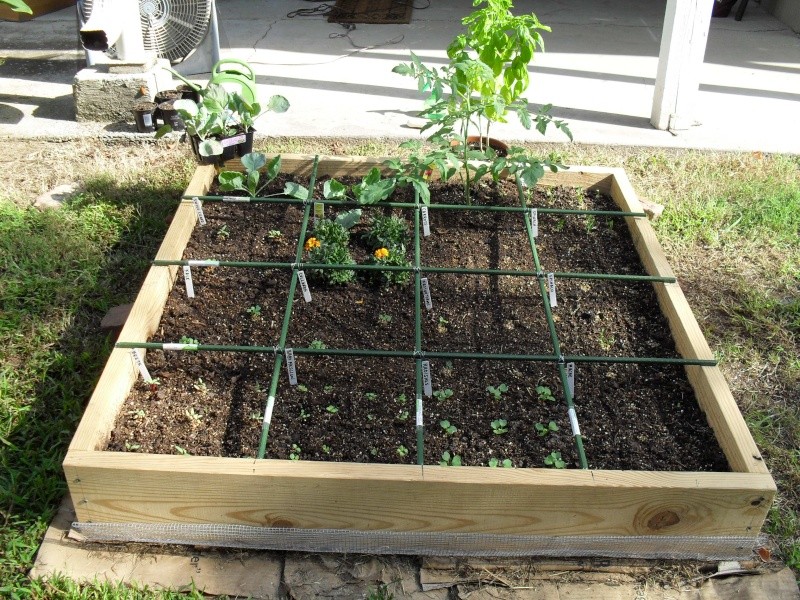 September 23rd after 2 weeks. The tomato is already flowering and bees come to visit. The snap peas are climbing their pole and I've already eaten a "seedling" salad where I thinned the lettuce and greens.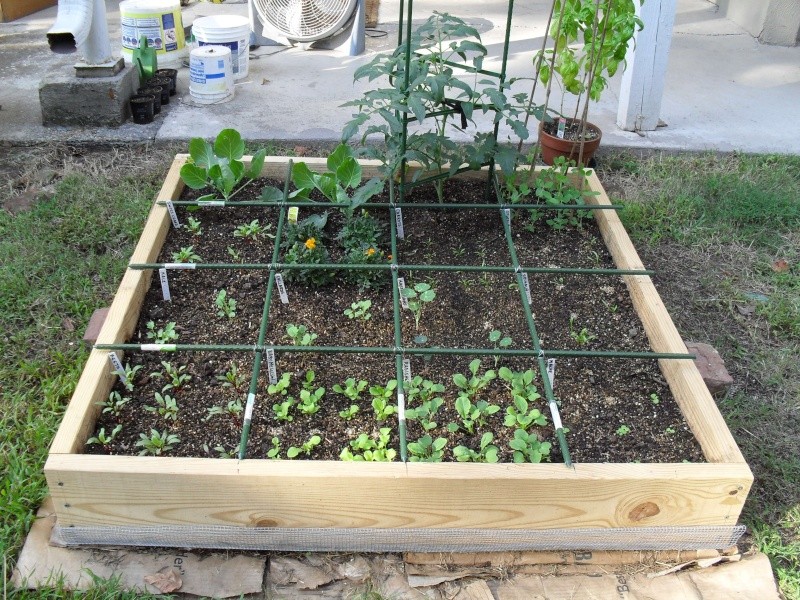 The only thing not really taking off is the Bloomsdale spinach. Only 6 out of 18 holes has sprouted.
Looking good!
GG



Posts

: 3412


Join date

: 2011-02-16


Age

: 52


Location

: Zone 4A - NE SD



Welcome to the forum.
Congratulations. Lookin' good!



Posts

: 4687


Join date

: 2010-03-21


Age

: 75


Location

: Southwestern Maine Zone 5A



Hi Theresa and welcome to the forum! You have a great looking garden to start your journey and have done a most excellent job with it all. I especially like your idea on marking your squares with the plastic bamboo rods, I don't think I have seen that idea before. I see that you are on the opposite end of town from where I live.

Hope to see you visit the forum often.



Posts

: 804


Join date

: 2012-08-16


Location

: North GA Mountains Zone 7A



Awesome! Welcome and thanks for the pics!!
Renee



Posts

: 280


Join date

: 2012-04-23


Age

: 50


Location

: Sharpsburg, Md. Zone 6B



@bnoles

wrote:...... I especially like your idea on marking your squares with the plastic bamboo rods, I don't think I have seen that idea before.......
I have just realised that I have enough of those green rods around to do the same to one of my beds. Just lift them off when required instead of trying to work around the string that I am using.
You see, Theresa, we can learn from newbies sometimes.
Your bed and pictures are great.




Posts

: 4931


Join date

: 2011-04-24


Age

: 82


Location

: Castlegar, British Columbia



Thank you everyone for the warm welcome!!

---
Permissions in this forum:
You
cannot
reply to topics in this forum