Looking for pros/cons on those who have used netting and/or tulle to cover boxes to keep pests out. We have cabbage moths, birds who like to pull up seedlings, etc. Also have ants and aphids, but no netting etc. will work for that. Looking for something not too expensive, so if you use something other than tulle or netting, I'm all ears! Thanks for any info!
I find the tulle and netting difficult to use as it catches on everything, but once it's on, it works great while letting in all that light. I use the tulle over hoops and the netting I just lay on spots. Don't know why...it's just how it ended up.

What I found out worked great to keep out pests was the burlap I used this summer for the shade. I didn't even know what a cabbage moth or worm was until I took it off. Next year the tulle goes on as soon as the burlap is removed, or even under it.

I also liked using screens from windows and doors in the spring, but they work because the MM in my boxes is about 4 inches below the tops of the boxes, so I can place a screen flat over the whole box until the seedlings get too large.

CC





Posts

: 6077


Join date

: 2012-05-20


Age

: 61


Location

: elbow of the Cape, MA, Zone 6b/7a



thanks..we just planted a bunch of cauliflower, broccoli, etc...tall crops. We have so many cabbage moths here, they wipe out so much, so trying to figure out a way to keep them off. My hubby said he'd build a frame of PVC, and I got some bird netting. gonna try and fasten it to the frame and keep them out. ANOTHER experiment lol
I like the light-weight row covers for keeping out bugs yet allowing plenty of sunlight thru. Keeps out even the smallest bugs. Saved my cabbages from flea beetle.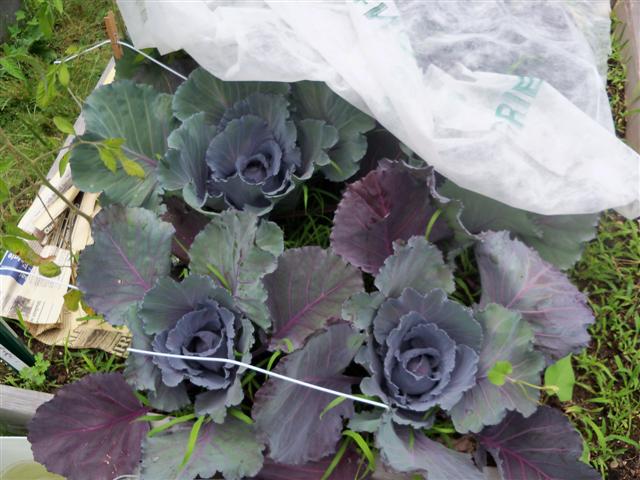 Here's row cover pulled aside from my cabbages. You can lay it directly on the plants which it won't hurt or you can put hoops over the plants and clip on the cover. This is Agribon AG-15 which allows 90% sunlight thru. You can use it year after year so its worth the investment for me.
Here it is over my strawberry berm. I just pulled it aside when the flowers blossomed until they were pollinated. When fruits started to form, I pulled the cover back over the plants. It saved them for me from the birds this year. I lost all my berries to birds 2 years ago.



Posts

: 4674


Join date

: 2010-03-21


Age

: 75


Location

: Southwestern Maine Zone 5A



quiltbea: What is the covering called? Do you remember where you got it, and the price? Also, are you able to water through it, or do you have to remove it. Thanks!!
I got mine from johnnyseeds.com and its called Agribon AG-15. Its their lightest weight for insect protection. There's heavier weights up to AG-70 to protect from freezing weather. Other companies have it as Remay.
Mine is 118" x 50 ft for $21.95 (2012 price) and I've used mine now for 3 years and its still in great shape. This is their smallest size.

I'm going to us it on my dwarf fruit trees and blueberry bushes next year because I found netting catches on everything. I used netting against birds this year on my blues and I still have one bush I can't unravel from the netting, its so caught fast.

Edited to add: I forgot to add that yes, I water thru it. Rain goes thru just fine so you don't have to remove it for watering.




Posts

: 4674


Join date

: 2010-03-21


Age

: 75


Location

: Southwestern Maine Zone 5A



sounds like a winner! I will check it out for sure. TYSM for the answers!
---
Permissions in this forum:
You
cannot
reply to topics in this forum