I built a temporary greenhouse (hoop house) this past weekend. It is 9' W x 9' L by 8' H. I used 1/2 " PVC and 4 ml opaque plastic sheeting. It is not heated.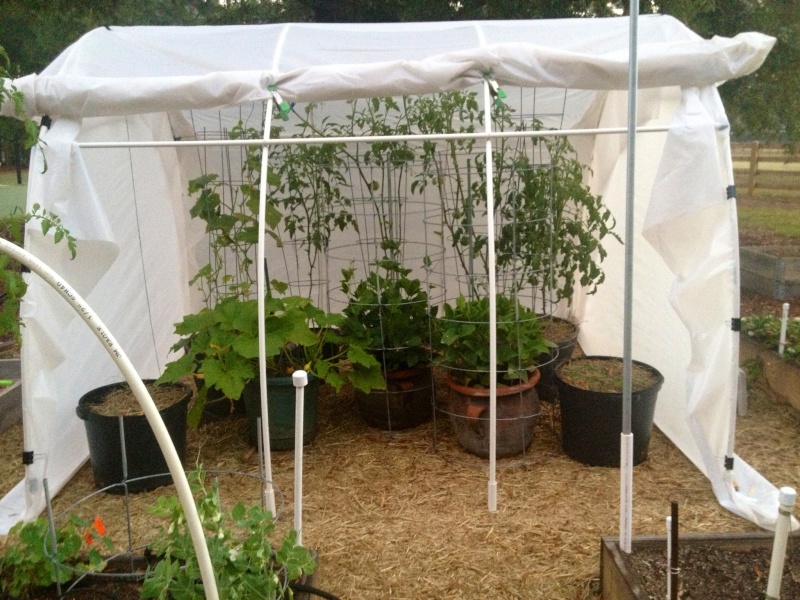 In August I planted summer vegetables (tomatoes, cucumbers, summer yellow squash and black eye peas) in large pots so they could be moved into the hoop house to extend my season. They are doing well so far. I have gotten many cucumbers, there are green tomatoes on my 3 plants, the summer squash are just now forming squash and I don't have any hopes of harvesting the black eyed peas (my 4 year old grandson planted them and is excited watching them grow). Temperatures for the next 30 days are projected to be approx highs of 70-75* and lows of 45-50*. The 4 ml plastic will not provide much heat but hopefully will extend the season for awhile.
So, my question is, will enough sun get thru the opaque plastic to continue growth and fruiting.



Posts

: 3247


Join date

: 2011-11-20


Age

: 67


Location

: Brooks, Ga Zone 7B/8A



Looks like you are going to find out!

One thing that helped with my hoop house (not heated) was to get a meat type thermometer I could put in the ground. You'll want to see the temps of the soil in those pots. If it is getting too low maybe try some reflective material around them?
It won't matter if the air in it is 90° if the soil in the pots is at 40° they will shut down. With that bed of material you seem to have placed the pots on you might be in good shape though.
Good luck!



Posts

: 273


Join date

: 2012-01-02


Location

: Philadelphia, PA



CharlesB - Thanks for the heads up about the temperature of the soil in the pots. I had not considered that. I have a compost thermometer which hopefully reads temperatures that low.

What type of covering are you using on your hoops. I have been contemplating getting clear-clear plastic from somewhere for next year. If I get it really clear then I can get a thicker plastic which may keep it warmer.



Posts

: 3247


Join date

: 2011-11-20


Age

: 67


Location

: Brooks, Ga Zone 7B/8A



I got the plastic sheeting from Wal-Mart for like $7-$12. Can't remember exactly. It is relatively clear, not opaque. I still have a lot of it left. Will get a few boxes covered soon.

I just run two conduit length's (gray stuff cheaper than PVC) in an X on a 4'x4' box. Use something to hold them together up top then put the plastic over. Makes a mini green house for less than $20 and the wind cannot blow it over.



Posts

: 273


Join date

: 2012-01-02


Location

: Philadelphia, PA



---
Permissions in this forum:
You
cannot
reply to topics in this forum