Greetings fellow square footers!!
This is the first time I've ever done a garden. Never had the time or desire before but now that's all changed. My wife has done the garden thing in years past but that turned out to be a real mess with all the weeds and stuff, not to mention the work with all the digging, tilling and plowing. This square foot thing has a great appeal to a lazy ole fart like me.
I'm starting this time of year because I'm a great procrastinator and I'm late with everything. Complicating the matter is the fact that I live on the Oregon coast and this time of year is when the rains start and the wind (which is made here at Cape Blanco for those who may not know that) picks up. No problem though. I made me some special boxes that take care of all that along with the herds of deer, rabbits and chipmunks that think this is their place.
I planted all this stuff on the first of this month and really didn't expect much...after all it's getting cold here. The strawberry plants were donated to me by my neighbor who really doesn't have time to tend his garden much. They looked pretty poorly when I dug them up and after I broke apart and threw out the clods of dirt around the roots, I took a pair of scissors and really cut them back leaving only the main one and a very few clipped back small ones. I really wasn't expecting much from them but Holy Moly! They stood at attention and came to life immediately!
Maybe I shoulda been a farmer.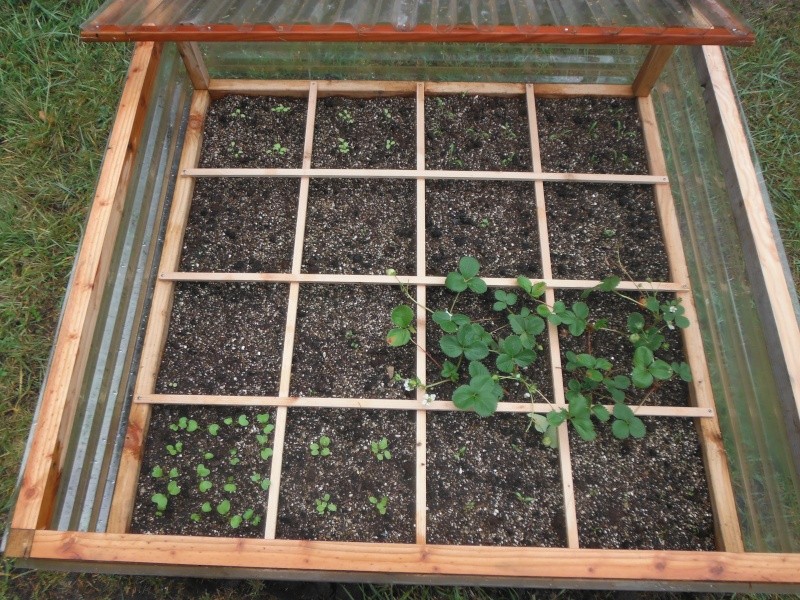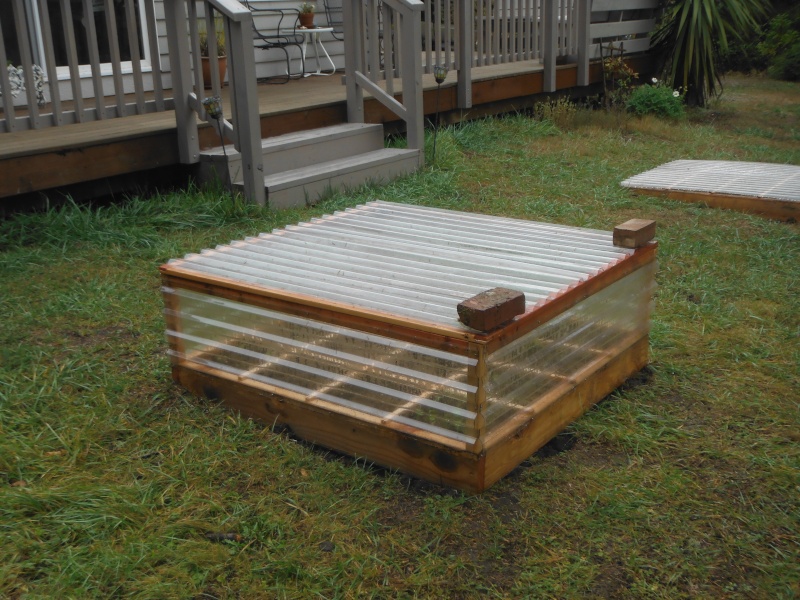 Last edited by Telsta860 on 10/15/2012, 1:47 pm; edited 2 times in total (Reason for editing : adding pics)



Posts

: 2


Join date

: 2012-09-11


Location

: Port Orford, OR Coast



Greetings, fellow Oregonian!

Although I recently moved to Bend from Southern California, I grew up in Salem and often visited the coast and have fond (though vague) memories of Port Orford.

You're on the right track with SFG. Please post photos of your evolving garden.


Certified SFG Instructor




Posts

: 2099


Join date

: 2010-03-02


Age

: 69


Location

: Bend, OR (Zone 5-6)



Welcome to the forum!
Beautiful boxes! Humm, those give me an idea for toppers to make this winter for my small beds I do my peas and lettuce in first thing in the spring! I wonder if the hubby will remember I have a coldframe now



Posts

: 999


Join date

: 2010-08-30


Age

: 57


Location

: South Central Iowa, Zone 5a (20mi dia area in 5b zone)rofl...



@Telsta860

wrote:

WOW! Those are NICE!!! Great job & welcome to the forum.



Posts

: 807


Join date

: 2012-09-21


Age

: 51


Location

: Waaaay upstate, NH (zone 4)



Welcome to the forum. It looks like you're making a great start with your SFG. I love your raised box bed. Very nice.

You might be able to keep some greens going quite a while in that box in your area. Try spinach, lettuce, arugula, claytonia, and mizuna and even some radishes. They don't need starting inside. All have their own flavors and all can take a bit of cold weather.
You'll find it so different from tilling, plowing, double-digging, etc each spring. So much less work this way and the weeds, the few you'll have, will be easily eradicated.
Good luck and enjoy.



Posts

: 4648


Join date

: 2010-03-21


Age

: 75


Location

: Southwestern Maine Zone 5A



testla.
You are really going to enjoy the SFG way of gardening.
Your protected beds are so neat looking. Are the tops easy to lift off and are they hinged?
Do you get much snow and will they stand the weight?



Posts

: 4832


Join date

: 2011-04-24


Age

: 82


Location

: Castlegar, British Columbia



Well done!!!

Also, did you paint that wood or is it wet with rain?
CC



Posts

: 5935


Join date

: 2012-05-20


Age

: 61


Location

: elbow of the Cape, MA, Zone 6b/7a



---
Permissions in this forum:
You
cannot
reply to topics in this forum