2 weeks ago my babies got totally pounded by rain for 2 days straight. I didn't have any pvc pipe up yet to make a cover and tried putting some cardboard over the bed to keep them from getting drowned, but they had already gotten super soaked by the time I got home from work. My swiss chard, collards, kale, beets, and nasturtiams had all fallen over from the rain. I had only planted them all from seed on September 9th so they were all only a few weeks old. I've been watering by hand with a cup or a mister on the seedlings every day.
I was hoping they would rally once the sun came out again and since I mixed my Mel's mix to the right recipe, I was hoping it would all drain just fine and everything would be back to normal. But it's been 2 weeks and most everything is growing up from a bent stem! I'm concerned that once the plants get bigger, they will topple. Not sure what to do here.
One issue is that as the angle of the sun changes, they get more and less sun depending on the day, anywhere from 4 to 8 hours but it's not consistent because the yard is surrounded by trees in various states of losing their leaves.
Here is my swiss chard, struggling to stand up: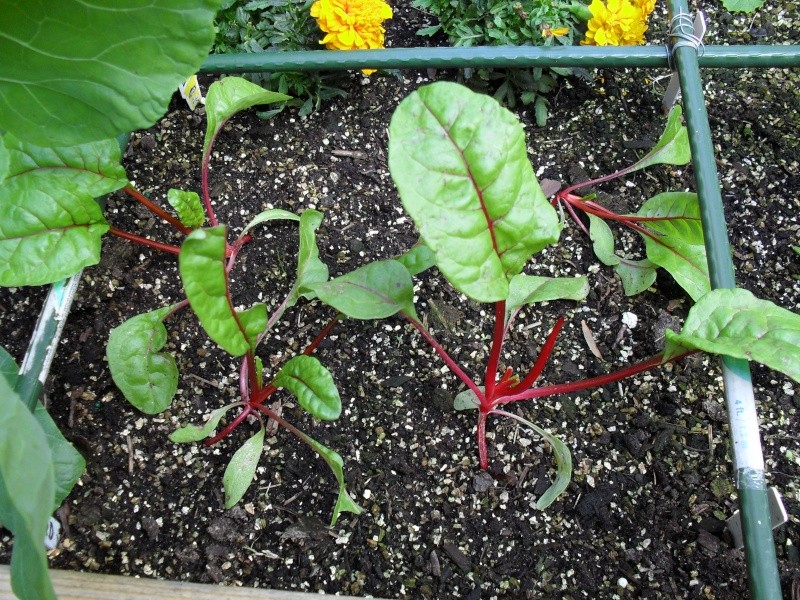 Here are my floppy beets: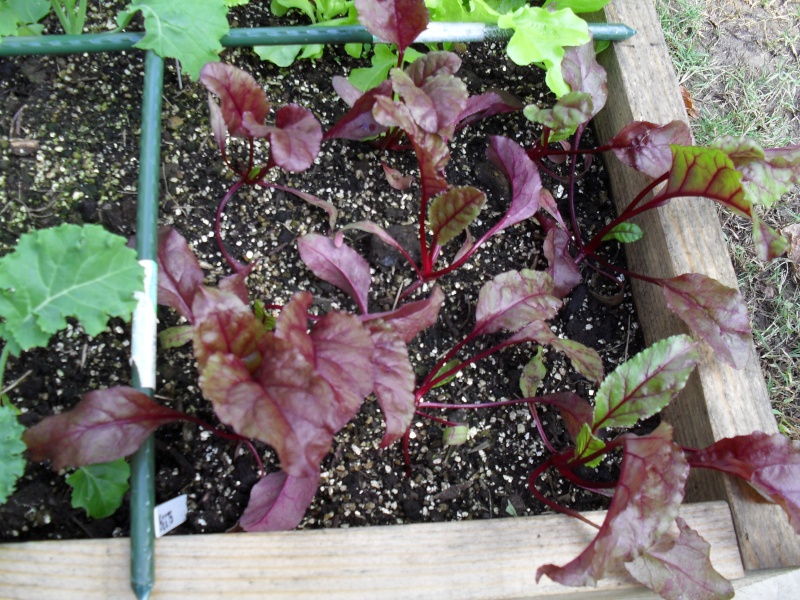 Here are my nasurtiams: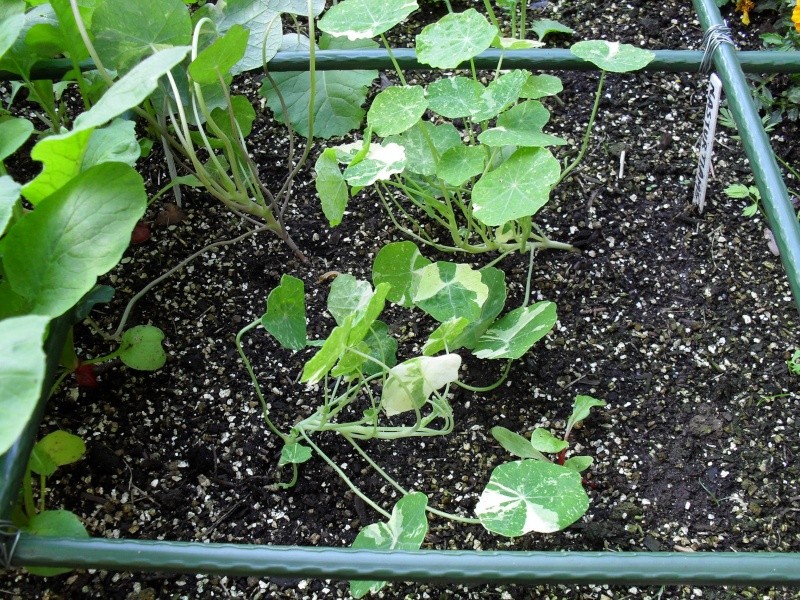 The same thing is happening to the kale, collards and now that the spinach has come up, it is falling over too because we had a thunderstorm last night.
Any help or ideas would be greatly appreciated!!
Thank you!
All is well, they appear normal to me, they will get stronger as they grow. They will be fine, until it gets too cold for them.

____________________________
41 years a gardener and going strong with SFG.
http://squarefoot.creatingforum.com/t3574-the-end-of-july-7-weeks-until-frost
There are certain pursuits which, if not wholly poetic and true, do at least suggest a nobler and finer relation to nature than we know. The keeping of bees, for instance. ~ Henry David Thoreau
http://squarefoot.creatingforum.com/t1306-other-gardening-books

Forum Moderator Certified SFG Teacher




Posts

: 14165


Join date

: 2010-03-06


Age

: 55


Location

: Keene, NH, USA ~ Zone 5a



I've been known to push the seedling deeper into the soil. CAREFULLY
I just kinda push my finger down into the the soil on the side opposite the fall over and mound up the soil on the droopy side. This sorta gives them an extra bit of soil and tilts them back sorta straight.

Kay
____________________________
A WEED IS A FLOWER GROWING IN THE WRONG PLACE
Elizabeth City, NC
Click for weather forecast

Certified SFG Instructor




Posts

: 4360


Join date

: 2010-10-17


Age

: 74


Location

: wilmington, nc zone 8



Ok, thanks Camprn and Kay. I think I'm going to have to mound some soil around some of the ones that are growing sideways. I was worried that if I did that that I might damage the stem but I'll try a few and see how it goes.

I wonder if next time I should mound more dirt around the seedlings when they get to be 1-2" tall and I'm doing my thinning in the bed? (I can't grow indoors so I have to plant right in the bed.)
Usually the plants will get stronger on their own and the new growth will come up straight anyway.
There is a reason growers state on the planting instructions whether to bury an inch or 2 deeper or plant at the same depth as in the pot. Many plants won't grow if buried or mounded deeper.
I'd try a few to see if it helps before mounding all of them.
If that doesn't help, you could stick some popsicle sticks in beside the plants to help them til they are stronger.



Posts

: 4690


Join date

: 2010-03-21


Age

: 75


Location

: Southwestern Maine Zone 5A



Thank you, Quiltbea.
Since I made this post, several other things are falling over: several of the mache (corn salad) and my spinach. Over the past 3 nights I've been picking out 5-10 caterpillars out of the bed and have seen some damage to leaves of some of the plants and now I'm wondering if bugs are causing the newest casualties to fall over.
I don't think that the bugs would be causing the fall over. Are they getting enough sun?



Posts

: 2037


Join date

: 2012-03-21


Location

: Custer, SD



Hi Cheyanne,
I've noticed over the past few days that they are getting more and more shade due to the angle of the sun. I'm concerned that they are not getting even 4 or 5 hours of sun right now, so maybe that is the problem. It rained last night and all four of my swiss chard plants fell over and are laying on their sides on the bed now, as well as a few other of the plants.

If they have gotten leggy and are falling over due to lack of sun, there's not much I can do, right? (I can't move the bed and I'm in an apartment complex.)
---
Permissions in this forum:
You
cannot
reply to topics in this forum