Hi all,

I just stumbled across this forum and decided to join on impulse. I'm glad I did too! It looks like a great community.
To give you some background, I grow microgreens that I sell to restaurants here in Portland. I'm also looking to build a small greenhouse soon.

Looking forward to getting to know all of you.

to the forum! We are just closing up the gardening year out here in SD. I may try my hand at some microgreens indoors this winter. May need some tips!
GG



Posts

: 3412


Join date

: 2011-02-16


Age

: 52


Location

: Zone 4A - NE SD



Thanks for the warm welcome Goosegirl, the winter is coming! I'd love to help out in any way. I do all of my growing indoors in soil, so I assume that would be helpful to you.
Welcome Luke. I'm in a small town close by that other Portland, across the country in Maine where our frosts are lying in wait as I write. Our season is over but I bring my herbs indoors in pots in the winter for as long as I can. I've also started a shallow pot of lettuce, both Thom Thumb and Romaine. I've never tried microgreens but I hear its getting very popular these days.
It'll be interesting to hear about them.
Good luck with your business.



Posts

: 4688


Join date

: 2010-03-21


Age

: 75


Location

: Southwestern Maine Zone 5A



Nice! We don't have the frost waiting, just days and days of rain.

btw, where did you get the Tom Thumb seeds? Territorial?
Luke......Its one of the perks of being a member of this board. I got my Thom Thumb seeds from another SFG gardener, who is a member on this board, when we did a swap for some seeds last spring.
In the spring there'll be lots of us with seeds to swap so keep an eye open for them.
In fact, right now some have posted they have different seeds available already so check out the seed swapping thread on the home page. There might be something you like.
Of course, when you sow lots of seeds for your microgreens business, you probably would prefer to get yours thru Territorial which is an Oregon-based nursery.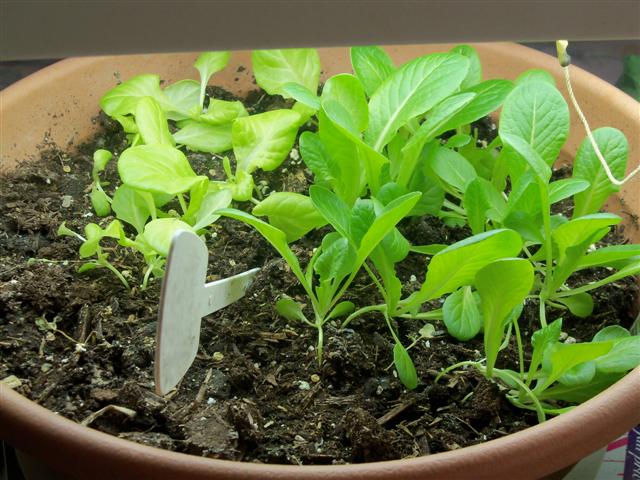 My Thom Thumb and Romaines this week.



Posts

: 4688


Join date

: 2010-03-21


Age

: 75


Location

: Southwestern Maine Zone 5A



Nice! Your starts are beautiful.

I really like the seed swap taking place. Certainly makes a lot of sense. I'll definitely keep an eye out come spring time for my garden. And you're right because of the huge quantities of seeds I go through for micros, swaps just don't make sense. With that said, it's been really nice to be able to give a handful of seed to some of my friends here in Portland and some of the chefs I deliver to.
Hey Luke, welcome to the forum! I'm just across the river from you in Vancouver.

I actually picked up a free packet of "spicy microgreens" at the Salmon Creek Farmer's market the summer before last and sprinkled the seeds across two squares in my SFG and everything grew quickly and easily. I remember I cut everything down when they got about 2" tall, and most things re-grew for another harvest. That's cool you've made a business out of it!

I bought Tom Thumb lettuce seeds from Territorial this year and tried a square of them. But I didn't realize until too late that my mix was lacking nitrogen, so by the time I got them really growing they were bitter. Will try again next year.

Certified SFG Instructor




Posts

: 1413


Join date

: 2011-05-11


Location

: Vancouver, WA



---
Permissions in this forum:
You
cannot
reply to topics in this forum