Hi, all.
After much searching through the internet, I think I know what pest I purchased along with the seed garlic I was hoping to put in last weekend. Thankfully I ran out of time before planting which gave me the opportunity to research the subject & this is my best guess. I'd love to get y'alls input.
"Eriophyid" mites.
Does this picture from Oregon State Univ. Extension Service:
look similar to the picture I took of my suspect cloves?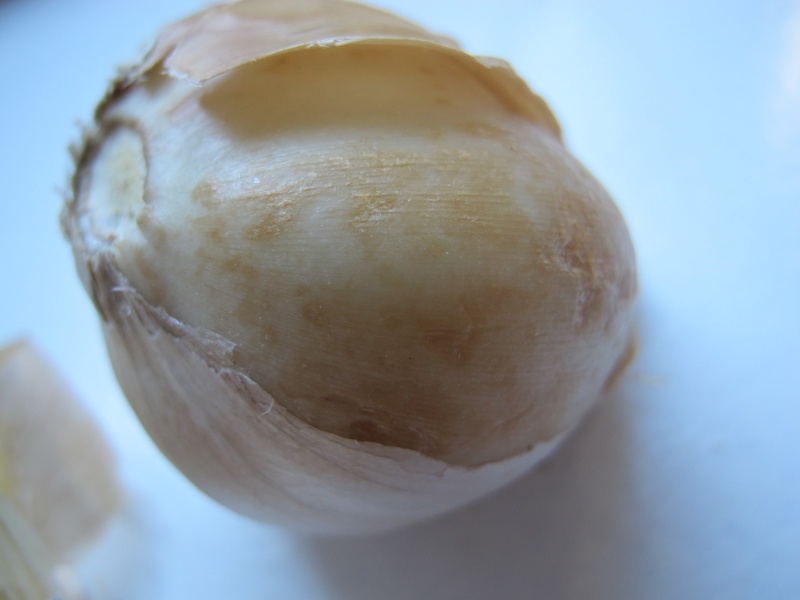 My lighting isn't the best, but in "real life" the damage looks mighty similar. And the thing is, the picture above is only on the elephant garlic. I also found similar damage on the cloves of some softneck garlic I bought from the same vendor.
The article the source picture came from can be found at
this site
.
The article talks about a hot water treatment for the bulbs which unfortunately also decreases germination rates. That said, I'd rather have less garlic if I know it's disease free. My other option is just not plant any of those cloves & do without softnecks & elephant garlic this year. I still have some hardnecks from a different vendor, which seem OK so far. I can just plant those.
Has anyone ever dealt with these mites before? What has worked for you?



Posts

: 807


Join date

: 2012-09-21


Age

: 51


Location

: Waaaay upstate, NH (zone 4)



I am at work right now and cannot see photos in posts but I would encourage you to not phaff around with our opinion here on the forum; take yourself right down to your County Cooperative Extension Service Agriculture Agent, I am sure they would want to know about an imported agricultural pest. They should be able to identify the problem for you.
http://extension.unh.edu/Counties/Grafton/Grafton.htm
____________________________
41 years a gardener and going strong with SFG.
http://squarefoot.creatingforum.com/t3574-the-end-of-july-7-weeks-until-frost
There are certain pursuits which, if not wholly poetic and true, do at least suggest a nobler and finer relation to nature than we know. The keeping of bees, for instance. ~ Henry David Thoreau
http://squarefoot.creatingforum.com/t1306-other-gardening-books

Forum Moderator Certified SFG Teacher




Posts

: 14165


Join date

: 2010-03-06


Age

: 54


Location

: Keene, NH, USA ~ Zone 5a



That's a great suggestion, Camp! I won't be able to call until Monday, but in the meantime I did call the vendor and they said they would send me replacement garlic. I offered to send them back the questionable stuff but they said to hold off until they get a chance to ask their farmer if he would like to inspect it. If it were me, I'd think the answer would be OF COURSE!!! but there you have it...so I've sequestered the funky cloves and am waiting to see what they want me to do with it. If I get a positive ID from the extension agency, I can always just relate that info back to the vendor & they can take it from there. I just don't want to introduce any "cooties" to my brand-spankin' new beds.

In the meantime, I'm hoping that this weekend I'll be able to plant the hardnecks I got from a different vendor since they looked perfectly OK when I split them apart. We'll see if the weather cooperates!



Posts

: 807


Join date

: 2012-09-21


Age

: 51


Location

: Waaaay upstate, NH (zone 4)



---
Permissions in this forum:
You
cannot
reply to topics in this forum