Has anybody had sfg luck with fennel? Everything from last spring/summer is harvested, and my fall/winter crops (lettuce(s), kale, spinach, mustard greens, swiss chard and savoy cabbage) are all coming along nicely. I was thinking of planting some fennel, but I wonder about enough bed depth. My first gardens performed great with the exception of onions presumably because there isn't enough room for the bulb of the onion and the roots. My experience has been that to have good results, I need 8" of Mel's mix in my beds. I worry that the size of the fennel bulb will yield similar less-than-acceptable results. Also, do you think fennel can be planted in central MS right now?



Posts

: 104


Join date

: 2012-01-10


Age

: 55


Location

: Madison, MS (zone 8a)



I was just deciding about Fennel myself, the conclusion I came to - I will plant it and find out... lol. I am in Central Texas, however, and mine might not have enough time before big heat, where as you in MS might still be too cool. I figure if I try it I can fix my mistakes for next year. This is my first year gardening in Texas, I did it for years in Wash state - the climates are like different planets. I never grew bulb fennel, just the herb which grew like a weed there. I hear that in zones over 7 we should plant in fall (Sept) to keep it from bolting and not bulbing; but I will have to try a few seeds for good measure. If you can start it in a peat pot or equivalant, you could set it out once it warms a little more. They say it doesn't like root disturbances.



Posts

: 3


Join date

: 2013-03-26


Age

: 53


Location

: Shiner, Tx



I tried two different plantings last season. The first were transplants that never really took. The second I tried from seed on a whim planted Oct 14 expecting 'nothing will happen'. I just put them in the ground no special 'soaking' or anything. Well they grew over the winter even though the books said they couldn't handle cold; frost. We had a very mild winter so they did fairly well. My beds are 12 inches with no weed blocker ; the brick is app 4x8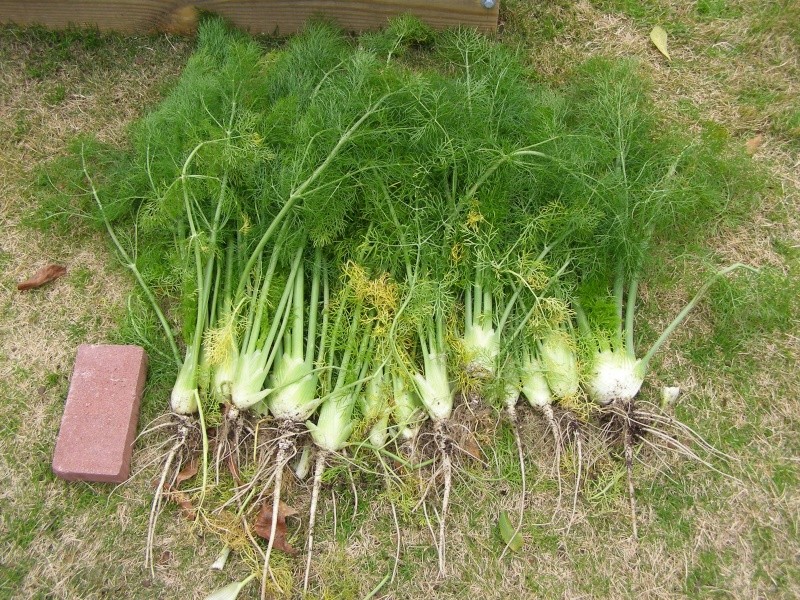 here is before harvest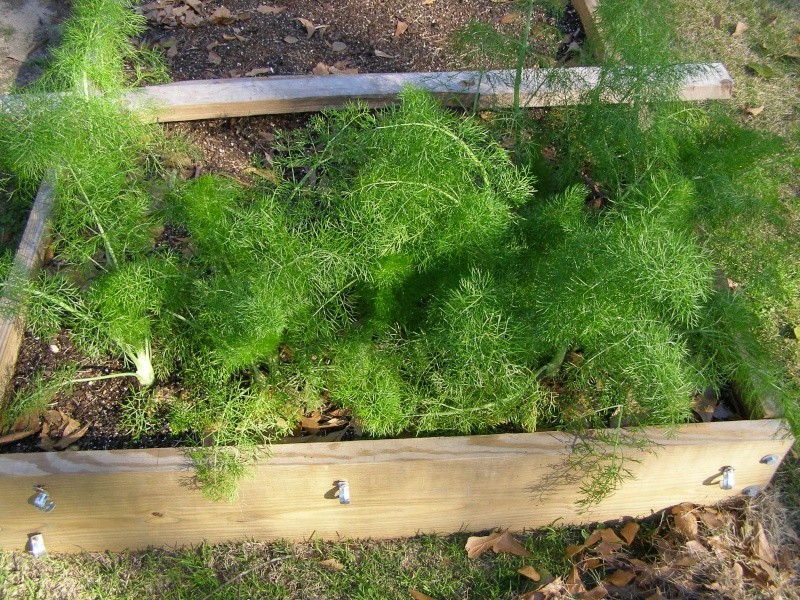 The fennel/apple salad sure was good yummmmmmmmmmm



Posts

: 564


Join date

: 2012-03-04


Location

: Columbus, Ga



Hi pepper, I plan on making a small 2X2 box to plant some fennel seeds in this week. I hope I have as good of luck as you did. Those look GREAT!





Posts

: 804


Join date

: 2012-08-16


Location

: North GA Mountains Zone 7A



---
Permissions in this forum:
You
cannot
reply to topics in this forum