I've raised vegies in Fox Lake, Illinois, here in Mississippi (a very large garden) and in New Mexico. Kids are grown and my wife of 49 years passed away this spring. I live in the city now and want to raise a few tomatoes because nothing beats the taste of a home-grown tomato fresh of the vine.



Posts

: 1


Join date

: 2012-12-08


Age

: 73


Location

: Corinth, MS



Welcome bchelmowski! I am so sorry to hear about your wife, Spring was not that long ago! You will like the people here on this forum! Since you have had so much experience gardening, you will probably enjoy helping others with your knowledge. This forum is for giving support for those doing a square foot garden and using what we call Mel's mix. We also have people such as yourself that use the Mel's mix ("MM") in containers for growing things like tomatoes.
If you have a certain topic you want to look up you can do a search in the column on the left that is labeled Latest Topics. Go to the bottom and type in what you want to look for. Again



Posts

: 1632


Join date

: 2010-06-04


Age

: 63


Location

: Northern Utah



Howdy neighbor! I live in Madison. We are certainly blessed in the south with long growing seasons. I love home grown tomatoes too; although, I haven't had a great deal of success with them. (I'm a recovering over-waterer). I read an interesting article a few month ago about why supermarket tomatoes have no flavor...the reason surprised me
http://www.newser.com/story/149130/why-supermarket-tomatoes-have-no-taste.html



Posts

: 104


Join date

: 2012-01-10


Age

: 56


Location

: Madison, MS (zone 8a)



bchel, Welcome to the forum. Sorry about your loss. Having lost my own spouse after 46 years, I know how hard it is. Staying busy kept my sanity. Gardening in some form or other will also help.
Get those containers ready and start growing tomatoes in the spring. I'm sure the smaller determinate varieties with cages in the pots will work very well. I use them all the time.
Good luck.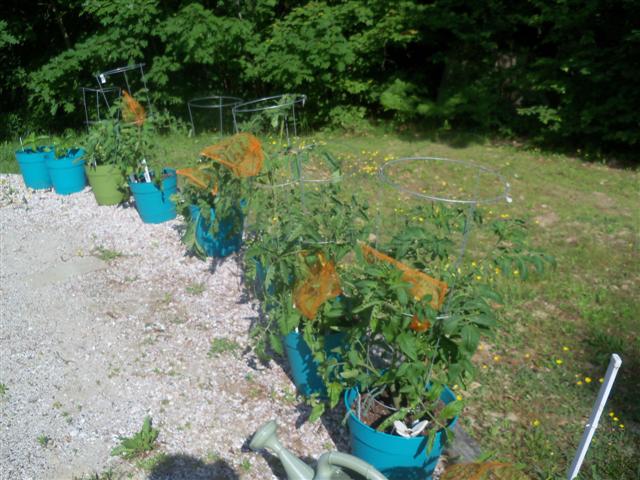 Peppers do well in containers, too, I've found, especially the Dwarf Feherozons(sweet). The orange net bags are used to save seed and to prevent cross-pollination.



Posts

: 4708


Join date

: 2010-03-21


Age

: 75


Location

: Southwestern Maine Zone 5A




---
Permissions in this forum:
You
cannot
reply to topics in this forum