Latest topics
»
New Member
by
BeetlesPerSqFt
Today at 7:22 pm
»
Tomato Tuesday 2016
by
BeetlesPerSqFt
Today at 6:36 pm
»
CANADIAN REGION: What are you doing December 2016
by
trolleydriver
Today at 6:06 pm
»
1st Seed Catalog Arrived :)
by
AtlantaMarie
Today at 5:51 pm
»
CHALLENGE - Smallest possible footprint
by
sfg4uKim
Today at 1:19 pm
»
Calcium and Magnesium Deficiency
by
sanderson
Today at 12:43 pm
»
Facebook - SFG Foundation postings
by
sanderson
Today at 12:32 pm
»
Happy Birthday!!
by
sanderson
Today at 12:05 pm
»
Anyone out there tried crosne tubers?
by
sanderson
Today at 11:52 am
»
New England, December 2016
by
CapeCoddess
Today at 11:32 am
»
California's Drought
by
countrynaturals
Today at 11:21 am
»
Mid-South: December 2016
by
AtlantaMarie
Today at 7:40 am
»
Second Year SFG in Canada
by
sanderson
Today at 4:16 am
»
N&C Midwest: December 2016
by
GardenGal
Today at 2:14 am
»
TrolleyDriver's Compost Thermometer
by
trolleydriver
Yesterday at 5:21 pm
»
Holy snow Batman!
by
donnainzone5
Yesterday at 12:13 pm
»
Butterfly Junction
by
countrynaturals
Yesterday at 11:44 am
»
Garlic: Freeze, thaw, and heave
by
camprn
Yesterday at 7:05 am
»
Garbanzo (Chickpeas, Cicer arietinum) and Kidney Beans
by
BeetlesPerSqFt
12/7/2016, 11:28 pm
»
Northern California & Coastal Valleys - What are you doing this month?
by
countrynaturals
12/7/2016, 10:43 pm
»
What are you eating from your garden today?
by
Scorpio Rising
12/7/2016, 9:43 pm
»
GF Collard Greens, Kale Recipes
by
BeetlesPerSqFt
12/7/2016, 12:49 pm
»
2016 SFG in Brooks, Ga
by
sanderson
12/7/2016, 11:48 am
»
Bon fires on the Levee
by
Cajun Cappy
12/6/2016, 12:17 pm
»
Mid-Atl - Dec 2016 - Seed Catalog ?
by
Scorpio Rising
12/5/2016, 10:24 pm
»
Gardening in Central Pennsylvania
by
Scorpio Rising
12/5/2016, 10:21 pm
»
Amaranth
by
countrynaturals
12/5/2016, 12:06 pm
»
Live and learn
by
jimmy cee
12/5/2016, 9:08 am
»
AtlantaMarie's Garden
by
countrynaturals
12/4/2016, 2:04 pm
»
Mychorrhizae Fungi
by
audrey.jeanne.roberts
12/4/2016, 1:28 pm
Hi everyone!

I am in the process of moving from the ATL area to Upstate SC, and I guess that means a change in regional forums. I had only one year of experience with my personal SFG, though my Dad had one based on the original edition of the book back when I was a kid, but in the midwest, so a little different growing seasons! My first year doing it in ATL I had moderate success but I think I set my sights a bit too high. I planted way too many different types of crops and did my own seed starts and was holding my own until I lost my job as a stay at home mom (husband lost his job) and I gave birth to our second son. The garden quickly turned into a jungle at that point. Now, however, we are both back to our jobs, he's working and I'm staying home again and we sold the garden in ATL (the house too, lol) and are buying a new house here in SC, which is pretty awesome because I made sure I had a backyard that was well suited to a garden (the last one had the garden in the side yard since there was no backyard and it was not a good solution!)

Anyway, my goals for this year are to get some sugar snaps in the spring and some pole and bush beans for the summer. I would also like to start a box of everbearing strawberries since the really great yields won't be until next summer! I think I have the peas/beans under control in terms of my planting plan but I checked out my local universities (Clemson) info on planting strawberries and it kinda scared me. I'm not sure when to best plant and am a bit worried about all the pest problems according to their site. Anyone with experience in the area on this?

Also, anyone with information on a good source for vermiculite in Upstate SC (I'm in Anderson) I know it was hard to track down in ATL.

Thanks for any advice you have!

Katie



Posts

: 51


Join date

: 2012-01-21


Age

: 37


Location

: Roswell, GA



Congrats to a move to a place with a good garden area.
I can't help with most things since I'm in zone 5a, but I can tell you that even here we have big problems with grasshoppers feeding on the strawberries so I use lightweight row cover and that works great keeping those critters off the fruits. It also prevents the birds from eating our precious red berries. You might try some over your plants until they start to flower, then lay the cover aside so they can be pollinated, but as soon as the buds start forming fruit, cover them again. You'll be amazed at what you'll save from harm.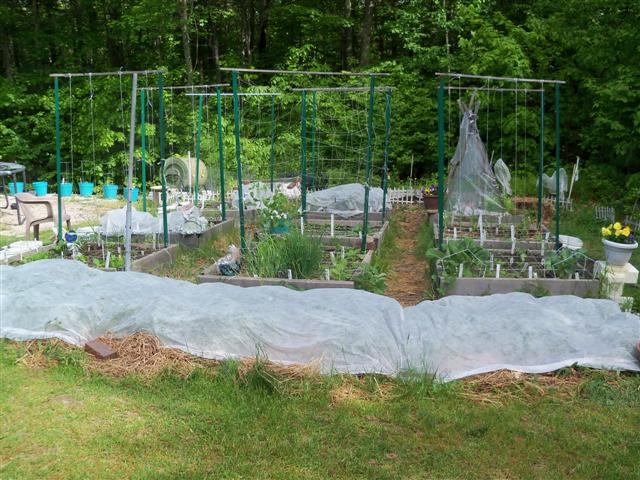 My strawberry bed is a 16' long raised berm in front of my 4 x 4 beds. This is light-weight Agribon insect barrier row cover.



Posts

: 4613


Join date

: 2010-03-21


Age

: 74


Location

: Southwestern Maine Zone 5A



Ohhh, a lot more growing season but a lot more bugs. I am not much help with bugs because I don't have too many, a few cabage worms and flea beetles is about it here. Wish you luck!!



Posts

: 2037


Join date

: 2012-03-21


Location

: Custer, SD



Nice one Katie ..
In every adverse situation there are the seeds of an equal or greater success .


It's nice to see someone get back on the up after loss of employment loss and all the upset that entails. Life always chucks rubbish at you , it's how you deal wiith it that matters.

Don't forget to bung up as many photo's as you can on the site .. it helps beginners tremendously to see how other have done it all be it that you also have insider knowledge so to speak .



Posts

: 3637


Join date

: 2011-11-09


Age

: 65



https://docs.google.com/spreadsheet/ccc?key=0AkxGrCEb40U2dExrM09fbk9zWnE4cC1Gb2oyamVOMVE&hl=en#gid=0

The vermiculite DB lists a place in Spartenburg.
Also try Southern States Store. Some carry vermiculite.

Kay
____________________________
A WEED IS A FLOWER GROWING IN THE WRONG PLACE
Elizabeth City, NC
Click for weather forecast

Certified SFG Instructor




Posts

: 4310


Join date

: 2010-10-17


Age

: 73


Location

: wilmington, nc zone 8



Hi Katie,
The vermiculite plant is in Woodruff, SC, don't know how far you will be from there, but, it is/was only $12. Here is the 800#, etc, could not find the email add. Jo

Palmetto Vermiculite 13101 Highway 221 South Woodruff SC 29388 800-729-2796 4 Cu Ft $12.00 Manufacturer of Vermiculite.



Posts

: 1528


Join date

: 2011-05-04


Age

: 63


Location

: Cottageville SC 8b



---
Permissions in this forum:
You
cannot
reply to topics in this forum