I planted some carrot, onion, lettuce, broccoli, and pea seeds into the garden on sunday. I planted all the seeds at the same depth. How important is it to scatter seeds small seeds lightly on the surface instead of planting them. I used the same draw a grid with fingers, and poke a hole with a pencil technique for all of them. They were probably all planted at 1-2 inch depth.

Did I make a big rookie mistake and should I just replant all the carrot, lettuce, and onions at a quarter inch depth?

TIA!
Susan
I think its important. That's why they give us different depths for different seeds.
I planted some chives deeper than recommended. Except for a few greens sprouting in the pot, the others never germinated.

You might be waiting forever for some to show up.
I have a lot of experience with doing things any old way and figuring out later if things worked. So, in my experience, it depends on how much too deep, how much too shallow, and what type of seeds. Some are pickier than others. I am trying some flowers from seed that require darkness until they germinate - I am guessing they would be unhappy if they were planted too close to the top.

On the other hand, it is still early enough that you aren't risking everything. Are you planning on staggered plantings?

Let me know how things go!



Posts

: 2188


Join date

: 2010-03-03


Age

: 60


Location

: Acton, Massachusetts Zone 5b/6a



Your smaller seeds will probably never break the top of the soil. A general rule of thumb is to plant the seed at a depth of 4 times the the size of the seed. Works for most things.

If it were me I would replant just to be on the safe side.



Posts

: 31


Join date

: 2010-04-05


Location

: Harrison, AR



The lettuce has started to pop through. I think it's too early to tell for the carrots and onions. No sign of broccoli yet, but that was a much bigger seed and probably was planted to the correct depth.

Thanks for the advice.
I know carrots take a long time to germinate. I think my scallions are fairly slow also.

I'm glad some things have started to arrive! That's such an exciting time!



Posts

: 2188


Join date

: 2010-03-03


Age

: 60


Location

: Acton, Massachusetts Zone 5b/6a



Susan....where are you located?
Broccoli is usually started indoors several weeks before transplanting outside.
I know I don't sow seed outdoors here in Maine.

My Sugar Snap peas are sprouting in their bed which I started earlier than usual this year. I have heavy row cover to cover them on cold nites.

The radishes are coming on strong in my A-fram as is the All Lettuce Mix. The spinach is just breaking soil. I haven't seen my scallions, chives and carrots yet.
@susan_kw

wrote: They were probably all planted at 1-2 inch depth.
I've heard from several sources that lettuce seeds need light to germinate. I would replant them for sure. While you're at it.....
If it were me, I would replant everything while I could.



Posts

: 7392


Join date

: 2010-02-26


Age

: 64


Location

: yelm, wa, usa



Quiltbee - I'm in MN. I know I probably should have started broccoli from seed much earlier inside. If I don't see any sprouts soon I'll probably just plant some from the store. A friend told me I could plant outside now and see what happened. I can't even buy the pre-started broccoli plants at the local nurseries yet.

MN is having a very early spring this year. It didn't snow in March (mostly in the 60s most of the month) for the first time in 120 years. I know that technically I should start most of the seedlings outside yet, but it's in the 60s-70s most days. Even the night time temps are upper 50s low 60s most nights. Even so, officially the last frost free day here is May 10.

I don't know whether I should dig up the seeds now ... especially since the lettuce has started to sprout. After posting this question on the forum I read in Mel's book that seed depth does not matter in his method. I guess I'll see how it goes. Since I'm technically planting a month before I should I figure if I don't see anything by May 10, I'll replant and follow the guidelines more carefully.
What do you do with ones that say to plant them at only a quarter inch like Dill and Cilantro
I basically smoothed out an area and dropped a pinch of seed then put some loose material over it. Anyone know if that would suffice or should I have put them further down



Posts

: 99


Join date

: 2010-04-02


Location

: LaPlace, La



For the tiniest seeds you only need to drop them on top of the soil, then scatter a bit of soil over them and tamp down lightly. They just need some soil contact.
We, too, had warm days in March that seemed to foretell an early spring but the last several have been in the 40s days and 30s nites with a couple at the freezing mark. I had started a few things early, like Swiss chard, broccoli, cabbage and parsley outdoors and covered them nites.
I've covered my seedlings and rows with heavy row cover that protects down to 28* and so far all is well.
Yesterday we had an inch of snow so I was outside lifting the covers to shake off the snow but underneath, all is still well.
Today at the local community garden we are going to start tomato seeds in the greenhouse. Our garden beds are tilled and composted and will be marked by their new owners in a few days, then we can get in and remove any debris or stones.
When we start things early, we have a chance if we take addequate precautions.
Good luck with yours.
url=http://www.servimg.com/image_preview.php?i=42&u=15016226]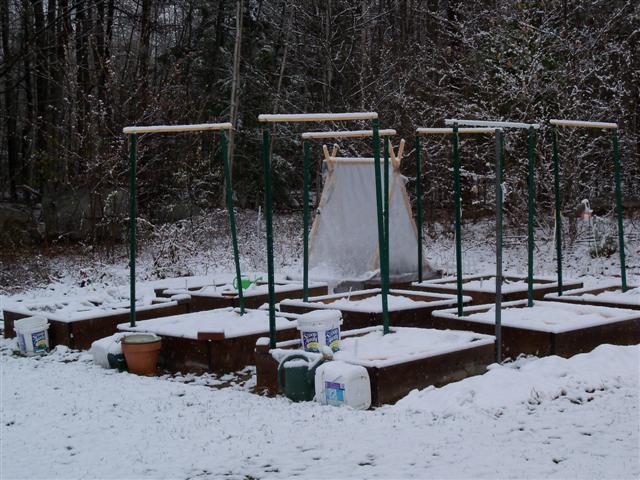 [/url]
---
Permissions in this forum:
You
cannot
reply to topics in this forum