Well CRAP! I really should hit SEND when I'm done previewing.

Anyway in my original post I apologized for not having posted anything here for a few months. Short version - I had a MRSA infection and landed in the hospital for a few days, our cruise ship was chased from the Caribbean back to Baltimore because of Hurricane Sandy, my mom's Alzheimer's is getting a bit worse, and I'm trying to expand my SFG business I hope to get a storefront.
I also shared my salad table that is growing SLOWLY, but IS growing. Here are the beets, spinach & turnips.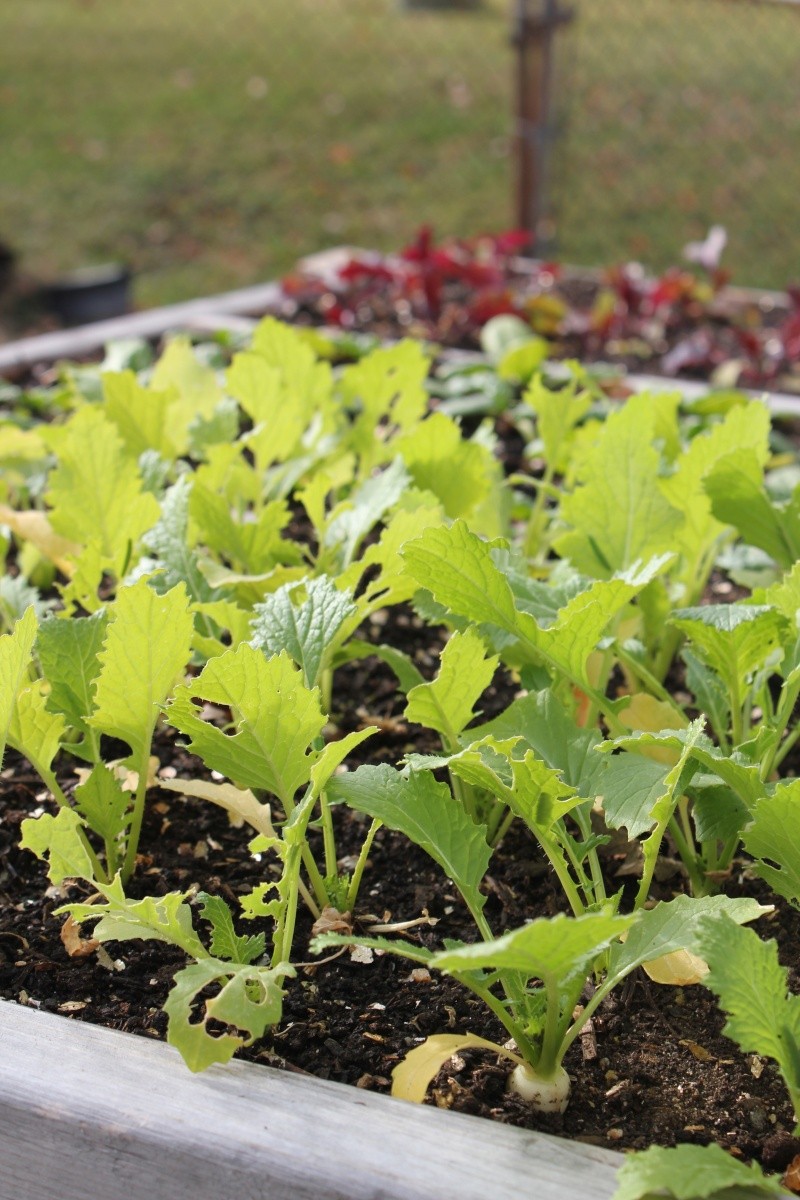 ____________________________


I have seen women looking at jewelry ads with a misty eye and one hand resting on the heart, and I only know what they're feeling because that's how I read the seed catalogs in January - Barbara Kingsolver - Animal, Vegetable, Miracle




Certified SFG Instructor




Posts

: 1946


Join date

: 2010-09-30


Age

: 58


Location

: Glen Burnie, MD



Wow, I feel for you regarding the MRSA. I fought that in 2011 and it took me nearly a month to rid my body of it and finally get back to work. All because I stepped on a small (albeit 30 years old at least) tack nail in my wife's grandma's garage. It just is so incredible when the Dr. talks to you about possible surgeries to amputate a toe or two and maybe take some muscle tissue too! That wakes you up for sure.
So, glad you are up and around and obviously very busy. I am just getting started on getting my garden in order. Took a seed inventory and I have over 100 packets in my little refrigerator. I will need to go to Meyers as I need Pepper seeds.
I am experimenting with a fixture I bought at Fashion bug that had plastic bowls on a pole which were adjustable. Seems to me I can make that a hydroponic lettuce system. All I need to do is to drill holes in the bottom of each bowl. Due to an overabundance of rabbits in my neighborhood and me having 18 seed packets, it seems the only alternative. Just have to figure out what medium to use in them. I'm tempted to use the leaf mold I am making as it fits the bill pretty much.
Anyways, glad everything worked out well for you. Best of luck!



Posts

: 116


Join date

: 2010-03-09


Location

: Maryland



Glad your felling better and can't wait to come to your store. Like the veggie pic. NICE!


Certified SFG Instructor




Posts

: 87


Join date

: 2011-06-21


Age

: 63


Location

: Ellicott City, MD



Good to hear from my fellow Marylanders. For 2013, I am expanding my garden with raspberries. Not a traditional SFG crop, but they benefit from a raised bed when soils are slow draining. I'm using a raised bed, 2'x16', 10" deep. I ordered "heritage" raspberries. I understand that they don't need a trellis as long as you cut them down to the ground every year. My experience with strawberries went well, and I'm hoping the same with raspberries.



Posts

: 219


Join date

: 2010-03-09


Age

: 55


Location

: Elkridge, MD (zone 7a)



Not much going on at our place yet. Our boxes still have snow in them but with the warmer temps it should be totally gone any day now. I've browsed through a few seed catalogs that have come our way and I'm already starting to look forward to next season. According to my calender I should be able to seed lettuce indoors here in a few weeks. In addition to expanding our beds we are going to try blueberry(2) bushes in containers. I'd like to try blackberry but need to read up on them.
Renee




Posts

: 280


Join date

: 2012-04-23


Age

: 50


Location

: Sharpsburg, Md. Zone 6B



Let us know how you do with the blueberries, Renee. I failed miserable with 3 of them - all bareroot. For 3 years they wouldn't get bigger, then they died one by one.

But I planted them straight into the ground, near my rhodies, since they grow wild here on Cape Cod. I followed the instructions that came with them to a T.
CC



Posts

: 6455


Join date

: 2012-05-20


Age

: 61


Location

: elbow of the Cape, MA, Zone 6b/7a






Posts

: 280


Join date

: 2012-04-23


Age

: 50


Location

: Sharpsburg, Md. Zone 6B



---
Permissions in this forum:
You
cannot
reply to topics in this forum