Page 2 of 2 •

1, 2



Posts

: 125


Join date

: 2012-12-04


Location

: Central Florida



I'm finishing planning my gardens, getting my straw bales conditioned to plant in about 12 days and have my seedlings growing ready to plant in just a few weeks.
Here are my two winter gardens as of last week:
The lettuce in this garden has at least doubled in size since last week and is filling out their squares nicely - it's Mescalun mixed greens.
Our days have been getting up to the low 60s and I leave the greenhouse covers unvented most days as they let in air at the bottom so they don't overheat. These were planted Christmas Eve other than the peas, large lettuce and cabbage in the first table - they were transplanted into these gardens in the fall.



Posts

: 1918


Join date

: 2012-12-07


Location

: Central Calif Mtns.



Nice, Audrey. I remember you from your post about the Christmas lights for warmers, lol. Great idea by the way. Looking good!



Posts

: 125


Join date

: 2012-12-04


Location

: Central Florida



I'm growing strawberries right now, and I finally put my huckleberries in pots (MM)..I dug them up out of my old front yard, and before that they were in pots on my balcony in the SF Bay Area. I'm expecting them to take off now that they are in MM.
I also planted 2 bare root ultra dwarf trees: Blenheim apricot and Golden delicious apple (got that free from a bare root demo at Orchard Supply Hardware!!) I have a Bearss lime and a Meyer lemon in pots, plus the ones that are in the ground that came with the house (150 lbs of lemons off that tree!)
I have the carrot container ready to go with MM..I'm waiting a few weeks then will start seeds. We are back into near freezing nights again so I want to wait a bit.
Still clearing the area for the raised beds..I am supposed to refine my trenches and put in the drain pipes this weekend, then backfill. But it's cold (!)..remember, I'm a native Californian from a more temperate climate and, well, someone suggested I name my farm 'beanstalk'...they CLAIMED it was because of Jack and the Beanstalk, but I think otherwise!
I'm starting to make a list of what is going to go in the new raised beds and other containers.
Oh..I do have potatoes in...one bag of reds, one of russets, and a large pot of blues. We just moved here 9 weeks ago, so I'm missing my garden! Also have red onion sets to get in somewhere....
Turnip



Posts

: 25


Join date

: 2013-01-25


Location

: Sacratomato, CA/USDA 9b



I am growing the top part of a celeriac root in an attempt to have seeds to save this year.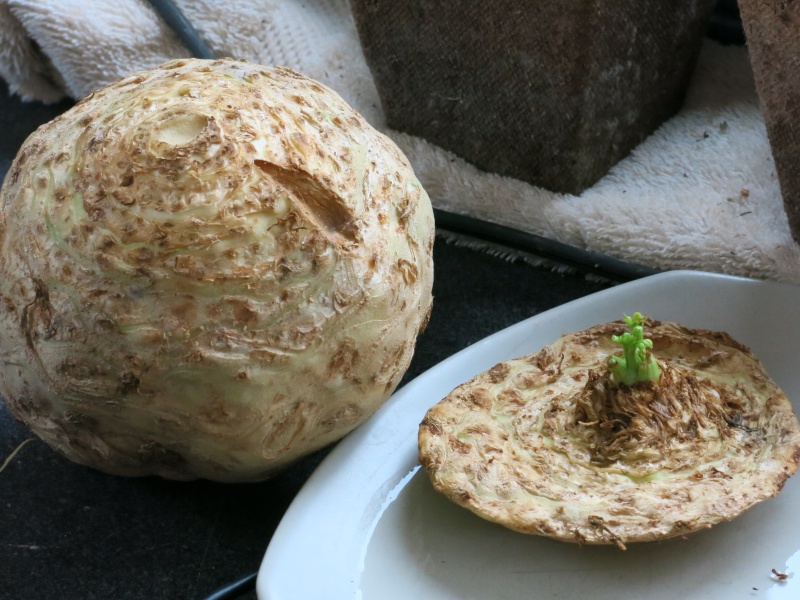 I am also growing Artichokes in my near freezing greenhouse. We keep the temp at 3 degree celcius.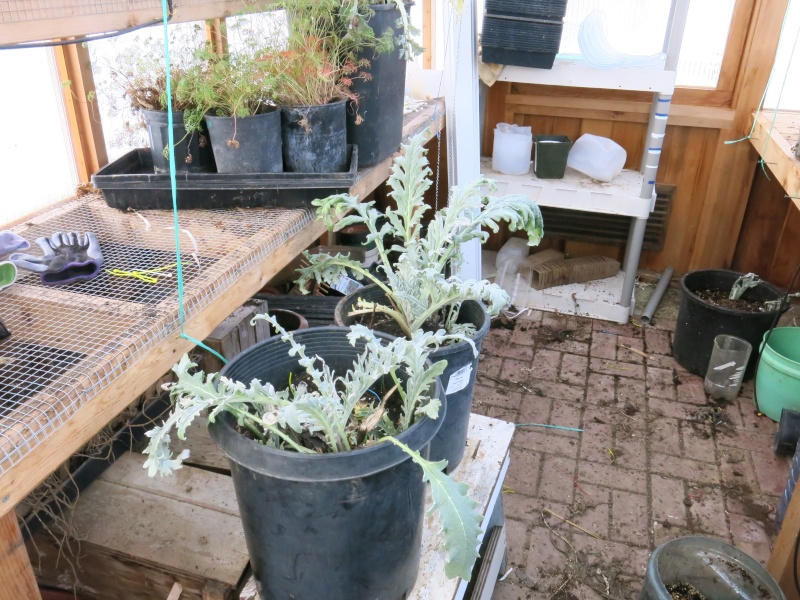 I dug up the roots last summer from all the plants and stuffed them in peat moss and they have just started perking up and sending out shoots, so I have been dividing them and planting them in pots with Mels mix. In my area they do not over winter and to keep them growing to produce flowers I am experimenting with saving the roots.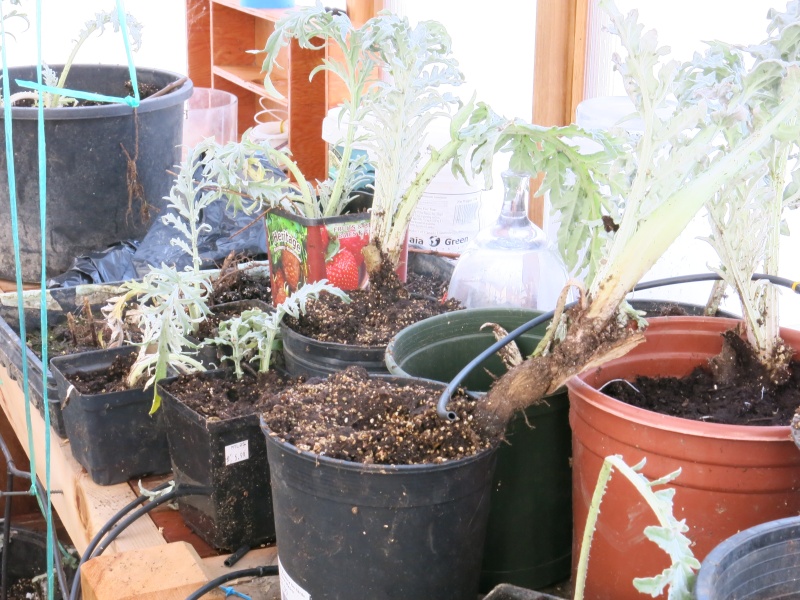 Posts

: 2804


Join date

: 2012-01-14


Age

: 61


Location

: british columbia zone 5a



I just love all the pictures of crops growing this time of year, even those being rooted. Gives one hope.

Here in Maine the only thing growing in my garden is hibernating under a foot of snow; garlic, parsnips, chives and the strawberry bed. Inside I have herbs in pots that are still giving me fresh greenery: parsley, rosemary, thyme, lemon balm. A few are struggling but its still nice to pop a few sprigs when needed.
Next year I hope to have a hoop set-up for a winter garden outdoors.

Keep the pics coming please. It gives me hope for spring soon.





Posts

: 4690


Join date

: 2010-03-21


Age

: 75


Location

: Southwestern Maine Zone 5A




Certified SFG Instructor




Posts

: 2167


Join date

: 2010-03-02


Age

: 70


Location

: Bend, OR (Zone 5-6)



Winter garden: overwintering carrots, kale, fielderkraut cabbage, garlic is sprouting, some red onions from last year in hopes they'll produce seed. Indoors: seeds now sprouting: lettuce, spinach, Tuscan kale, collards and two kinds of chard.
Nonna



Posts

: 1437


Join date

: 2011-02-07


Location

: In hills west of St. Helens, OR



Harvesting weekly, broccoli, bok choy, onions and carrots. Yesterday I planted Irish potatoes, English peas, and Swiss Chard (felt like a man of the world). Wanted to plant beets, but couldn't find any seed in the see box. I would've sworn I had some beet seed.



Posts

: 445


Join date

: 2012-06-23


Location

: Coastal SC



I've got 2 squares ready to be planted with my potmaker cups. The first square(9)will be tatsoi-a fun Asian green. The square behind it is simpson elite. Off on the right hand side is a lettuce called winter density from JSS. Much more snow in the forecast but in 4-5 weeks we should have our first harvest of the season.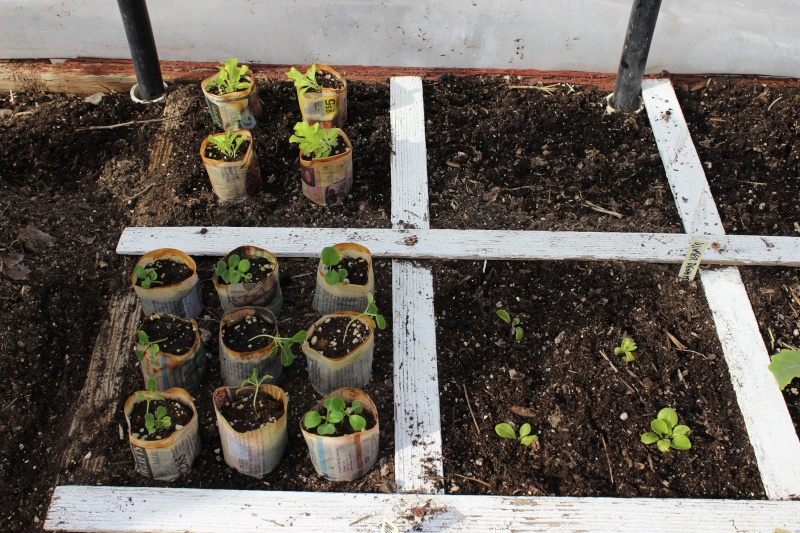 Certified SFG Instructor




Posts

: 108


Join date

: 2010-05-11


Location

: Northern Utah



Page 2 of 2 •

1, 2
---
Permissions in this forum:
You
cannot
reply to topics in this forum