So I've prepared the following plans, based on what I learned from my lack of successes in last year's SFG. I'm curious if anyone sees an glaring issues with my set up?

I will use small planters outside my raised beds, so I can move around extra deterent in case I need to. Thanks in advance for any and all input.
my main garden...
my fruit garden...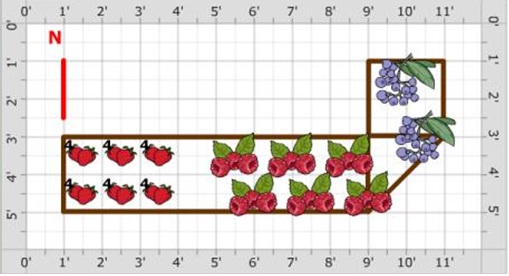 Posts

: 51


Join date

: 2012-05-07


Age

: 32


Location

: Liverpool, NY



oooo...lovely plans. Don't know enuff about plans to help you there but I did pot marigolds, mint and nasturtiums to move around last year. I also inter planted with celery and sage. Don't know if these all helped or not since it was my first year and I had nothing to compare it to. I still had pests but mostly slugs and cabbage moths.

I noticed that a lot of folks inter plant with basil, too. I'll do that this year also.

CC



Posts

: 6317


Join date

: 2012-05-20


Age

: 61


Location

: elbow of the Cape, MA, Zone 6b/7a



Moldeen 85,

Your plans look beautiful!

The main thing I notice is your six raspberry plants. From what I've read, they can become invasive. You wouldn't want them to overrun your strawberry patch! For this reason, I'll segregate mine in a separate 8' planter.

Certified SFG Instructor




Posts

: 2147


Join date

: 2010-03-02


Age

: 70


Location

: Bend, OR (Zone 5-6)



CC: Thank you! I'm going to try almost all plants that were noted to deter cucumber beetles. I was able to handle the flow of Japanese beetles with traps outside of my bed. And eventually I concurred the slugs and snails with beer and baits.
Donna: Thank you. I was completely unaware of this fact about Raspberry's as well
until just recently
. But, I planted all my fruit bushes
last
year.

I will watch them closely this summer... and if they seem to be expanding I will be pulling them up to plant in an alternative fashion. I'm really hoping they let my other fruits live, but we shall see. But I'm dying to see some fruit so I don't want to pull out until later on.




Posts

: 51


Join date

: 2012-05-07


Age

: 32


Location

: Liverpool, NY



Since strawberries usually need replanting (from the runners or new plants) every third year, maybe the best thing is to relocate them instead of the raspberries and let the raspberries have the bed.

Just a thought.

Kay
____________________________
A WEED IS A FLOWER GROWING IN THE WRONG PLACE
Elizabeth City, NC
Click for weather forecast

Certified SFG Instructor




Posts

: 4354


Join date

: 2010-10-17


Age

: 74


Location

: wilmington, nc zone 8




Certified SFG Instructor




Posts

: 2147


Join date

: 2010-03-02


Age

: 70


Location

: Bend, OR (Zone 5-6)



---
Permissions in this forum:
You
cannot
reply to topics in this forum