I recently discovered a new vegetable, and have discovered some interesting things about it. I bought 2 celeriac at the organic store, and one of them had the hint of green sprouting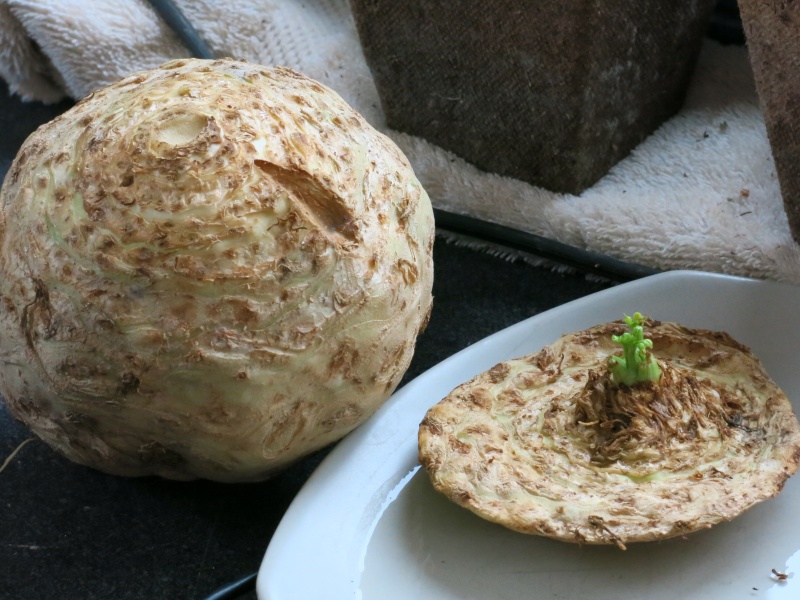 So I did the USUAL think and cut the top off and put it in water.
and it is starting to sprout.
The reading I have done is that celeriac is a bit like carrots in that it is a biennial, and flowers in its second year. We always harvest them in the first year. Apparently if the young plants are exposed to cold in the first year, early on, they will be tricked into thinking they are in their second year and go to flower. The roots are not great in that situation.
What I am going to try this year is to see if I can get this to root, and then flower for seed saving this year. I have ordered some seeds for planting this year.
Just thought it might be interesting, my picture shows my one plant and another root just to show what they look like.



Posts

: 2804


Join date

: 2012-01-14


Age

: 60


Location

: british columbia zone 5a



That's really cool! What do you use celeriac in? I have never used it before.



Posts

: 2037


Join date

: 2012-03-21


Location

: Custer, SD



I use it in everything I might use potatoes in and use half potatoes and half celeriac.
Adds interesting flavour and is likely healthier with regards to glycemic index, IE glucose content.
So if you were diabetic using celeriac would be healthier alternative to potatoes.
I just love it, and it has a long shelf life in the cold room, much like potatoes.



Posts

: 2804


Join date

: 2012-01-14


Age

: 60


Location

: british columbia zone 5a



Ohhh, I love potatoes! I should look into this!



Posts

: 2037


Join date

: 2012-03-21


Location

: Custer, SD



---
Permissions in this forum:
You
cannot
reply to topics in this forum