I am in the midst of making this beef stew. Due to the current limits of my pantry I used reconstituted roasted dehydrated tomatoes instead of fresh, red wine instead of white, hot pepper flakes and two drops of liquid smoke instead of the smoked paprika and a tsp of chicken base, white mushrooms instead of oysters....
This recipe is very wordy, but the process is very simple I have included the video link, which will play through 2014.
OMG! it smells so good.
Thanks America's Test Kitchen! Catalan-Style Beef Stew with Mushrooms
http://www.americastestkitchen.com/episodes/detail.php?docid=41770
http://www.americastestkitchen.com/recipes/detail.php?docid=31951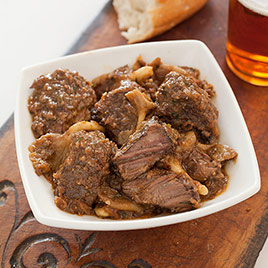 Serves 4 to 6
Remove the woody base of the oyster mushroom stem before cooking. An equal amount of quartered button mushrooms may be substituted for the oyster mushrooms. Serve the stew with boiled or mashed potatoes or rice.
INGREDIENTS
Stew
2tablespoons olive oil
2 large onions, chopped fine
1/2teaspoon sugar
Kosher salt and pepper
2 plum tomatoes, halved lengthwise, pulp grated on large holes of box grater, and skins discarded
1teaspoon smoked paprika
1 bay leaf
1 1/2cups dry white wine
1 1/2cups water
1large sprig fresh thyme
1/4teaspoon ground cinnamon
2 1/2pounds boneless beef short ribs, trimmed and cut into 2-inch cubes
Picada
1/4cup whole blanched almonds
2tablespoons olive oil
1slice hearty white sandwich bread, crust removed, torn into 1-inch pieces
2 garlic cloves, peeled
3tablespoons minced fresh parsley
1/2pound oyster mushrooms, trimmed
1teaspoon sherry vinegar
INSTRUCTIONS
1. FOR THE STEW: Adjust oven rack to middle position and heat oven to 300 degrees. Heat oil in Dutch oven over medium-low heat until shimmering. Add onions, sugar, and ½ teaspoon salt; cook, stirring often, until onions are deeply caramelized, 30 to 40 minutes. Add tomatoes, smoked paprika, and bay leaf; cook, stirring often, until darkened and thick, 5 to 10 minutes.
2. Add wine, water, thyme, and cinnamon to pot, scraping up any browned bits. Season beef with 1½ teaspoons salt and ½ teaspoon pepper and add to pot. Increase heat to high and bring to simmer. Transfer to oven and cook, uncovered. After 1 hour stir stew to redistribute meat, return to oven, and continue to cook uncovered until meat is tender, 1½ to 2 hours longer.
3. FOR THE PICADA: While stew is in oven, heat almonds and 1 tablespoon oil in 10-inch skillet over medium heat; cook, stirring often, until almonds are golden brown, 3 to 6 minutes. Using slotted spoon, transfer almonds to food processor. Return now-empty skillet to medium heat, add bread, and cook, stirring often, until toasted, 2 to 4 minutes; transfer to food processor with almonds. Add garlic and process until mixture is finely ground, about 20 seconds, scraping bowl as needed. Transfer mixture to bowl, stir in parsley, and set aside.
4. Return now-empty skillet to medium heat. Heat remaining 1 tablespoon oil until shimmering. Add mushrooms and ½ teaspoon salt; cook, stirring often, until tender, 5 to 7 minutes. Transfer to bowl and set aside.
5. Remove bay leaf. Stir picada, mushrooms, and vinegar into stew. Season with salt and pepper. Serve.
TO MAKE AHEAD: Follow recipe through step 2 and refrigerate for up to 3 days. To serve, add 1 cup water and reheat over medium heat. Proceed with step 3.
TECHNIQUE
SHAKING UP STEW STANDARDS
To achieve the supremely beefy and complex flavor profile of Spanish beef stew, we learned a few new tricks—and gave up some long-held notions.
START WITH SOFRITO
A slow-cooked mixture of onions, tomatoes, spices, and herbs—known as sofrito in Spain—forms a flavor-packed base for the stew.
GO FOR WHITE WINE
We typically use red wine in beef stew. Here, we agreed with Spanish cooks that red wine ­competes with beefy flavor, so we reached for white instead.
SWAP THE ROAST FOR RIBS
Most stew recipes (including many of ours) call for chuck-eye roast. Boneless beef short ribs are even beefier-tasting and are easier to break down.
SKIP THE SEAR
By cooking the stew in the oven and leaving the pot ­uncovered, any part of the beef not ­submerged in liquid can brown, making searing unnecessary.
END WITH PICADA
A mixture of ground toasted bread, almonds, garlic, and ­parsley—the picada—stirred in before serving brightens the stew's flavor and thickens the broth.
Last edited by camprn on 2/2/2013, 6:55 pm; edited 1 time in total (Reason for editing : corrected ingredient)
____________________________
41 years a gardener and going strong with SFG.
http://squarefoot.creatingforum.com/t3574-the-end-of-july-7-weeks-until-frost
There are certain pursuits which, if not wholly poetic and true, do at least suggest a nobler and finer relation to nature than we know. The keeping of bees, for instance. ~ Henry David Thoreau
http://squarefoot.creatingforum.com/t1306-other-gardening-books

Forum Moderator Certified SFG Teacher




Posts

: 14165


Join date

: 2010-03-06


Age

: 54


Location

: Keene, NH, USA ~ Zone 5a



That looks like a winner camprn! America's test kitchens have given me many a great meals over the years. I will bookmark this and give it a try when I am in the mood for stew. Thanks for sharing!



Posts

: 804


Join date

: 2012-08-16


Location

: North GA Mountains Zone 7A



Thanks! I love ATK recipes. Wordy is fine, because they give you so much info that you can translate to other recipes - the WHY of the step. My sister sends me their books on occasion. I love to read them just as a good read!

GG



Posts

: 3412


Join date

: 2011-02-16


Age

: 52


Location

: Zone 4A - NE SD



---
Permissions in this forum:
You
cannot
reply to topics in this forum