Thinking (seriously) of getting a grow light setup to put in my dark basement. Went to Amazon and they have this seup:

--------------------------------------------------------------------------------

Price for all three: $117.78

Show availability and shipping details

Buy the selected items together This item: Hydrofarm JSV4 4-Foot Jump Start T5 Gr Remember my Dad doing this 50 yrs ago but ow Light System by Hydrofarm $67.10
Hydrofarm CK64050 Germination Station with Heat Mat by Hydrofarm $24.88
Hydrofarm MTPRTC Digital Thermostat For Heat Mats by Hydrofarm $25.80
________________________________________________________________
All three $117.78 w/ free shipping. Anyone with experience with it or recommendations? Good deal, bad?



Posts

: 18


Join date

: 2012-03-22


Location

: East of Stlouis, south of Springfield



Missed 'em.......Too expensive. You can buy 4-ft double track lights for around $20 new and the long daylight bulbs for about $6 a pair.
Put it on a table with bricks or old VHS tapes to raise them and lower them and you've got a simple but effective system. Hang the lights from chains and its even easier.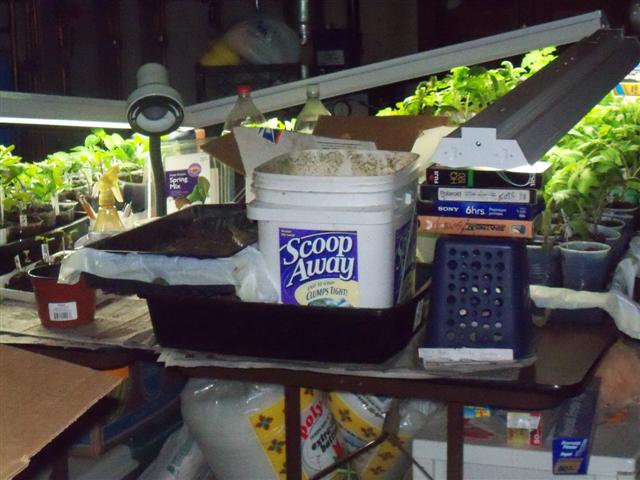 You can always buy a heat mat separately. I have one.
You do NOT need growlights for seed starting. The plants only need sufficient light to get them started for 3-6 wks and then sunshine takes over the task. Growlights are for growing orchids and other plants indoors year-round.
I got talked into a 2' growlight when I started and that alone cost me nearly $50 on sale. Never again. But that 2-footer works well for my flowering houseplants year round so its been useful.
There are cheaper alternatives that work just as well than what you're considering in your first post. I would suggest you click 'seed starting' in the search box and read more before you go to that expense.



Posts

: 4646


Join date

: 2010-03-21


Age

: 75


Location

: Southwestern Maine Zone 5A



____________________________
A WEED IS A FLOWER GROWING IN THE WRONG PLACE
Elizabeth City, NC
Click for weather forecast

Certified SFG Instructor




Posts

: 4342


Join date

: 2010-10-17


Age

: 74


Location

: wilmington, nc zone 8



Thanks for the responce, made me realize I had a 4 ft light fixture in the shop that rairly gets used. Next question is how to control temps, heat pad I assume only till they sprout, then how do you control it - basement runs about 60* is that OK?



Posts

: 18


Join date

: 2012-03-22


Location

: East of Stlouis, south of Springfield



Missed'Em.....Looks like you're going to be saving lots of $$$$$. That's what's so good about this forum. You learn so many useful tips from others.
After your seeds germinate on the heat mat, you can move them under the light in a room that avgs 60-62*F. I move mine to our furnace room in the basement that holds steady at that temp. They grow beautifully as you can see here.....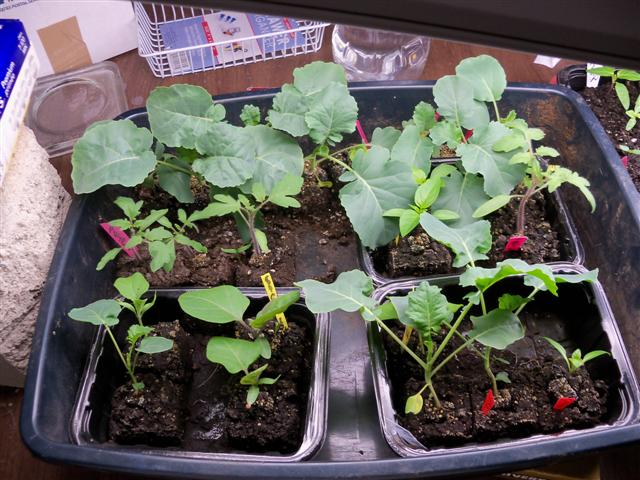 Just keep the light about 1-2" above the top of the plants themselves for 14-16 hrs a day then darkness. As they grow, move the light up further.
To take the picture I moved the light up out of the way.



Posts

: 4646


Join date

: 2010-03-21


Age

: 75


Location

: Southwestern Maine Zone 5A



---
Permissions in this forum:
You
cannot
reply to topics in this forum