Hi,

Has anyone found any good square cages for the squares?

I am trying to find something good for bush peas.

We do have a 4-square trellis on the north end of the 4x8 box, but, other things are planted there now and the peas aren't happy growing in the same square, season after season. Besides, I can grow 8 or 9 pea plants in a square foot and a two-dimensional trellis doesn't really work for that.

So we move them around, and I have been coming up with make-shift cages. I can use tomato cages, but they are usually the wrong shape. Poles don't really stay standing in a shallow box (we have weed cloth on the bottom).

Has anyone found anything square that would work to trellis peas?

Thanks.



Posts

: 2


Join date

: 2013-02-03


Location

: San Francisco



It's not square but this is what I do.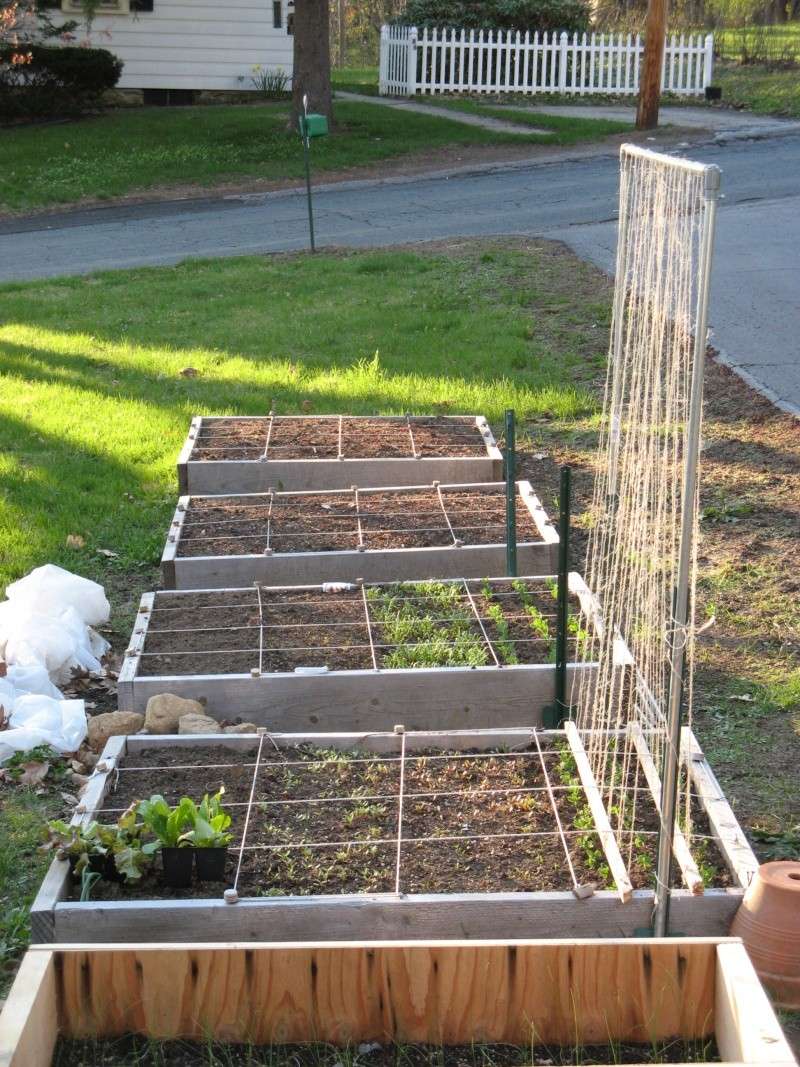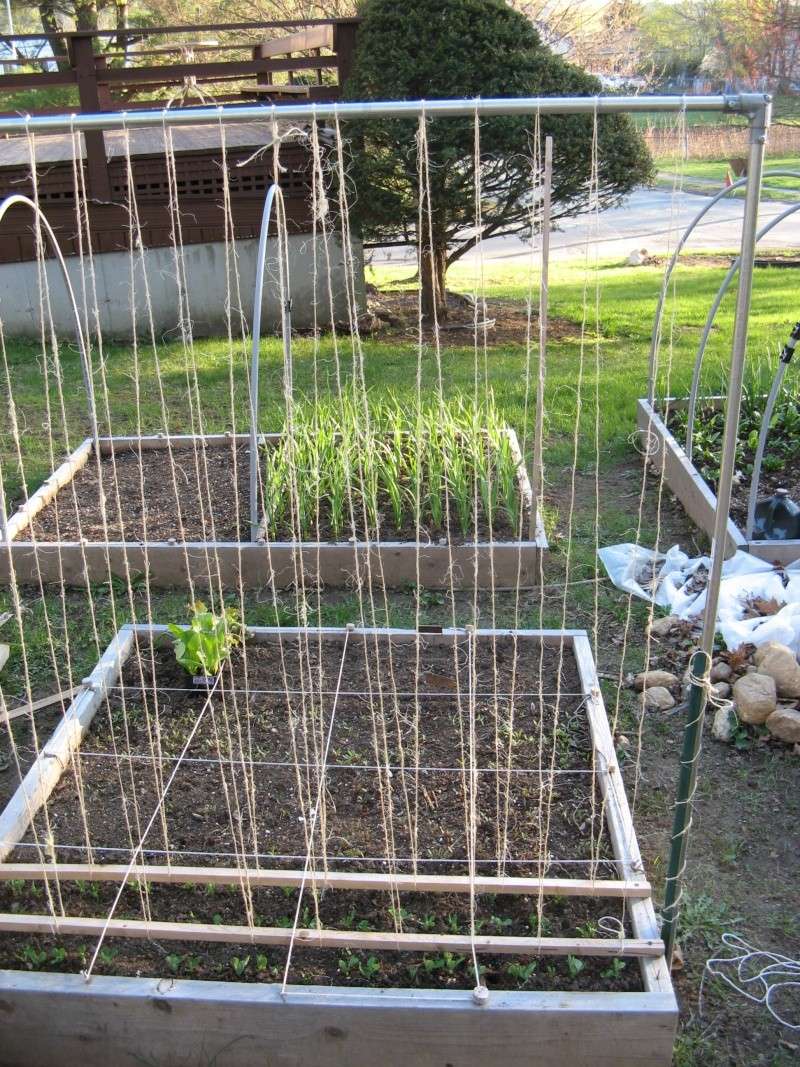 ____________________________
41 years a gardener and going strong with SFG.
http://squarefoot.creatingforum.com/t3574-the-end-of-july-7-weeks-until-frost
There are certain pursuits which, if not wholly poetic and true, do at least suggest a nobler and finer relation to nature than we know. The keeping of bees, for instance. ~ Henry David Thoreau
http://squarefoot.creatingforum.com/t1306-other-gardening-books

Forum Moderator Certified SFG Teacher




Posts

: 14165


Join date

: 2010-03-06


Age

: 54


Location

: Keene, NH, USA ~ Zone 5a



There are peony cages that are round to keep peonies upstanding. They come in two sizes, shorter and tall double-hooped ones. You could use those around your squares.

I find that bush beans/peas don't need any caging. All you need is a bamboo pole (or one broken in half) in each corner and attach twine to them around and around a couple of times. That should hold up your crops.



Posts

: 4688


Join date

: 2010-03-21


Age

: 75


Location

: Southwestern Maine Zone 5A



I used some wire mesh left over from pouring the garage floor. I cut a length as long as my row, one side of a 3x8 bed and then folded it in half length ways. It needs to be anchored at each end and the peas trained to stay in it until they grow out the top. Each year it can be moved to a new section. Basically this is the same as what Camprn is doing, just shorter and more rigid.

Another idea is to use that round top garden fence. That stuff folds at about 1 foot and be used to make squares or other shapes to support plants. There is also a wire pea trellis fence sold that you can zigzag or other ways contort to your needs similarly.



Posts

: 2270


Join date

: 2012-03-29


Location

: Gallatin Valley, Montana, Intermountain zone 4



---
Permissions in this forum:
You
cannot
reply to topics in this forum