Hey SFGers... I bought a flat of 9 red leaf lettuce seedlings from Lowe's. I was excited to find it because I couldnt find any seeds. I planted 5 seedlings in one container and 4 in the other. They were planted with the same batch of MM and have always sat next to eachother like the pic.
Does anyone have a reason why one is so big, healthy and green while the other pot is small and mostly red? If there were different types of lettuce in the flat accidentally... what are the chances that I would get the division precisely correct?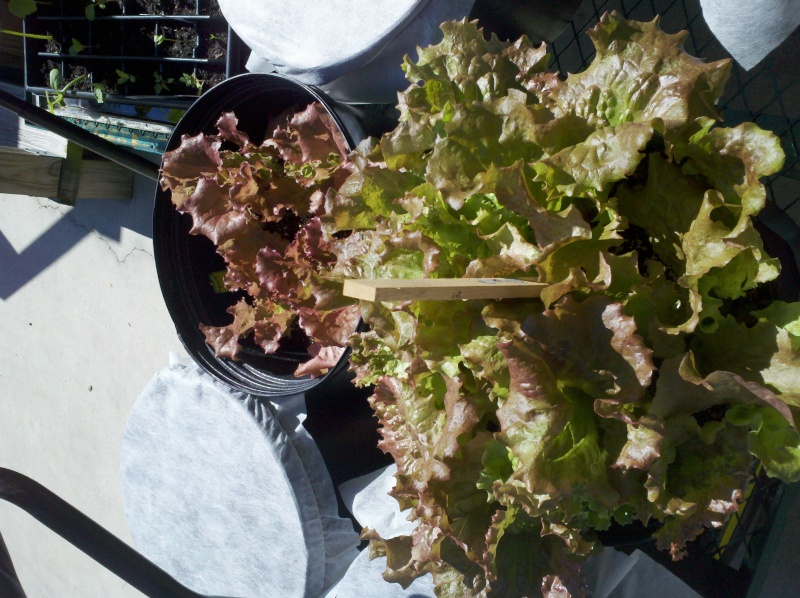 Posts

: 125


Join date

: 2012-12-04


Location

: Central Florida



If the label just said 'red leaf lettuce' then I suggest you have a couple of varieties there. There are several different red lettuces with color splashes determined by variety.
Whatever the reason, enjoy them.



Posts

: 4674


Join date

: 2010-03-21


Age

: 75


Location

: Southwestern Maine Zone 5A



Come on someone, please do the maths and work out the odds of 9 plants being put in separate pots, 3 of one and 6 of another different colours.

Perhaps the two pots had slightly different potting mixtures?



Posts

: 4885


Join date

: 2011-04-24


Age

: 82


Location

: Castlegar, British Columbia



The planting is a bit crowded. 2-3 plants in a bucket is probably better spacing. It could be that the growing medium was not well mixed. Who knows, they all look healthy. I would topdress with compost and water well.

Red leaf lettuce leaves get greener with maturity.
____________________________
41 years a gardener and going strong with SFG.
http://squarefoot.creatingforum.com/t3574-the-end-of-july-7-weeks-until-frost
There are certain pursuits which, if not wholly poetic and true, do at least suggest a nobler and finer relation to nature than we know. The keeping of bees, for instance. ~ Henry David Thoreau
http://squarefoot.creatingforum.com/t1306-other-gardening-books

Forum Moderator Certified SFG Teacher




Posts

: 14165


Join date

: 2010-03-06


Age

: 54


Location

: Keene, NH, USA ~ Zone 5a



Camp... I actually have some rabbit poo on it's way to my house and I'm going to add some to the smaller pot. I think plantoid said that rabbit poo is like rocket fuel... so I found some

I put 4 in one container because Mel said we coud do 4 to a square, and the 5th one I just stuck in the middle of the other pot. Too many? The big lush container actually has the 5 plants in it.



Posts

: 125


Join date

: 2012-12-04


Location

: Central Florida



If you are going to 'cut and come again' with your leaf lettuces, that's a fine layout. They won't take much room. I've put 4 or 5 per pot myself. Cut them back young and you should get 4 or 5 harvests per plant. When it starts getting hot out, just place them in the shade thru the worst heat of the day.



Posts

: 4674


Join date

: 2010-03-21


Age

: 75


Location

: Southwestern Maine Zone 5A



---
Permissions in this forum:
You
cannot
reply to topics in this forum