Latest topics
»
Senseless Banter...
by
plantoid
Today at 5:52 pm
»
How's the Weather Where You're At?
by
plantoid
Today at 5:39 pm
»
Third Year SFG in Canada
by
CapeCoddess
Today at 4:43 pm
»
Gardening in Central Pennsylvania, 3rd year SFG
by
CapeCoddess
Today at 3:48 pm
»
New England February 2017
by
quiltbea
Today at 1:58 pm
»
Spaghetti Squash Recipes
by
nrstooge
Today at 12:28 pm
»
New compost bin and 4x8 cedar bed
by
Ginger Blue
Today at 9:36 am
»
N&C Midwest: February 2017
by
landarch
Today at 8:31 am
»
Invasive Tree Roots - Very important topic for newbies.
by
MrBooker
Today at 7:39 am
»
So. California & Inland Valleys -March / April Planting Guide
by
sanderson
Today at 12:47 am
»
2017 SFG Adventures in Hampstead, NC
by
ralitaco
Today at 12:38 am
»
Northern California & Coastal Valleys - What are you doing this month?
by
sanderson
Today at 12:31 am
»
Our 2017 garden makeover
by
CitizenKate
Yesterday at 11:16 pm
»
Fall means apples....
by
reynajrainwater
Yesterday at 10:43 pm
»
CANADIAN REGION: What are you doing February 2017?
by
Scorpio Rising
Yesterday at 9:51 pm
»
California's Drought
by
sanderson
Yesterday at 7:08 pm
»
Butterfly Junction
by
countrynaturals
Yesterday at 6:40 pm
»
What are you eating from your garden today?
by
Mellen
Yesterday at 6:37 pm
»
Root Knot Nematodes - PROGRESS!
by
sanderson
Yesterday at 1:48 pm
»
Plant ID
by
No_Such_Reality
2/21/2017, 8:24 pm
»
Western Mount/High Plains: Seed Planting Dates zone 5b
by
RoOsTeR
2/21/2017, 8:58 am
»
I'll get my Texas garden right yet
by
RoOsTeR
2/21/2017, 8:57 am
»
Roots...information....
by
MrBooker
2/21/2017, 6:19 am
»
Is this wood correct for building box?
by
sanderson
2/21/2017, 4:42 am
»
Hello from IA Zone 5
by
sanderson
2/21/2017, 4:38 am
»
Feedback for my 2017 garden plan
by
sanderson
2/21/2017, 2:10 am
»
ticks
by
camprn
2/20/2017, 11:18 pm
»
Peppers with black spots
by
camprn
2/20/2017, 10:10 pm
»
February 2017 Avatar: Time to Wake Up!
by
sanderson
2/20/2017, 9:37 pm
»
broccoli stunted
by
yolos
2/20/2017, 9:34 pm
Hi fellow SFGers!
My name is John and I currently live in Newton, Mass. I am from New Hampshire where I have been working in gardens since I could crawl and pick weeds. My mom has a house garden and I also help out on her church garden when I visit from time to time.
I have worked on allotments in the UK, community gardens in Plattsburgh NY (for college), the organic garden at UNH (volunteer), and of course my parents house and church community garden.
My family grows organic blueberries from about 45 bushes that are nearly 30 yrs old and many over 6 feet tall (we are listed in Seacoast Eat Local as John's Blueberries if interested). The full garden runs from raspberries and strawberries, to gooseberries, peas, peppers, tomatoes, corn, parsnips, dill, cucumbers, basil etc
All that said I am not a big fan of traditional gardening, so a couple months back I saw Mel's new book in the Concord bookshop and decided on a whim to get it! A great purchase that was! (despite the book being printed in China) I have since been planning the small garden area that my girlfriend and I will be using. The house was built in 1910 and was resided with new cedar shakes last year (which means the old stuff was ripped off which means there is a high likelihood of lead in the soil from that as well as it's in a more urban environment.) That said raised beds made sense and SFG made sense right off the bat.
I have finished my seed order from High Mowing and Baker Creek as well as taking inventory of saved seeds from last year.
Once I get permission to post images I will post up the garden plan for this year for any comments

I am more than happy to take comments and suggestions!
Placement is based on companion planting for yields as well as pest control in addition to SFG spacing (mostly) and sun. I already know some things will be moving around once I can see the ground (we got a bit of snow

) and get the boxes installed.
I also belong to the Seacoast Permaculture and North Shore Permaculture groups having worked in the UK at the Permaculture Association in Leeds, I am not certified but am experienced in a number of methods.
As an aside I coordinate the Mass in Motion program for the City of Salem, MA. One of our projects is expanding school gardens to all schools in the city. We will be using SFG as much as possible as it makes maintenance and sustainability of the garden that much easier!
Whew!
Welcome to the forum John. Now that you've read ANSFG book, you'll find that gardening is so much easier than the traditional methods.
I can't wait to see pics. Good luck.
Ok so it took me a bit to get on back here. My tomato sprouts are doing great and are already out of vermiculite and into a potting soil and under lights. Cabbage is as well. I have one pepper and 2 eggplant sprouts up right now and am waiting on broccoli and onions next (as well as another pepper). I will post pics soon

I did mention that I have my garden plan done, so it would be great for more experienced eyes to take a look. Remember I have a tight area and my girlfriend and I (as well as the neighbors downstairs) cook quite a bit and usually spend $40-60/week at farmers markets (even in the winter, yay Cambridge!) so it will be used and/or canned. Gardening is not a chore for me at all, so I will see what works this year and if I need to move stuff around or open things up a bit I will.
I do have plenty of yard space at the apartment but most of it is in shade. I am eyeing a neighbors nice sunny lawn next door though...
clicking through should clear some of the text up...
If your garden is mostly shade and does not get at least 6 hrs of sunshine, I foresee probs with your warm-weather crops; tomatoes, peppers and eggplants. Ask your neighbor for garden space for those to grow in their sunshine and share the harvest. They'll probably be happy to share.

All your tall crops should be on the north side of the beds. Those tomatoes that are in the middle of a bed will shade out the things on the north side of it so be sure to grow things like lettuce, spinach, radishes and the like that can use a lot of shade when it gets hot.

Eggplant really needs more heat. I would not grow it if its shady.

I like that you can make a plan to suit your area and its looking good. I hope it all works out for you. Like many of us, we experiment to see what works where. Sometimes we even surprise ourselves. So give it a go. If something doesn't work, change if for the fall crop or next spring. Good luck.
Thanks for the reply! I should have been clearer, this is the one area of the yard that gets plenty of sun. I loose a bit in the morning and a bit in the evening but it is pretty solid throughout the day.
Looks like I might want to move the greens and parsnips around a bit then... I am not honestly use to tall tomato's, so not sure what to expect! My mom has grown them for years but they never get more than a couple feet tall, still produce quite a bit but less than they could be I think.
I wonder if the tomato in front of the squashes is a good idea? I expected to prune the tomato's up to allow for the squash to cover the entire ground surface, they will also have a vertical fence to climb and figured that should take care of it.
Thanks

jjpell.....Maybe your mom grows determinate varieties of tomatoes. Determinates have a definite length they grow and a definite time they can be harvested. Some only grow 1 1/2' tall (like Sophie's Choice but only got 8 large tomatoes) and others anywhere from 2 to 5 feet tall. They produce most of their harvest around the same time and then stop. You can stake or cage those easily.
Indeterminates are the vining ones that have indetermined lengths and just keep growing all season long, and producing all season long as well, right up to frost. Those will grow from 6' to 10 feet tall. To keep them shorter, you can always 'top' them by cutting out the main stem which will limit its growth. Then it will use its energy to ripen the tomatoes on its vines at that point.
Determinate's are shorter, but you don't remove their suckers so they get wider and bushier and need more than 1 ft of space each. I've grown Oregon Springs in 1 1/2' of space quite well.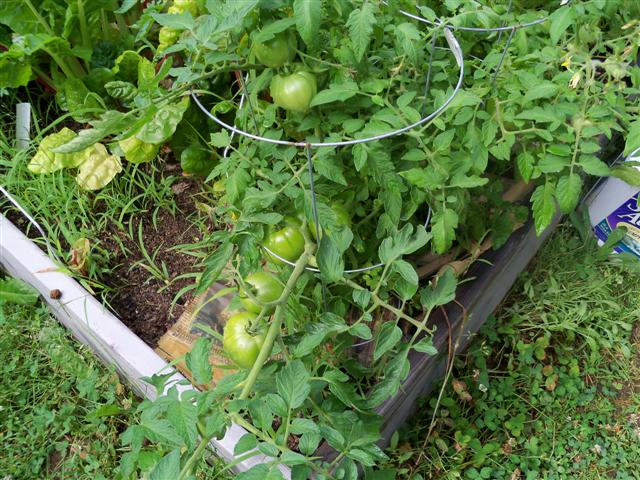 A young Oregon Spring.
---
Permissions in this forum:
You
cannot
reply to topics in this forum