Latest topics
»
2018 - First Annual Seed Exchange Week - January 20-28 (Edited)
by
countrynaturals
Today at 12:33 pm
»
Are vegetables hurt by too much light?
by
BeetlesPerSqFt
Today at 8:38 am
»
Seed Starting!!
by
brianj555
Yesterday at 9:14 pm
»
Spring Fever Anyone?
by
sanderson
Yesterday at 3:06 pm
»
How's the Weather Where You're At?
by
sanderson
Yesterday at 2:56 pm
»
Weight Watchers Turkey, Bean and Vegetable Chili
by
hammock gal
Yesterday at 8:43 am
»
Sow True Seeds
by
AtlantaMarie
Yesterday at 8:00 am
»
Colored Mulch
by
No_Such_Reality
1/18/2018, 7:12 pm
»
Taking on 4 Season Gardening
by
Roseinarosecity
1/18/2018, 5:19 pm
»
Fourth Year SFG in Canada
by
trolleydriver
1/18/2018, 3:53 pm
»
SUGA 2017
by
SQWIB
1/18/2018, 12:57 pm
»
Senseless Banter...
by
sanderson
1/17/2018, 9:42 pm
»
Butternut squash, turkey Italian sausage, cannelini bean soup
by
yolos
1/17/2018, 9:25 pm
»
Happy Birthday!!
by
yolos
1/17/2018, 9:12 pm
»
N&C Midwest—January 2018!!!
by
Scorpio Rising
1/17/2018, 7:08 pm
»
Is there ever enough compost?
by
has55
1/17/2018, 2:41 am
»
What are you eating from your garden today?
by
Scorpio Rising
1/16/2018, 9:10 pm
»
Gophers
by
countrynaturals
1/16/2018, 12:32 pm
»
High heat tolerant tomatoes
by
walshevak
1/16/2018, 6:03 am
»
Mid-Atl - Jan 2018 - Brrrrrrrrrr! and Happy New Year
by
AtlantaMarie
1/15/2018, 6:43 am
»
CANADIAN REGION: What are you doing in January 2018
by
sanderson
1/15/2018, 3:53 am
»
New England Jan 2018
by
hammock gal
1/13/2018, 5:50 pm
»
My first Attempt
by
21Actual
1/13/2018, 5:05 pm
»
Air Fryer! HELP!
by
sanderson
1/13/2018, 3:26 pm
»
New SFG box-Humanitarian way
by
sanderson
1/13/2018, 3:24 pm
»
Drafts?
by
trolleydriver
1/13/2018, 1:18 pm
»
Hello from Northern Ontario Eh!
by
BeetlesPerSqFt
1/13/2018, 1:07 pm
»
January 2018 Avatar: Surprise Us
by
sanderson
1/12/2018, 4:57 pm
»
Review of Terms of Service
by
Ginger Blue
1/12/2018, 4:02 pm
»
DIY Plant Markers
by
countrynaturals
1/11/2018, 7:32 pm
Hang on to your hats "HERE WE GO ".

March is nearly upon us, day light hours have recently passed the magic 10 hrs per day and as of two days ago we actually had enough heat in the sun to open the automatic vents in the glasshouse , things are indeed looking up. Today in South Wales 21 Feb is bitingly cold with the wind slicing through your clothes like a knife , it's drying off the beds & lawns nicely .
Now I know most of us have cabin fever from being cooped up inside over a couple of months but instead of sowing like crazy , may I suggest you use this coming weekend to disturb the empty beds to get a bit of oxygen down into them & remove anything that remotely resembles a weed or unwanted root , it will also help break up any caking of the MM or composts that may have taken place over winter . You can even freshen up just a couple of squares in the same manner.
Not only is the oxygenating taking place , the beds will have chance to settle a little bit , this helps when sowing crops that need a decent root anchor ... too loose a growth medium will let the plants develop wind rock and that makes for poor roots which in turn gives smaller crops.

I've had to top up nearly all my veg beds with home produced seasoned MM for they have settled down after the first full year of being filled with MM. The biggest surprise for me was the price of each 100 litre bag of vermiculite now being £23.50 inc vat @20 % , that's a big jump , this time last it was only £18 + vat per 100 litres.

Just before doing the top up's I went through the beds with a small hand fork and found several massive parsnips hiding just below the surface. I had to resort to a proper garden spade to excavate them .. the biggest was over two feet long and weighed just over 1.3 kg. We started eating it the same day , it was fabulous sweet even textured and so very tender , it took us five meals to eat it . I'm really happy at this for it proves the beds are fertile enough to produce some rather big tender tasty root crops.
Initially I was a bit concerned that using a high mixed dung based home made compost was going to put the nitrogen content on the high side , for earlier in the year the brasicas in the beds went crazy. One or two brasicas swamped each 3 x3 foot bed but I must add we had a tremendously wet year from April, to December , with almost record rainfalls throughout. ( this could account for the giant brasicas) .

If you have a glasshouse you still have a few days to get it sterile, ship shape and Bristol fashion.
Come the first of March you'll be short of time to sort it out as March is the start of the hectic seed sowing season ( In April it can get even busier ) , I can sow almost every single crop variety I have in march if I so choose to .

If the first few days of March are cold wet and miserable don't fret, seeds sown a fortnight later will soon catch up and in many cases would have actually over take the earlier sown ones.
I'm too lazy to type out the long list of every seed that can be sown in March ...look at your seed packets and learn it like I had to ..... that way you remember things much better than following someone else's list . I have 123 possible seed types that can be sown in March and a few more for April .

Make an effort to read the compost threads especially Mel's recent posts about composting . He's been able to stand back, ask many people questions and gets a bigger picture than most of us at the coal face will ever get. Best thing is this big picture will work all round the world .
Any finished compost you have , store it in bags or bins and start the new compost off, taking advantage of the warmth of the sun to get it cooking. Don't be tempted to keep adding to the heap or it will never truly be finished. As you put the finished compost to store remove any big bits and slip them into the new compost heap you are making ....eventually they will break down .

Under the lights
I've just taken some collards and salad bowl lettuces from under the UV light on the heated seed propagation bed , popped them into six inch plant pots of spent MM and put them in the glasshouse to grow them on for planting out or eating from the pot depending upon the development . I'm hanging back on sowing any more seeds under the UV's for I reckon we will get a sharp cold snap mid March lasting a full fortnight.
In the glasshouse
I've potted 20 odd dry root balls of geraniums that I'd stored in a dry cool place since early November in the hope that they will come back to life and give me some outstanding plants .
Two Goji berry bare root plants were also planted about three weeks ago and they seem to have taken well so does three stems of rooted in a glass on the kitchen window sill lemon grass .

After our favourite aunt died last year I took a big bundle of Hebe from her tiny garden and brought it home to make cuttings . Out of forty odd hormone treated cuttings set in two 14 inch buckets that were over wintered in the glasshouse we now have about 24 fully rooted Hebe recently put in to individual 5 inch pots .

Flower beds
I tidied them up in early Nov, gave then a top up / feed of 50 /50 peat and compost rather than a MM top up for the beds are very intensively planted with around 2400 bulbs, corms and tubers plus a few perennial plants. It looks like I called it right , we now have Crocus , Primrose , Pansies and Cowslips showing flowers , The rest of the bulbs , corms and tubers have started their journey skywards giving a big hint of greenery .... hopefully this will be the shape of things to come .

You have flowers already? Wow. My ground is still covered in snow.

Maybe they are under there somewhere. Through following your posts, it's always seemed to me like we have approximately the same weather patterns.
But you sure gave me hope. I, too, should be able to plant some seeds directly into the SFG in March. Although I was just out there and right now it's frozen solid. I can't even get to my compost pile yet. The top of my new one is showing on the right but to the left the ready to use one is completely under the snow. Just shows the difference in temp of the 2 piles: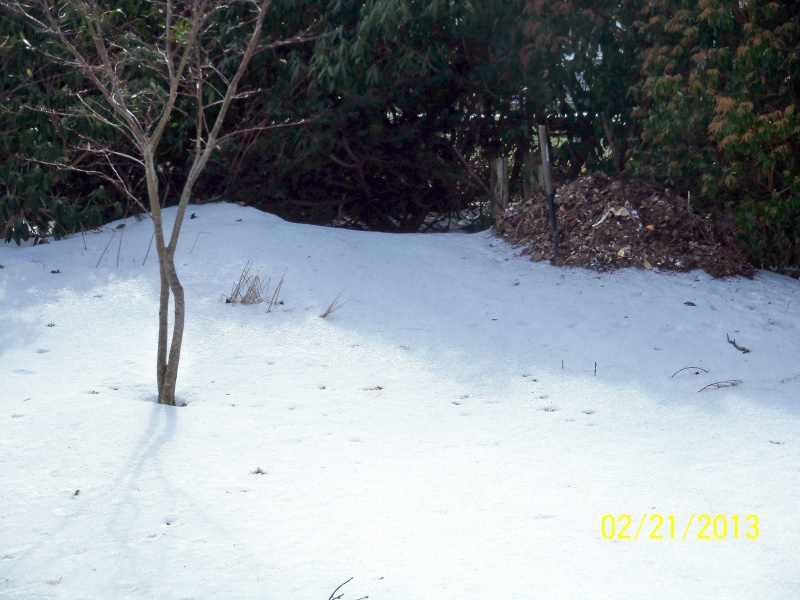 It's been a long winter and I'm very ready for spring! If you are ever so moved, would you please do a topic on how to germinate and grow spinach? It alludes me.
Thanks, Plantoid.
CC
Last edited by CapeCoddess on 2/21/2013, 11:33 am; edited 1 time in total

Great post Plantoid! Thanks!!!

Thanks for the reminder that even though some seeds get in late they often do better than those sown too soon. I'm kinda countin' on that this year.
CC, directly sow spinach seed in the garden as soon as the soil can be worked and it's not mud. Keep fingers crossed there is a slow and steady spring. It's the heat that does the spinach in too soon.
____________________________
41 years a gardener and going strong with SFG.
http://squarefoot.creatingforum.com/t3574-the-end-of-july-7-weeks-until-frost
There are certain pursuits which, if not wholly poetic and true, do at least suggest a nobler and finer relation to nature than we know. The keeping of bees, for instance. ~ Henry David Thoreau
http://squarefoot.creatingforum.com/t1306-other-gardening-books

Forum Moderator Certified SFG Teacher




Posts

: 14165


Join date

: 2010-03-06


Age

: 55


Location

: Keene, NH, USA ~ Zone 5a



Great post David, you are always such an inspiration and a very helpful tip on the spinach seeds too, camp.

I anticipate spring with all that is in me...... I am so sick of winter and so ready for spring and garden season. I already visited my garden center and stared purchasing some early seeds and onion bulbs that I hope to get in the ground in the couple of days after this rain system passes.



Posts

: 804


Join date

: 2012-08-16


Location

: North GA Mountains Zone 7A



Just to make you all smile .
Today it was really brassy cold this grey dry windy morning . By midday the sun had decided to make an appearance and by 2 o'clock I got brave , I wrapped up like an eskimo and took the stratifying garlics out the fridge ( set at 3 o C ) intending to plants everything .
I noticed the chill as soon as I stepped out the door, but decided to carry on , rammed my finger into the bed and nearly broke it .. the MM was frozen solid down to a depth of three inches ...OUCH ! and a few other choice words folowed .

I think I'll be investing in one of those high low thermometers that you can use on double glazed windows . On looking at the greenhouse thermometer I saw that it had sunk to minus six o C last night and was just clawing up to 0 oC on the high note.
[quote="plantoid"].
I noticed the chill as soon as I stepped out the door, but decided to carry on , rammed my finger into the bed and nearly broke it .. the MM was frozen solid down to a depth of three inches ...OUCH ! and a few other choice words folowed ./quote]
Oh dear...I had the exact same experience trying to get at some carrots over the winter.
CC
@CapeCoddess

wrote:

@plantoid

wrote:.

I noticed the chill as soon as I stepped out the door, but decided to carry on , rammed my finger into the bed and nearly broke it .. the MM was frozen solid down to a depth of three inches ...OUCH ! and a few other choice words folowed .

Oh dear...I had the exact same experience trying to get at some carrots over the winter.

CC
I spent a week in Oxfordshire/Gloucestershire in early February... I am still recovering! My husband got an evil cold and spent four days in various hotel beds. The weather was cold, grey and snowing/raining the whole time. I think I saw the sun once but can't recall where, and the only flowers that stick in my mind were some clumps of snowdrops. Naturally I caught the dreaded cold too and I'm only just beginning to feel OK two weeks later!
That should cure me of feeling homesick for an English spring

Meanwhile, we have had an unusually mild month here with average temperatures way above the normal and my garlic plants are sprouting nicely. Realistically the winter cannot be over yet so I have put some fleece over the garlic, hope it doesn't get too wet as we are having heaps of rain too.
I've started some seeds indoors and plan on getting some more going after a trip to the garden centre tomorrow. Meanwhile I will have to live vicariously through posts from warmer climes (which still doesn't seem to include England!).
Happy spring!




Posts

: 334


Join date

: 2010-04-27


Location

: Iceland



Sprung has spring ?

The frost finally broke today right through the frozen MM to allow me to freshen & top up a couple of beds .
Mr & Mrs garlic's soft and hardneck childern are now tucked up nine to a square foot ( all 61 iof them ) the avatar picture for March is how the beds look , the black mutt in the foreground is optional and moveable.
Great post, Plantoid, though even now a week later I won't be able to get out and work the soil, yet. We've had lots of wet snow and rain over the last few days and now freezing temps for the next week or so, so the beds are all well-frozen. At least I know they won't be dried out. :-) I hope they thaw enough to get my peas going around St. Paddy's Day.



Posts

: 168


Join date

: 2012-02-11


Age

: 52


Location

: Demotte, Indiana - zone 5b



---
Permissions in this forum:
You
cannot
reply to topics in this forum