Latest topics
»
Newbie composting questions
by
trolleydriver
Today at 1:10 pm
»
CANADIAN REGION: What are you doing in September 2016
by
Kelejan
Today at 12:35 pm
»
Plantoid' s going into hospital ....
by
Kelejan
Today at 12:19 pm
»
What's a good type of lettuce to try for some one who doesn't like lettuce?
by
CapeCoddess
Today at 11:59 am
»
N&C Midwest: September 2016
by
landarch
Today at 11:49 am
»
Second Year SFG in Canada
by
CapeCoddess
Today at 11:39 am
»
compost thermometer
by
trolleydriver
Today at 10:45 am
»
Mid-South: October 2016
by
yolos
Today at 10:36 am
»
Hello from San Antonio, Tx.
by
newbeone
Today at 8:38 am
»
Senseless Banter...
by
plantoid
Today at 7:08 am
»
Northern California & Coastal Valleys - What are you doing this month?
by
sanderson
Today at 3:05 am
»
What are you eating from your garden today?
by
trolleydriver
Yesterday at 10:05 pm
»
In between
by
Scorpio Rising
Yesterday at 8:33 pm
»
Tomato Mystery Mix
by
sanderson
Yesterday at 11:26 am
»
Easy and Fabulous Crockpot Marinara
by
trolleydriver
Yesterday at 11:03 am
»
newbeone
by
Cajun Cappy
Yesterday at 8:59 am
»
The Research Journey:free-The Gardener's Guide TO PERFECT GARDEN SOIL
by
has55
Yesterday at 6:40 am
»
parsnips in square foot garden?
by
sanderson
Yesterday at 2:57 am
»
The SFG Journey-Cover crops
by
jimmy cee
9/27/2016, 9:45 pm
»
Oh no! My hibiscus moscheutos plant has some roots exposed!
by
RJARPCGP
9/27/2016, 9:37 pm
»
Tryst with my first DIY SFG
by
Mimi2
9/27/2016, 8:12 pm
»
New England September 2016
by
sanderson
9/27/2016, 7:50 pm
»
Soil Blocks: Tutorial In Photos
by
sanderson
9/27/2016, 2:57 pm
»
Compost
by
camprn
9/27/2016, 8:13 am
»
Hand Pollination ?
by
camprn
9/27/2016, 8:11 am
»
The Research Journey:SELF-WATERING SALAD GARDEN COURSE
by
has55
9/26/2016, 6:58 pm
»
Admin back! Classic cars
by
AtlantaMarie
9/26/2016, 5:38 pm
»
Kale & Parsnip Question
by
countrynaturals
9/26/2016, 3:09 pm
»
EXPERIMENT: Tomatoes to Powder
by
trolleydriver
9/26/2016, 11:00 am
»
The Research Journey:what to plant now, fall gardening in Dallas-Ft worth
by
sanderson
9/25/2016, 9:55 pm
I'm planning on starting seeds this weekend as recommended in SFG: in vermiculite. As to the specifics after that I am confused about three things:

1) Should the containers with the seeds and vermiculite be under grow lights right away if the seeds do not require light to germinate? If no, do I start using the lights right away after transplanting to plugs?

2) If the ambient room temperature is appropriate according to the seed packet, do I need to worry about a heat source from below?

3) Can I grow seedlings without Mel's mix successfully? (note: I will eventually be planting into Mel's Mix outside). I will have to wait another month or so until I can get many sources of compost.

For seedling soil I have peat moss, vermiculite, a store-bought seedling soil, and worm castings. I am planning on mixing the four things together by looking at their ingredients and trying to approximate the 1/3 ratios of MM.

Thanks in advance for any advice you have!

Dan (brand new to SFG and gardening in general)
Welcome to the forum. I'm just up the road from you in Raymond and been SFGing since 2009. Love it.
1) You can start seeds in sterile seed-starting mix. You don't need MM. You don't need light. Cover with a dome or plastic bag to keep in the moisture.
2) Started on a heat mat with ambient heat, it will warm your soil up to about 10 degrees warmer than the room. That's fine. How fast they germinate depends on how warm they like it. If its not warm enuf for them, they just take a little longer to germinate. You don't need light except for lettuce and some flower species. Just keep the soil tops in the cells/block/pots moist until the seeds pop up (germinate). I use a mister bottle. Check them daily.
3) As soon as they germinate, move them under the lights, with the tops only 1-2" from the lights themselves. They don't want to be too warm at this time. They prefer to get their lives started at 60-65F. They still don't need MM until you transplant them outdoors. Save your MM for your garden.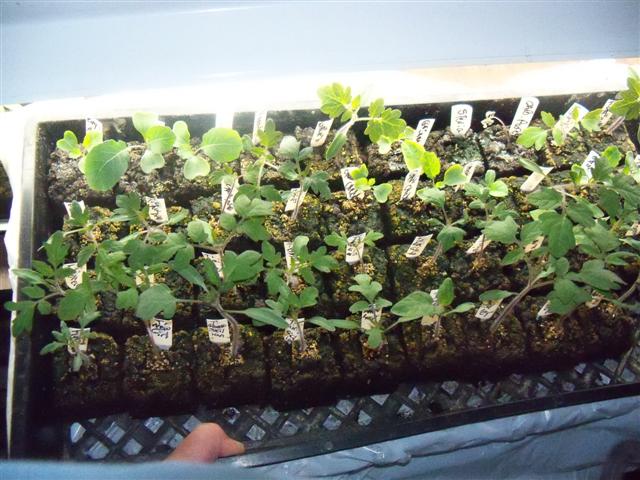 My soil blocks under lights looking healthy and happy.
Note: If you are keeping them indoors for longer than 4 weeks, I would suggest watering with a bit of weak liquid fertilizer or compost tea around 3-4 weeks.
I hope this answers some of your questions.



Posts

: 4610


Join date

: 2010-03-21


Age

: 74


Location

: Southwestern Maine Zone 5A



Thanks Quiltbea!

That helps a lot. Glad to hear you've had success up here with SFG. Did you get started by buying compost? If so, care to share some sources you found locally?

Thanks,
Dan
Hi Pipe! Welcome to the Forum neighbor!

Another thing I would add is that the vermiculite is exclusively for germinating the seeds and the new seedlings must be transferred as soon as the first leaves appear into a soilless mix. The seedlings will need nutrition very quickly to grow and vermiculite does not offer any.
____________________________
40 years a gardener and going strong with SFG.
http://squarefoot.creatingforum.com/t3574-the-end-of-july-7-weeks-until-frost
There are certain pursuits which, if not wholly poetic and true, do at least suggest a nobler and finer relation to nature than we know. The keeping of bees, for instance. ~ Henry David Thoreau
http://squarefoot.creatingforum.com/t1306-other-gardening-books
Outlander is outstanding!

Forum Moderator Certified SFG Teacher




Posts

: 13981


Join date

: 2010-03-06


Age

: 54


Location

: Keene, NH, USA ~ Zone 5a



Thanks camprn! looking up potting mix recipes with the ingredients I have

pipefish....I got bagged compost wherever I could find it; local nursery (now out of business), Walmart, Lowe's, Home Depot the first year and immediately started making my own and got a worm condo started.

You want to check into the New England forum and read some of the threads there. It should help you. You'll find them listed on the Home page.

And yes, I can grow very well up here in Maine. The cole crops; cabbage, broccoli, cauliflower, Brussels sprouts and the greens, spinach, lettuces and radishes can be started early and enjoy the cool days of Maine and grow well. They don't like the hot weather. You can also start some in summer to grow mature in fall when there are fall fewer bugs to contend with and have fall harvests. You can plant garlic bulbs around Oct 10th, let them overwinter, and harvest this in summer. Strawberries are terrific here as are blueberry bushes. For summer crops the only thing I have probs with is eggplant. They like it hotter than our usual Maine evenings so the harvests are small.



Posts

: 4610


Join date

: 2010-03-21


Age

: 74


Location

: Southwestern Maine Zone 5A



Thanks again Quiltbea. Most of those plants you listed are in my plan! I'm excited about overwintering the garlic (along with a few other crops)!

Dan
---
Permissions in this forum:
You
cannot
reply to topics in this forum