How to space peas?

The book says 8 per square.

The package says plant 2" apart which, if I understand this correctly, would lead to 36 per square. That's quite a big difference, IMHO.

A lot of my seed packets say 2" spacing which isn't specifically covered in the book.
12" spacing = 1 per square
3" spacing = 16 per square
4" spacing = 9 per square
6" spacing = 4 per square
Wouldn't 2" spacing = 36 per square?

Or do I have this wrong?



Posts

: 1


Join date

: 2013-02-20


Location

: Brier, Washington 98036



Yes the book says 8 per square. That's how I planted and the result was a jungle of growth on the trellis.

Certified SFG Instructor




Posts

: 4802


Join date

: 2010-08-20


Age

: 60


Location

: Central Ohio zone 6a



For both my Pole Beans and Peas:
I put a trellis between two rows so I have a row of 4 squares along each side of the trellis. Then I plant 6 per square right in front of the trellis. I then plant some lettuce to fill in the square.





Posts

: 675


Join date

: 2010-05-05


Age

: 62


Location

: Central NJ - From 6A to 7A 2012



You only need a double row of seeds along the north side of the square but I put them 2" apart and usually sow about ten.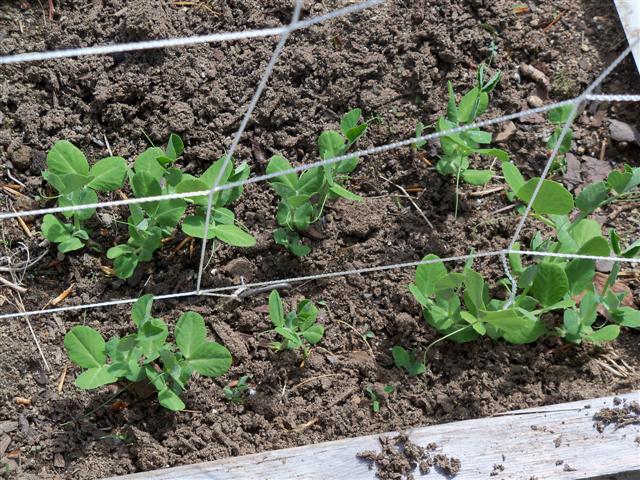 You don't fill the whole square. Here are my sugar snap peas.



Posts

: 4674


Join date

: 2010-03-21


Age

: 75


Location

: Southwestern Maine Zone 5A



I lined up my peas 4 close to the trellis and the next row of four behind, so the second row of peas was several inches away from the trellis.
When they began reaching with nothing to grab, silly me took 4 dried pampas grass stalks, tied one end to the trellis and put the opposite end near the peas. Each pea plant grabbed its own pampas stalk and went right up to the trellis. I'm not normal of course, but it worked.

Certified SFG Instructor




Posts

: 4802


Join date

: 2010-08-20


Age

: 60


Location

: Central Ohio zone 6a



---
Permissions in this forum:
You
cannot
reply to topics in this forum