New to SFG and I also haven't had a garden in 12 years - and back then I wasn't the gardener (just helping with pulling weeds, etc.) So I decided to start this year (with my wife in our new home - but now it's me leading the charge) and my first indoor seeds went in on Sunday afternoon - 96 onion seeds and 156 green onion seeds. Everything I read made me think 7-14 days to germination. Here it is less than three days later and both varieties are sprouting a lot. I don't know what I did right, but it's a very happy start for me here in NH. I guess my reading up a lot helped including in this SFG forum. I used seeds ordered for this season, soilless mix that I moistened enough so it held water but was not dripping before placing in the trays, planted the seeds about 1/8" down, and made my own dome-like covering with wire and shrink-wrap. Then I just left them alone in a closed 70 degree room without much light (basement room with a row of 1' height windows lining one wall) and hadn't even looked at any of it for two days. I went down this morning to see if the mix was still moist, and got a great surprise seeing dozens of little shoots. I hope I do even half as well with everything else I have planned to plant this spring... Though I guess I need to expect some disappointments too. Love the good start though. I didn't exect to find this as much fun as I am so far. I guess now I need to double check how soon I should turn on the lights on the tmer. I'm thinking in another several days when most of the rest of the seeds have joined the early birds with sprouts.

Ed in NH
Congratulations!! Nothing like seeing your first sprouts of the season
Welcome to the forum and keep us posted on your progress!!



Posts

: 2037


Join date

: 2012-03-21


Location

: Custer, SD



edhinton
What a lovely start. I'd be excited as well.
As soon as most of your stuff has sprouted, use your lights, and keep them close to the plants but not touching.
Yes, you will have some disappointments we all do, but we hope hope to learn from them. After all, there are plenty of mistakes to go around.

Oh, and ask questions. You will get answers.



Posts

: 4918


Join date

: 2011-04-24


Age

: 82


Location

: Castlegar, British Columbia



I'm always surprised at how soon sprouts appear when starting indoors, but I believe its because they're on a heat mat or in a warm place unlike starting them outdoors.

When you put them under the lights, leave the lights on around 16 hrs a day. They need some darkness, too.



Posts

: 4683


Join date

: 2010-03-21


Age

: 75


Location

: Southwestern Maine Zone 5A



Thanks all and especially for the pointers. One follow-up for quiltbea or anyone else. I had read that too many hours of light would cause the onions to start bulbing, so the16 hours suggestion suprised me. I had been planning 10 or so for the onions. Any further info on that appreciated.

Thanks,

-Ed
Hi Ed,
I'm sorry, I may have given you the wrong advice for onion lighting since I never start onions from seed. I use sets in the garden.
I use 16 hrs of light for everything I start.

I hope more knowledgable heads will jump in here.



Posts

: 4683


Join date

: 2010-03-21


Age

: 75


Location

: Southwestern Maine Zone 5A



My indoor onions are growing in window light, which is about 12 hours a day now right now. These are recently sprouted and still straightening up.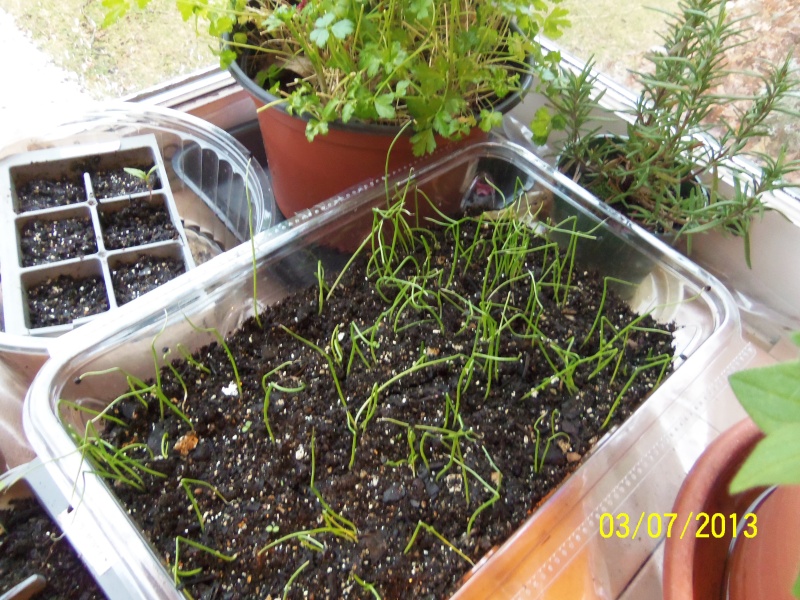 I also have some that are further along that seem to be doing fine. But this is my first year doing round onions so I'm not sure if they are right or not.
CC



Posts

: 6195


Join date

: 2012-05-20


Age

: 61


Location

: elbow of the Cape, MA, Zone 6b/7a



Nothing looks more promising than lime green sprouts! Do you have any other seeds in mind for this year? Good luck on your garden!



Posts

: 3


Join date

: 2013-03-06


Location

: Virginia



Hmm...I'm curious about this too, since I'm about to start some onion from seed also. I never heard about anything other than the 16on/8off ratio for seedlings of any kind. Anyone else know differently?
Oh, and
bobthegardener & edfhinton!



Posts

: 807


Join date

: 2012-09-21


Age

: 51


Location

: Waaaay upstate, NH (zone 4)



Hi again.

I'll keep my eyes open on any other info on the onion grow light time question and report back what I find.

I hit my first minor setback today - really minor I think but being new to this stuff any setback causes worry. Checking my trays tonight I discovered most of the seeds have sprouted (yay!) but I was also starting to get a little bit of white fuzz on the mix in a few cells. After reading a bunch in this forum and others, and then touching the mix in one of the trays, it's pretty clear that even though I haven't watered at all yet (just moistened the mix before filling the trays Sunday - maybe a bit too moist I'm thinking), it was still too damp. My other mistake besides maybe the mix being too damp may have been because I hadn't removed my cover yet, so I think the humidity was too high under it. I also had been keeping the room temperature at 70 constantly. So I have picked the little bit of fuzz out (just a few so far of the 64 cells), no more cover, lowered the room temp to 65 for the night, and I have a fan gently blowing across the stand. I also have a dehumidifier in the room now set to 45% relative humidty in case the humidity is too high in the room. I'm crossing my fingers that I don't see a bunch more of the white fuzz on the mix over the next few days.

Hopefully I solve this episode before I start the rest of the seeds this spring. In the next few weeks will be the rosemary, celery, peppers, tomatoes, and by the time I'm done aout 15 others (peas, beans, corn, cucumbers, squash, basil, etc. I know, probably WAY too ambitious for a newbie, but I am having Fun...)

Thanks everyone!

-Ed

I have resolved my confusion partially over the grow light duration question. I hadn't realized there were different day length onions. What I have are long day. So it should take 14-16 hours of light per day to trigger bulbing and it isn't clear from my research if my fkourescents would be bright eough and warming enough to do it even at 16 hours. I will probably still play it safe and stay just under 14 hours for the onons, but I suspect I could get away with more ok.
...I just realized, since most of my other plants will want 16 hours, I can shift some of the onions to those lights (labelled) and see at harvest time later this year whether it made a difference.
---
Permissions in this forum:
You
cannot
reply to topics in this forum