Sorry, I searched best I could.
I planted a bunch of stuff that is within the planting time given by my location, all except tomato seedlings which can't be out until after the last frost. Everything else was seeds. Do I still need to cover them all the time? The weather ranges from 40-60.

I'm just confused if the planting guide thinks I'm planting outside or if its suggesting to plant in a greenhouse on these times.
Last year, my first SFG year, I covered my beds with anything I could find whenever I hear that the temps were dipping below 40. That may have been a bit overzealous as I believe you don't have to cover until freezing. I think this year I will cover everything but spinach and peas under 36.
Most of mine are covered at the moment as I'm trying to warm up the soil for seedlings.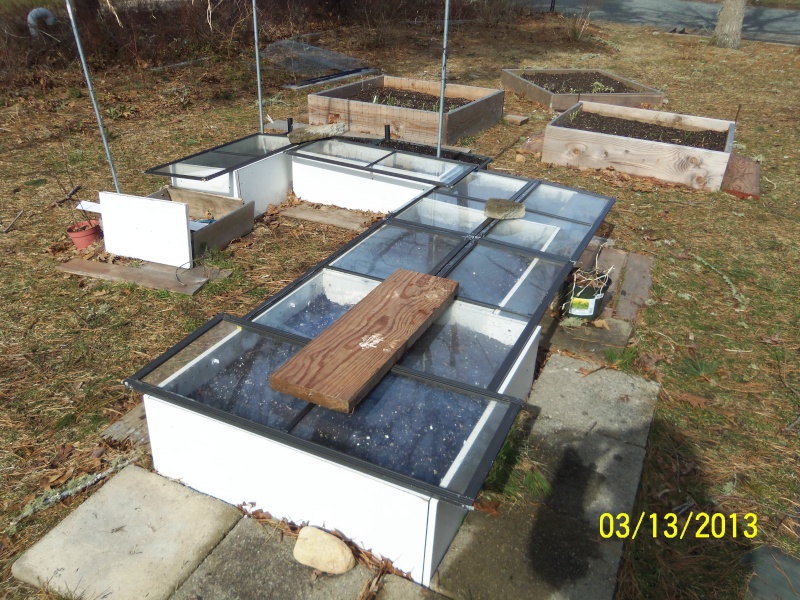 CC



Posts

: 6053


Join date

: 2012-05-20


Age

: 61


Location

: elbow of the Cape, MA, Zone 6b/7a



Ooops I didn't warm up the soil. Its a lovely 62 out there though...

It dips down at nights, sometimes into the 30's, would I want to cover it during the day to catch the heat for the night, or does just covering at night help?
6o's??? Wow...that's about as nice as it can be for spring crops. No worries with 60's! Be careful if you do cover as it can get pretty hot in there. You may not see it in my photo above but those windows aren't flush to the boxes or each other...there are gaps. You don't want to cook your veggies...until you're ready to eat them.

CC



Posts

: 6053


Join date

: 2012-05-20


Age

: 61


Location

: elbow of the Cape, MA, Zone 6b/7a



CapeCoddess is right. With spring crops I would not cover them if your temps are in the 60's. My plastic is rolled down on my beds and waiting for the next night we dip below freezing here (celery survived 28 degrees last week much to my surprise).
For spring crops you are safe and do not to cover as long as you are above freezing. Warm weather crops such as tomatoes and peppers would require covering at night if your temps are getting in the 30's.



Posts

: 304


Join date

: 2010-05-26


Location

: East County Portland, OR



My rule of thumb has been to cover only at night when frost or light freeze is forecasted. I leave them uncovered otherwise and have all kinds of veggies making their debut from seeds and transplants.



Posts

: 804


Join date

: 2012-08-16


Location

: North GA Mountains Zone 7A



Around here, the forecasters are wrong more often than right. If they predict temps of 40F or below, I cover.

Light rain was predicted for tonight, but it's currently raining moderately. I suspect that snow is on its way.

Certified SFG Instructor




Posts

: 2120


Join date

: 2010-03-02


Age

: 69


Location

: Bend, OR (Zone 5-6)



My paper says to start the cucumbers end of april, but do you think I could start them now too and cover when it gets in the 40's/30's?
I ran out to finish covering the other one and opened to the one I had, after about an hour or 2 it was probably about 80 in there! Quite toasty. I let it air out and covered them both at about 4, its in the shade by 5 so that way it'll trap a little heat for tonight and maybe warm the dirt for my seeds

I'll open back up in the morning

Tris, It is too early to plant summer veggies outside in our area right now. Cukes, squash, peppers, tomatos, beans, melons, okra, soybeans, eggplant all need warmer nights than you are getting yet. I just checked and Elizabeth City is supposed to get a frost on Thurs night. Stick to the cool weather things til the first of April. However, you can start all of that summer stuff in the house if you want.

Kay
____________________________
A WEED IS A FLOWER GROWING IN THE WRONG PLACE
Elizabeth City, NC
Click for weather forecast

Certified SFG Instructor




Posts

: 4349


Join date

: 2010-10-17


Age

: 74


Location

: wilmington, nc zone 8



---
Permissions in this forum:
You
cannot
reply to topics in this forum