So I am about to start my lettuce seeds this weekend inside, staggered over a few weeks. My big question is, how much total leaf lettuce to plant? I have 6 dedicated squares planned, and the variety I am planting I am planning to do 9 per square. But I also have many other squares that I could do lettuce in initially and then switch later. We have two of us plus will be giving away veggies this summer to grown kids, parents and friends, but I just don't know. I can do anywhere from 54 plants in the 6 squares to about 150 with distribution in other squares in the spring and cut back by end of June. I will also be planting a fall crop as well later in the year after the main heat oj summer passes.

I tried searching and none of the myriad threads I checked really addressed total quantity of leaf lettuce.

Thanks,

-Ed




Posts

: 86


Join date

: 2013-03-02


Age

: 57


Location

: Zone 5b, Exeter NH



Ed, What I have had success doing is planting lettuces 4 per square. This year I am planting 4 squares of 4 different lettuces so I get a variety. Then when heads get to size, I harvest by snapping off a few of the outer leaves from each type, enough for my use in a day or two. You can keep harvesting this way until mid-summer when the heads start to bolt and turn bitter. I will also have parsley, basil, chard, beet and turnip tops, escarole and endive, and pea tendrils that can go into salads. I have plenty for the three of us. Nine squares at 4 per square sound like a generous amount for your use. --Dave

Certified SFG Instructor




Posts

: 155


Join date

: 2011-09-18


Location

: Bolton, MA Zone 6a



You can also stick lettuce into a few other squares with taller plants like tomatoes and peppers. The lettuce will help shade the ground and retain moisture for the taller plant while the taller plant will help to shade the lettuce from the sun. Hopefully this will help the lettuce go a little further into the summer. I would say keep your 6 dedicated squares and then find other squares that can share some ground space with the lettuce.

As for total quantity I think the only way to know is to do it for a year or two in your garden and then you will be able to adjust the following year. Other gardens with other nutrients in other climates really can't tell you what yours will produce.



Posts

: 288


Join date

: 2011-12-08


Location

: Houston, TX



I have 9 squares in leaf lettuce and 3 or 4 in spinach. Currently we get a large salad bowl full of greens every 2 or 3 days. We eat very large salads so it's not quite enough for the two of us.

This was my winter planting when things grow much more slowly. It may end up being too much as things start heating up and growing faster. I've started romaine in4 more squares as it's better for the summer and additional leaf lettuce interspersed in my patio window boxes. They make pretty greenery and my window boxes hang on the north side of my home and are the coolest place on the property for the summer.

We're also planning on mounting a misting system to cool the patio so that might be very helpful in keeping us in salad this summer.



Posts

: 1916


Join date

: 2012-12-07


Location

: Central Calif Mtns.



You can even cut off the tops of the leaf lettuce leaving just a stub in the soil and it will regrow. I've done that to mine and its grown a new full bunch of leaves 4 times before it bolted. I also kept the ones growing in pots in the shade during the warmer afternoons. In the following in pots I grew 4 per pot.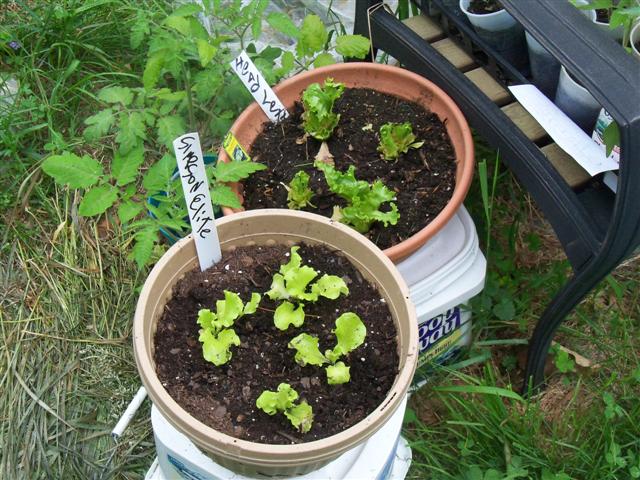 Leaf lettuces harvested by cutting off their tops in the pots on 5/28. The lettuce on the rt is a crisphead lettuce and it still regrew after cutting off the tops.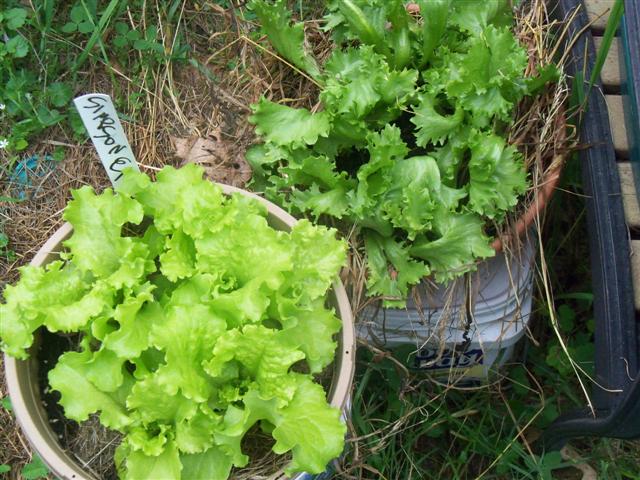 Both pots regrown on 6/14.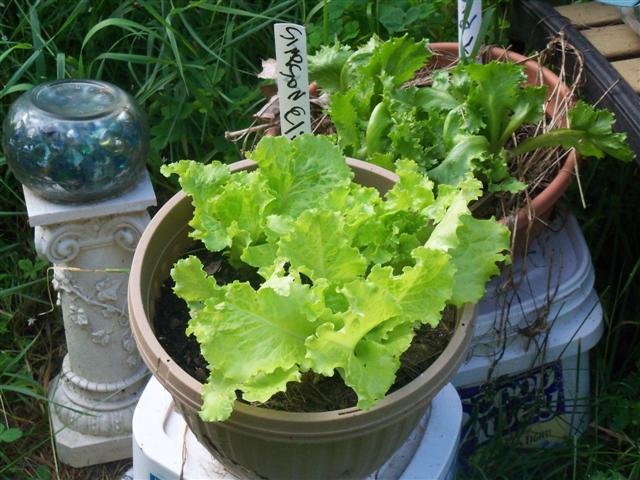 Into their 3rd growth here on 7/10.
It only takes about 2 weeks for the full leafy growth once again. So your 6 squares can provide lots of salads.



Posts

: 4687


Join date

: 2010-03-21


Age

: 75


Location

: Southwestern Maine Zone 5A



Thanks for all the replies! Sounds like in terms of quantity I will be ok planting the 6 squares plus filling into the other squares I had in mind (around where peppers and determinate tomatoes will go until they take over their squares.)

We love salads in the summer, so a large bowl every 2 or 3 days would do fine for the two of us. Even if we are giving away some, my fears of being inundated if I plant as much as I was planning to are now not worrying me. I suppose if I d find it is too much, I can always harvest and plant something else. Such a great benefit with this gardeing method.

Thanks all!

-Ed



Posts

: 86


Join date

: 2013-03-02


Age

: 57


Location

: Zone 5b, Exeter NH



If your garden produces more lettuce than you can use or give away, find a local food bank to donate to.

Or feed your compost pile some.

a savage gardener



Posts

: 7


Join date

: 2013-03-17


Location

: New England Zone 5 ish



Or save some for seed so that you never run out.



Posts

: 4930


Join date

: 2011-04-24


Age

: 82


Location

: Castlegar, British Columbia



---
Permissions in this forum:
You
cannot
reply to topics in this forum